The most trusted online resource for OSHA forklift certification and training since 2002
Questions? Call us! (888) 278-8896
Towmotor Forklift Certification Training for Your Employees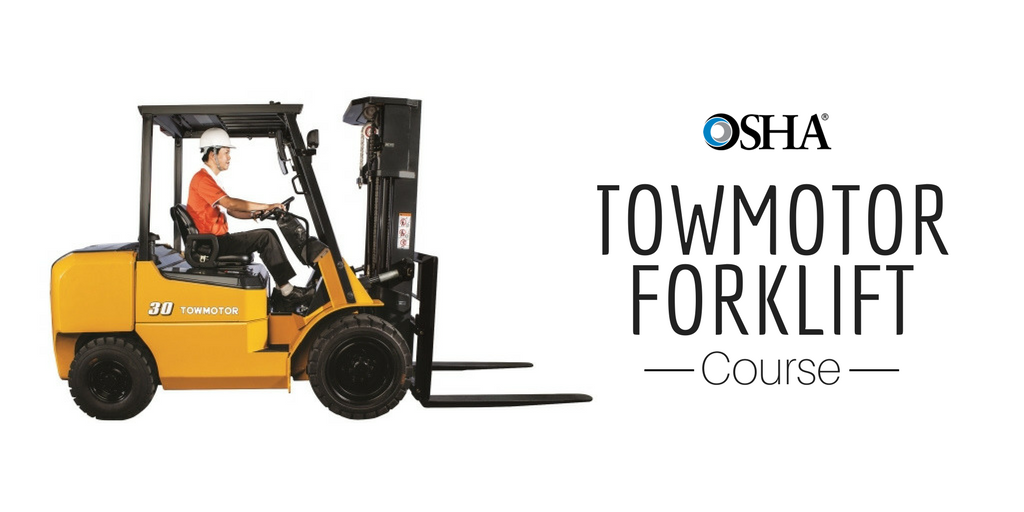 The original tow motor was the world's first forklift. The innovative creation was called a tow motor, which was originally a kind of tractor that towed or pushed carts into, out of and around factories and warehouses that's still very much in use today They played an integral role in contributing to what makes modern-day industry so efficient. The unique piece of equipment was invented in 1919 by Lester Sears in Cleveland, founder of the Towmotor® Corporation, and all manufactured forklifts soon became known simply as "towmotors".
Since the Office of Safety Administration (OSHA) classifies as forklifts, all tow motors operators must receive forklift operator training and certification to legally operate the equipment in the workplace. If your employees need to acquire a Towmotor license, ForkliftCertification.com offers OSHA compliant training for every type and brand of forklift, including all tow motor models. For Towmotor certification and much more, sign up with FLC today!

VARIOUS TOWMOTOR FORKLIFT MODELS AND FORKLIFT PARTS
The Towmotor Corporation has come a long way since it created the first forklift in the early 20th century. The forklifts they build today continue to be tough and reliable pieces of industrial equipment, including their popular Buzz and Titan line. Towmotor line of various models of diesel and gas-powered forklifts, as well as counterbalanced trucks, include the following:
✓ Internal combustion counterbalanced trucks with pneumatic tires
✓ Power pallet trucks
✓ Stackers
✓ Order pickers
✓ Stacker/riders
✓ Tow tractors
Towmotor also maintains a reliable network of highly skilled professionals to support Towmotor equipment owners in the event they should ever need assistance with their equipment. They've named the customer service program "Towmotor peace of mind." The company makes its own components so you be assured Towmotor forklift parts are always available and will soon be on their way should they ever be needed.
WHY YOUR EMPLOYEES NEED TOWMOTOR CERTIFICATION TRAINING
Any business that has employees who operate forklifts, including towmotors, needs to have their drivers receive OSHA-approved operator training and certification before they're legally allowed to operate the equipment. When you enroll them in one of FLC's towmotor training programs, you can rest assured your workers will receive the very best forklift operator training available anywhere. We've trained literally thousands of operators for clients across the country since we opened in 2002 Some of ForkliftCertification.com's many well-known clients include Siemens, Penske, Fuji Film, Harley Davidson, U-Haul and Dow.
Studies indicate forklift training is the most effective way of preventing workplace accidents and keeping your workers safe, which is why OSHA requires workplace safety and training for employees who operate aerial lifts and forklifts. More specifically, according to OSHA standard 1910.178 for Powered Industrial Trucks (forklifts), it's the responsibility of employers to arrange for their operators to successfully complete training and evaluation to ensure they're able to safely operate the equipment.
WHAT DOES FLC'S TOWMOTOR CERTIFICATION COVER?
With FLC's Towmotor license training, your employees will learn about:
✓ Safe operating speeds
✓ How to ensure the safety of co-workers
✓ Proper load handling techniques
✓ The importance of seatbelts and other safety accessories
✓ Forklift inspections & maintenance
✓ And much more
TOWMOTOR FAQs
What is the difference between a forklift and a Towmotor? Towmotor makes many of the most common lifts used in the workplace today, including counterbalance lifts. There really isn't a big difference between the two terms!
Q: How much does forklift certification cost?
Our Towmotor certification courses start at $149. Check out our prices today!
Q: Is it a legal requirement to have a forklift license?
A forklift license isn't required, but OSHA compliant training is a legal requirement. Once your employees get their Towmotor certification, their forklift license is their training records.
Q: Where can I get a forklift certification?
Right here at FLC! Sign up today and get your employees certified!
Q: How do I become a certified forklift instructor?
Try our Train a Trainer course to learn more!
If you need Towmotor license training and certification for your employees, you've come to the right place! ForkliftCertification.com has three training packages to teach and evaluate your Towmotor forklift drivers. Sign up today to have your operators get the training they need to safely use Towmotor forklifts, which are some of the most popular brands of powered industrial trucks available today.
Whether your operators need an initial Towmotor license or Towmotor renewal training (which is free for life when you have them train with us), FLC has everything you need for them to become fully OSHA compliant! With our Towmotor license and certification training programs, you'll enjoy the peace of mind that comes with knowing that both your workers and your workplace are safer.
TOWMOTOR CERTIFICATION TRAINING FROM FLC IS FAST, EASY AND AFFORDABLE – GET YOUR TOWMOTOR LICENSE TODAY!
If you need Towmotor license training and certification for your employees, ForkliftCertification.com is by far your best choice! There's no need for your employees to take time away from work traveling to and from an expensive offsite training facility. We offer the most comprehensive and affordable online platform for Towmotor forklift training available anywhere. Our Training Kit provides operator instructions for all the main types of forklifts, including Towmotors.
FLC's fast, easy and affordable training can be completed in as little as one hour – that's all the time it takes to acquire a Towmotor license! In addition to being available on CDs, all training materials are also accessible to trainees online 24/7 using a smartphone, tablet or another digital device any time that's convenient and anywhere there's an internet connection.
FLC's operator training offers same day certifications. Once your operators complete the training modules and pass a "hands on" operator evaluation, each employee's certification can be immediately downloaded and printed, which means they're immediately able to legally operate towmotors and other types of lifts. What's more, when your drivers receive their certification training through FLC, the three-year Towmotor certifications required by OSHA are always free.
FLC IS THE BEST PLACE TO GET TOW MOTOR LICENSES FOR YOUR OPERATORS!
We're your best choice for Towmotor operator license training. ForkliftCertification.com has three training packages for your company's Towmotor forklift drivers. Sign up today to have your operators get the training they need to comply with OSHA regulations and safely use Towmotors and other types of powered industrial trucks in the workplace.
If you still need more information about our Towmotor forklift certification training or if you have questions about how Towmotor forklift license training relates to OSHA regulation compliance, get in touch with our forklift training experts today. Why wait? Give ForkliftCertification.com a call at (888) 278-8896 or if you prefer, contact us online.

Thanks for considering ForkliftCertification.com for your employees to complete their Towmotor forklift training. Remember, we're the preferred training partner for all brands of powered industrial trucks, and we're a preferred provider of Tow motor training. Don't put it off any longer – sign up today and get started with your Towmotor certification now!