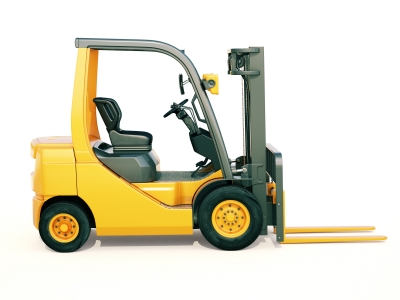 What is Forklift School?
Looking for comprehensive, affordable forklift training for operators and employers? Our forklift school is always in session. ForkliftCertification.com offers convenient training opportunities 24 hours a day. 
FLC is one of the best forklift schools around for complete OSHA compliance. As an employer, you're responsible to train and certify all forklift operators. This is a big challenge for many companies since they're not aware of the ins and outs of OSHA safety guidelines.
Thanks to our Training Kit (just $299) and our Train the Trainer program (only $149), you'll have everything you need to make sure your forklift fleet is 100% compliant. And if you can't decide between our two programs, get both at a special discounted rate. Whatever your compliance requirements are, FLC has you covered!  (
Forklift schools are an invaluable training resource for those seeking to become forklift operators. Upon completion of a forklift school program, forklift operators will have the proper skills, confidence, and knowledge to safely use a forklift in their day-to-day job. Forklift schools are ideal for getting operators up to speed with the latest OSHA regulations – and FLC gives you a forklift school that's always in session for your needs! 
Sign up today and enjoy the great prices, convenience, and customer support of one of the most popular forklift schools – FLC!
OSHA Forklift School Requirements
According to OSHA guidelines, all operators must be trained and certified before they're allowed to drive forklifts in the workplace. They make it the employer's responsibility to ensure that all forklift operators are competent to safely operate forklifts by enrolling them in a training program led by a qualified trainer. Don't take chances with other forklift schools – sign up with FLC today and ensure your company is 100% OSHA-compliant. Here are OSHA's regulations for training drivers through a forklift school:
 

In addition to teaching a worker how to safely operate a forklift, training must also include how to perform inspections, perform routine maintenance, recognize and avoid hazards, and how to alert employers when repairs are needed.

 

Training must include formal instruction, practice training, and passing a "hands-on" skills evaluation before students are rewarded their

operator cards

.

 

In order to adequately familiarize workers with the

safety procedures

and dangers associated with operating forklifts, training must cover both truck-related and workplace-related topics.
Benefits of Forklift Training Schools
When learning that they have to complete a forklift training school, many operators assume the process will be frustrating. The reality is that it's never been more convenient to get certified. 24/7 availability is just one of the main benefits of training through FLC. Other perks include:
Affordability
Unlike many other OSHA forklift schools, we take pride in providing training that's an unbeatable value. Our competitive price structure allows any size company to have their drivers become OSHA certified without breaking the bank. Our training is a cost-effective substitute for expensive outsourced schooling. Everything's included, so there are no additional training materials to buy. The bottom line – we'll help you improve your company's bottom line!
Customization
We understand that forklift drivers have different job descriptions and day-to-day roles, so our three-tier training package has something for everyone. We offer a Training Kit that will certify all your operators for just $299, a Train a Trainer class that will certify one or more of your drivers to train your other operators or new hires as they come on board for $149 and a Bundle Training Package that includes both courses at a discounted price of $399.
Quality
FLC's forklift school courses are thorough. Our in-house OSHA experts know what it takes to learn how to drive a forklift and become a properly certified professional forklift driver because they've been there and done that! Our system has been proven to work. Our time-tested content will withstand even the most in-depth and detailed OSHA scrutiny.
Improved Safety
The benefits continue long after the class has ended. FLC's instruction is easy to absorb and can be applied to real-life forklift operating situations right away. Our content has been designed to help drivers and operators handle on-the-job challenges in a safe, practical, and professional manner.
Longevity
Once drivers have completed their forklift training school, the perks of graduation immediately kick in. Operator certification cards can be downloaded and printed as soon as students finish the class and pass the exam (our pass rate is 100 %!). OSHA requires forklift certification renewal every three years. That renewal process is free for life when you choose FLC. In other words, the doors to FLC never close, so you or your employees will always have the opportunity to learn more about how to drive a forklift.
What Can You Expect at Forklift Driving School
Forklift driving school is a great way to help your employees learn how to be safe, efficient forklift operators. In forklift driving school, students will receive hands-on instruction and guidance, as well as opportunities to practice operating the forklifts in order to build competence. 
During forklift school, students can expect classroom time to discuss forklift safety, including topics such as forklift basics, accident prevention techniques, and recognizing potential risks. They may also have time behind the wheel of a forklift with an experienced driver mentor in order to become familiar with controls and enhance their experience.
Why FLC's Forklift Driving School Makes Sense for Your Company
Getting your employees qualified to operate forklifts is only one part of the many opportunities you'll receive from our forklift certification school. Here are some others:
Expand Your Business
It's hard to keep your business growing without qualified forklift drivers. FLC's training makes compliance a regular part of your training and safety platform – we'll handle the paperwork and give you the tools and knowledge to get all forklift operators OSHA-compliant!
Increase Your Standard of Living
With a career as a forklift operator that's practically recession-proof, you will be able to better support your family and provide them with a nicer lifestyle. By learning how to drive a forklift, you'll receive a valuable and portable skill, since our certifications are honored just about anywhere throughout the country.
Improve Workplace Safety
Employers need to have their lift operators trained and certified to become OSHA compliant. Having a productive workforce begins with FLC operator training, and the current semester of forklift training school starts as soon as you pick up the phone and call FLC to enroll your operators.
What are often assumed to be the "latest" OSHA standards are often yesterday's news. Rapidly changing guidelines and regulations make it tough for managers to stay on top of everything. That's why it's important to have ForkliftCertification.com on your team – we're the only trainer your company needs!

Enroll in Forklift School Today
You can't afford to NOT take safety seriously. Register your company with one of the most trusted forklift training schools.  FLC's convenient, affordable online training is ideal for new and experienced operators alike. Whether you're an individual looking to learn to drive a forklift  or an employer looking to certify your workers, FLC's forklift school is the answer. 
Don't delay your training any longer. Sign up for our forklift training school today and begin your education right away. With so much to gain, why not kickstart your training as soon as possible? Still, have questions about our course offerings? Feel free to contact our team online or by phone at (888) 278-8896. Contact FLC today – we're ready to help your company become safer – and fully OSHA compliant – today! Sign up with a forklift driving school that works for you.