Yale Forklift Training – Become OSHA Certified Today with FLC!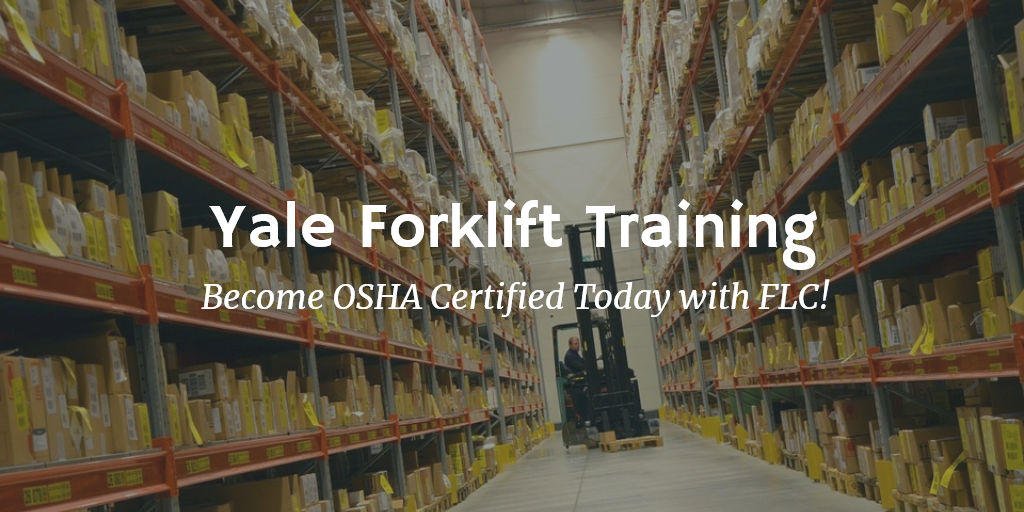 The Yale Materials Handling Corporation is one of the most trusted, well-known forklift manufacturers in the world. Yale is a subsidiary company of Cleveland-based NACCO Industries. With a growing product line of all sorts of powered industrial trucks, Yale continues to set the standards for innovation, reliability, and dependable performance.
Companies rely on Yale forklifts for:
Cargo management
Distribution center storage
Heavy-duty construction
Manufacturing
Maintenance operations
Grocery and food distribution (pallet jacks)
And many other applications

GET YALE SAFETY TRAINING AND CERTIFICATION WITH FORKLIFTCERTIFICATION.COM
If you're an employer and use this type of powered industrial truck, Yale safety training is essential for a safe, well-run workplace. It's also the law, as OSHA requires that employers provide all training for their employees. With ForkliftCertification.com, the leader in online OSHA compliant training, you'll have everything you need to get your workforce aligned with the latest approved Yale safety training standards.
What's more, we offer OSHA compliant instruction for other companies, along with Yale training and certification. Sign up today and let us get your employees certified and compliant!
Yale Forklift Training
Yale electric forklifts are now an integral part of the company's product line. Since the company's founding in 1844 as a lock manufacturer and through its present capacity as al leading powered industrial truck manufacturer, Yale product offerings are always growing. Just some of Yale's powered industrial trucks include:
• Reach trucks
• Order selectors
• Pallet stacks
• 3-wheel electric lifts
• 4-wheel electric lifts
• Internal combustion lifts
• High capacity trucks
FLC's forklift training courses review all the important Yale safety training you need to know regarding Yale electric forklifts and internal combustion trucks. This has a two-fold benefit. Number one, you'll have the most up-to-date knowledge on Yale forklifts (and powered industrial trucks from other companies). And secondly, your company will become OSHA compliant – all with our user-friendly Yale training and certification.

FLC OFFERS YALE ELECTRIC FORKLIFT INSTRUCTION, REGULAR YALE FORKLIFT TRAINING & MORE
Our staff here at FLC has "been there, done that" in the forklift industry. We're well aware of Yale's extensive product line, including new Yale electric forklifts. We know how to deliver cost-effective, OSHA compliant Yale training and certification. Our OSHA forklift training gives you all the knowledge you need to know about Yale forklifts, including:
Operating a Yale forklift at safe speeds
Basic Yale safety training concepts
Load and cargo management for all Yale forklifts
Best safety practices (available with our Forklift Training Kit)
OSHA guidelines – applies to all powered industrial trucks, including Yale forklifts
How to utilize your Yale training and certification
Training operators on Yale forklifts – included with our Train a Trainer program
And much more
If you can't decide between the Training Kit and Train a Trainer course, we also offer another outstanding Yale safety training option – the Bundle Package. This includes our Training Kit and Train a Trainer courses at a special reduced rate.
Give FLC a call today (our OSHA experts can be reached at (888) 278-8896) and get started with the most comprehensive Yale forklift training program today. Thanks for visiting FLC, your source for complete Yale forklift training!