The most trusted online resource for OSHA forklift certification and training since 2002
Questions? Call us! (888) 278-8896
Get Atlanta Forklift Certification with FLC!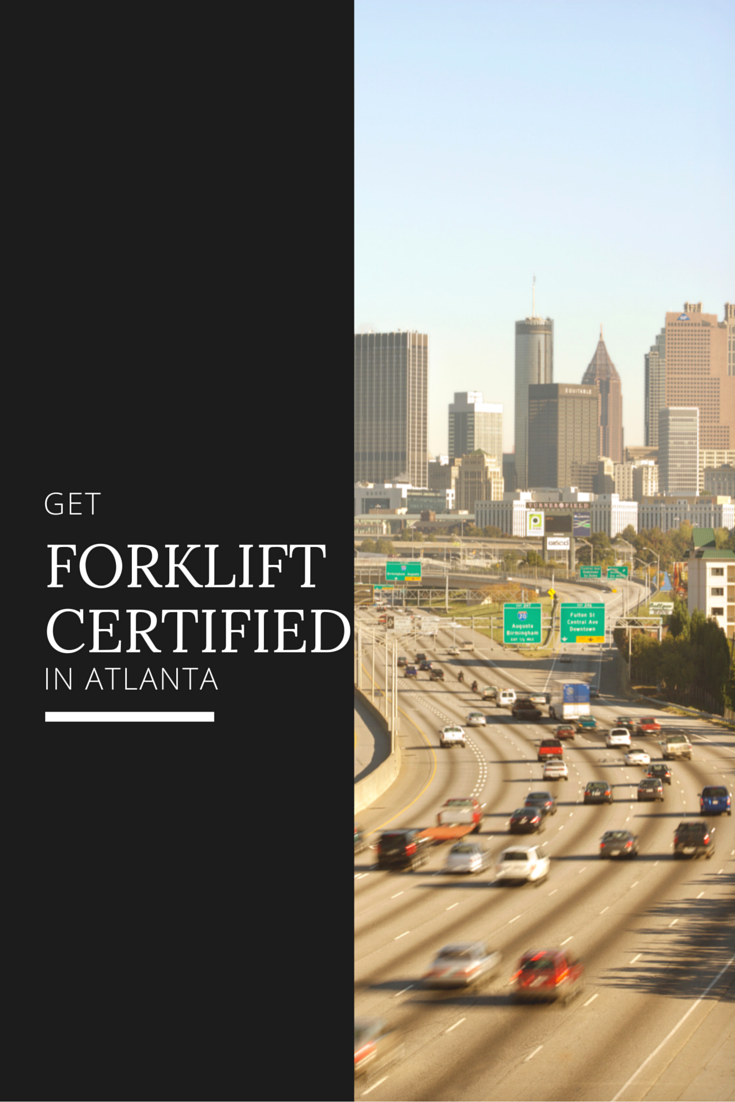 OSHA Compliance for Any Budget – Sign up with ForkliftCertification.com Today | Affordable, On-Point, 100% Complete Forklift Certification in Atlanta
Not sure about your current status with forklift certification in Atlanta? If your company has an accident or incident with lift, pallet jack or other powered industrial truck, OSHA will investigate and want to know if your employees have Atlanta forklift certification.
ForkliftCertification.com is your best choice for an Atlanta forklift certification training partner. Our online courses will get your employees trained and OSHA compliant in virtually no time at all. Best of all, FLC's training is not only fast, it's also convenient and affordable! Enroll today and see how we can help with your forklift certification in Atlanta!
With our forklift certification in Atlanta, you'll enjoy: Free renewal training
Complete OSHA compliance
Great prices – affordable value for your forklift certification in Atlanta
Friendly, informative customer support
Insider's OSHA knowledge with our staff (years of experience with OSHA and safety regulations)
And much more
Simply register your company for FLC's forklift certification in Atlanta – it's easy to get started, and you'll have the peace of mind that comes with 100% OSHA compliance!
COURSE PRICING AND INFORMATION – FORKLIFT CERTIFICATION IN ATLANTA
It's easier than you think to get forklift certification in Atlanta. Choose from any of our courses below.
Atlanta forklift certification course for your internal, OSHA compliant training expert – save money in the long run and protect your workers today…an awesome value at only $149!
This versatile class is a great choice for Atlanta forklift certification, and it's priced at just $299
Forklift certification in Atlanta just got more affordable.  The Bundle Package has both courses listed above for $399 – a $50 discount!
Plus, FLC's sister training company, CertifyMe.net, offers online certification for $59.
Remember, it's against the law to have any forklift operator operate your equipment without Atlanta forklift certification. FLC handles all of your compliance and training – click here to get started ASAP!

OSHA REQUIREMENTS FOR OPERATOR FORKLIFT CERTIFICATION IN ATLANTA
If you're an employer, having your forklift equipment operators properly trained and certified isn't just a smart business move, it's also necessary for keeping your business OSHA compliant. You need trained operators to avoid serious workplace accidents involving forklifts that can result in serious injuries and fatalities, and FLC's forklift certification in Atlanta can help with your safety program. OSHA is dedicated to reducing workplace accidents, and requiring proper training is one of the means they use to overcome this serious issue.
One of OSHA's requirements makes employers responsible for ensuring their forklift operators are capable of operating forklifts safely and properly, which is why they require forklift certification in Atlanta. The majority of businesses aren't able to handle the training in house using their own people, and that's why ForkliftCertification.com is the preferred source for Atlanta forklift certification training.
After a worker goes through our Atlanta forklift certification training, employers will have properly trained forklift workers who know how to prevent workplace accidents and avoid penalties, fines and potential litigation, as well as damages to their equipment, inventory and property. Where can you find a program that does all this that won't break the bank? Simple – choose ForkliftCertification.com's online forklift operator training and certification!
HOW DO I GO ABOUT GETTING FORKLIFT CERTIFICATION FOR MYSELF OR MY EMPLOYEES?
At ForkliftCertification.com, we make it easy! If you're an employer, all you need to do is register your company and have each employee create his or her own login accounts to access the various training modules. Since there are no time restrictions, they'll be able to work on the forklift training at their own pace using a smartphone, tablet, laptop or other digital devices anywhere there's an internet connection.
Atlanta is known as the unofficial capital of the Southern United States. The city's strong, solid economy contributes to the city's thriving businesses, many of which regularly employ forklift operators who have completed OSHA-approved Atlanta forklift certification training. If you're an employer who hires forklift operators for your workplace, enrolling them in ForkliftCertification.com means you'll have met all OSHA requirements for Atlanta forklift certification training.
CHOOSE FLC FOR FAST, EASY, & AFFORDABLE ATLANTA FORKLIFT CERTIFICATION TRAINING
At ForkliftCertification.com, we've made it fast, easy, convenient and affordable for employers to become OSHA-compliant and operators to get the training they need to qualify for their dream job by completing our Atlanta forklift operator certification training.
We offer training classes that cover three different categories of forklift equipment, which means employers and operators can choose exactly the type of training they need. They are Classes 1, 4 & 5 Warehouse Forklifts,  Classes 2 & 3  Pallet Jacks and Order Pickers and Class 7 Rough Terrain Forklifts.

FLC TRAINING PROGRAM CHOICES
○ Our 100% OSHA-compliant basic operator Training Kit covers warehouse forklifts, pallet jacks, order pickers, and rough terrain forklifts. All your current forklift operators and future hires can be trained and certified for a one-time payment of only $299.
○ Consider FLC's Train the Trainer course to qualify one or more of your experienced operators to train your current employees, as well as new operators as they're hired. You can have your own in-house trainer for just $149!
○ Can't decide between these two great programs for Atlanta forklift certification training? Choose the FLC Bundle Package, which comes with both our Training Kit and Train the Trainer courses for just $349, which is a savings of $50 over purchasing them separately
FLC is the preferred OSHA training partner for companies throughout Atlanta. Don't put off having your forklift operators properly certified and trained any longer! Make your workplace safer and OSHA compliant by getting Atlanta forklift certification for yourself or your employees today! Order our forklift training in Atlanta and we'll help you keep your workplace safe without your having to spend a fortune!
Thank you for considering FLC for your Atlanta forklift certification. We appreciate your business and look forward to helping you. Sign up today for forklift certification in Atlanta!