Atlanta Forklift Certification, 100% Online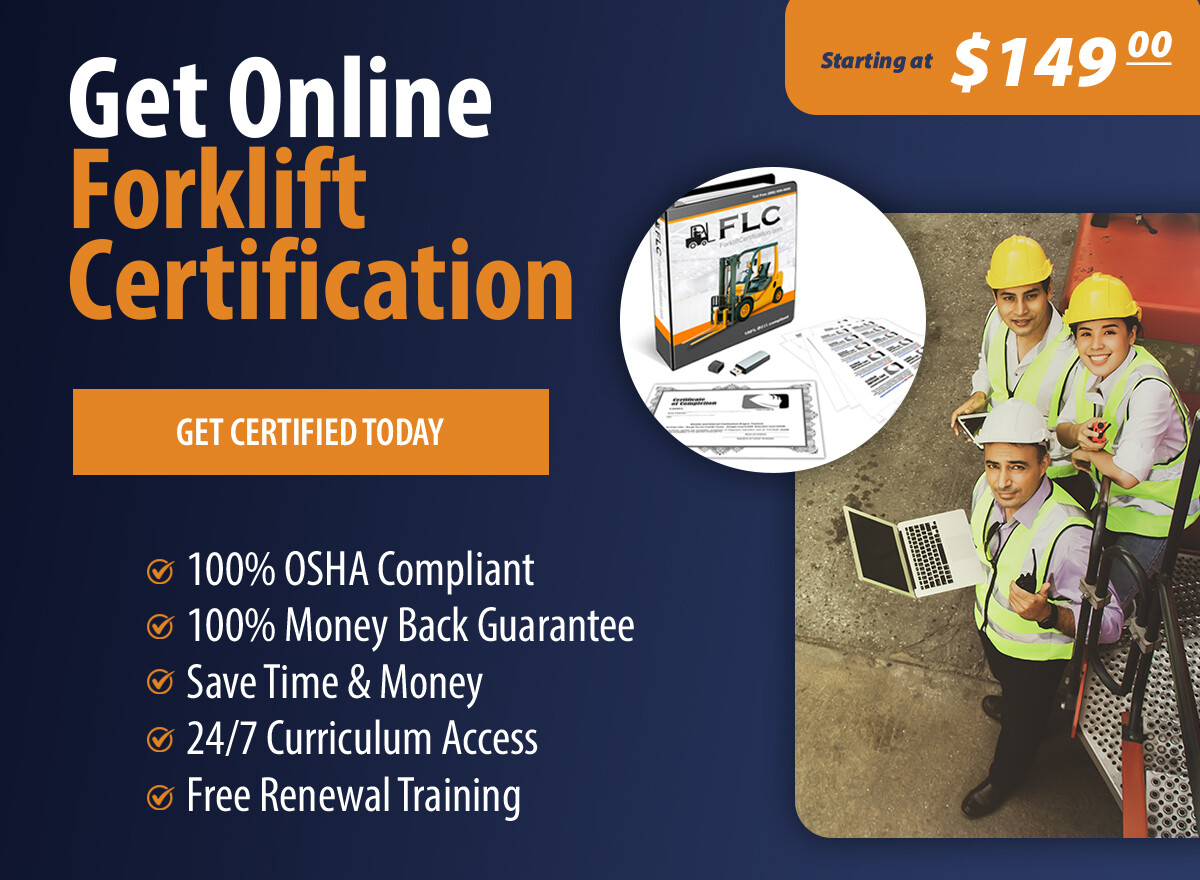 Thanks to Forkliftcertification.com, you can earn your Atlanta forklift certification from anywhere at any time. Starting at just $149, our courses offers incredible value. Once you're finished training, you'll be ready to operate forklifts in Atlanta, throughout the Peach State, and across the rest of the United States as well. Our online forklift certification courses are convenient, fast, and easy.
How Online Forklift Certification in Atlanta Works
It's easy to get employees forklift certified in Atlanta with Forkliftcertification.com at your disposal. Instead of sending operators off-site for expensive, time-consuming training, get started with these easy steps:
Sign Up

– Register your employees by creating an account on Forkliftcertification.com.

Choose Forklift Course

– Choose the course that best meets your needs. We offer a range of forklift certifications geared towards the type your organizations uses most frequently.

Complete Online Training

–  Learners may complete the course in their own time and at their own pace from any device with an internet connection. Once complete, operators must take and pass an online skills test to demonstrate their knowledge. There's no pressure, as the test can be taken as many times as needed.

On-Site Evaluation

– A hands-on evaluation must be conducted by an on-site employee of yours. If you don't have an operator trained to perform these evaluations, check out our

train-the-trainer course

. This enables operators to train others and perform evaluations.

Print Your Operator Card

– After the final steps are complete, operators will be certified to drive forklifts in Atlanta and the rest of the country. They can print their certificate and operator card directly from our website for proof of their certification. 

Why Choose ForkliftCertification for Atlanta Forklift Certification
Forklift operators in Atlanta and throughout the rest of the country are required to be trained to OSHA standards. Employing untrained, uncertified operators may result in expensive OSHA fines – it happens more frequently than you might expect. Don't put your business or the safety of your workers at risk by allowing untrained operators to use forklifts.
Our convenient online course for Atlanta forklift certification comes with a range of benefits, including: 
24/7 Curriculum Access

– This enables learners to train at any place or time that's convenient. The material may be accessed from any device connected to the internet.

Fast and Easy

– The class takes about an hour to complete, and the final exam can be taken as many times as necessary to earn a passing score.

Certification Cards

– Once training is complete, employees may print off proof of training and OSHA compliance immediately.

Free Renewals –

We are the only company that offers free lifetime access to our training materials. Since OSHA requires forklift operators to recertify every three years, this adds up to a significant savings over time.

Affordable – Our Train the Trainer courses at $149 and Complete Training Kits starting at $299 are a great deal. You'll also save valuable time and money by not sending forklift operators off-site for training.
Given all the benefits associated with our offerings, traditional forklift training courses just don't measure up to Forkliftcertification.com. Still feeling uncertain about whether to proceed?  Since all our materials come with a 100 percent money back guarantee, there's no risk in giving us a shot!


Frequently Asked Questions About Forklift Certification in Atlanta
Still unclear about how to get forklift certified in Atlanta? Allow us to further clarify by answering a few frequently asked questions:
Do I Need a Forklift License in Atlanta?
Yes, OSHA requires all forklift operators to be trained and evaluated in accordance with standard 29 CFR 1910.178(I)(1). 
Do I Need Experience to Earn My Forklift Certification in Atlanta?
No experience is necessary to complete forklift certification training with Forkliftcertification.com. 
Can I Register for Training, Or Does My Employer Need to Sign Me Up?
Employers are legally required to provide forklift certification in Atlanta for their operators. While you can certainly register for yourself and pay the fees out of pocket, it may be better to find a forklift job first and get certified through your employer.
How Much Can an OSHA Fine Be?
OSHA fines can total into the hundreds of thousands. An Atlanta recycling company was fined more than $300,000 for safety violations in their facility. To avoid such penalties, make sure all your forklift operators are properly trained and certified.

Get Forklift Certified Online for Atlanta Today!
If your organization employs workers who use lifts on the job, turn to the best forklift certification and training in Atlanta. FLC offers convenient, affordable training opportunities for companies across industries. Fail to provide the required training and your company may up the odds of a workplace accident. Injuries, fatalities, and OSHA penalties may be on the line.
FLC's forklift certification in Atlanta is incredibly cost-effective. Given our 100 percent pass rate, this is one investment you'll want to make in your employees. Secure online access makes it easy to learn on the go. Since our training is constantly updated to reflect changing OSHA guidelines, you'll always be in the know about the latest requirements. 
Still have questions about forklift training in Atlanta, GA? Our team is happy to help address them and guide you through our OSHA-compliant packages. Call us at 888-278-8896 or reach out online today.