Indianapolis Forklift Certification, 100% Online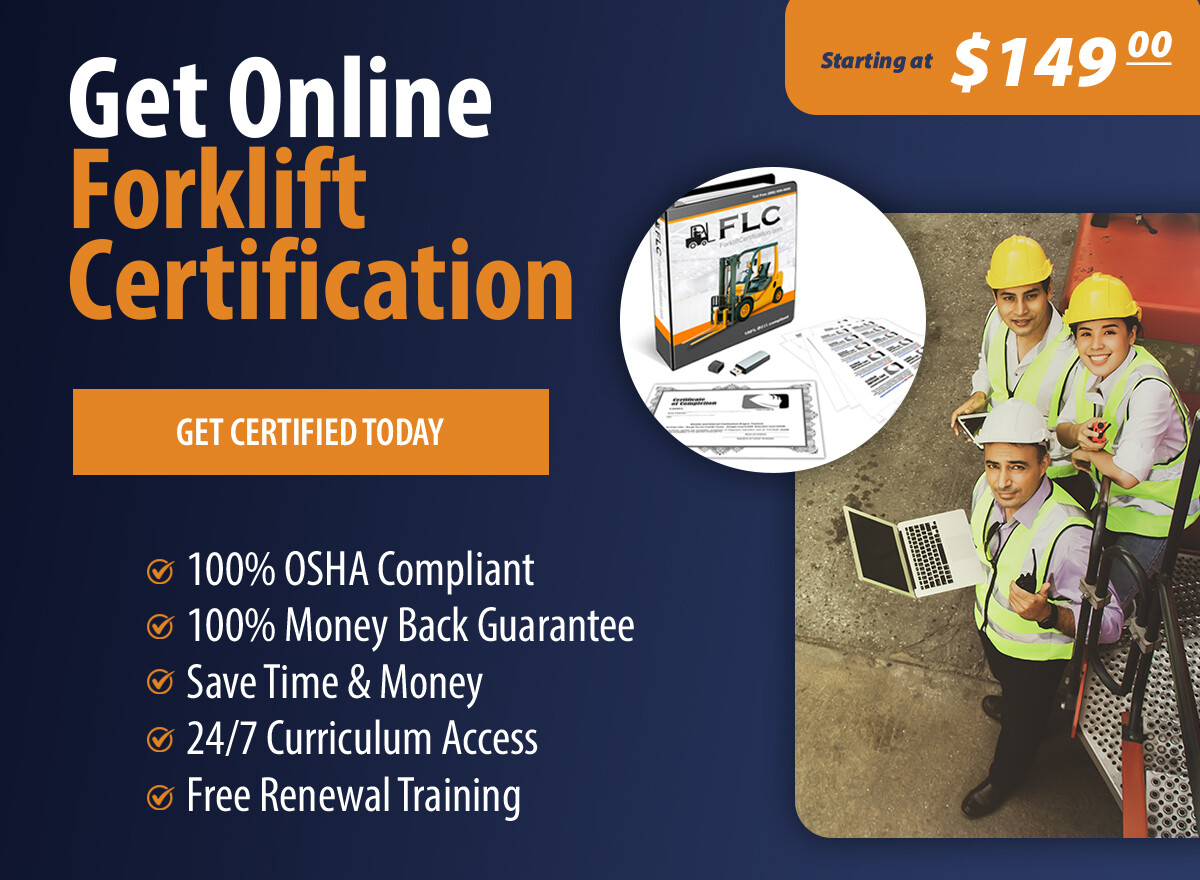 Do your forklift operators need training? All Indy employers are responsible for making sure their workplace is safe, and training is a big part of the process. Does your company need forklift certification in Indianapolis?
ForkliftCertification.com (FLC) has the tools, resources, and expertise to ensure your company is 100% OSHA compliant. Plus, our Indianapolis forklift certification classes are affordable for everyone!
FLC's affordable, on-point, OSHA-compliant courses include:
Reduce the chance of accidents and protect your workers with FLC's Indianapolis forklift certification online. 
How to Get Forklift Certified in Indianapolis
All it takes is just a few easy steps to become OSHA compliant. Not sure how to get forklift certified in Indianapolis? It's easy:
Register online – Choose your company and employee login info.
Pick your Indianapolis forklift certification – Visit the FLC course catalog and choose what you need!
Complete the online training portion – Your workers can take their courses at their own convenience. FLC works with your schedule for complete forklift certification in Indianapolis.
Skills test on-site – Now is the time to test your workers. Can they safely operate your forklifts? FLC's Train the Trainer class gives you an in-house training coordinator to handle all the evaluation – a big money saver!
Print forklift certification – Print out the confirmation when your workers pass, and you'll have valuable info for their human resource files. If you ever have an inspection or audit from OSHA, you'll need to show proof of Indianapolis forklift certification online.
Why is FLC the Smart Choice for Forklift Certification in Indy?
When you get Indianapolis forklift certification from FLC, your workers can legally run your powered industrial trucks. Here are some other advantages of our training:
Train anytime, anywhere – FLC's forklift certification in Indianapolis is flexible enough to fit any busy work schedule.
Fast & efficient – FLC puts you in control of your safety program. With our Indianapolis forklift certification, your workers can be fully certified in about 60 minutes. Some students take longer, and that's totally fine!
FREE recertification – All forklift certification in Indianapolis expires after 36 months. With FLC, renewal certification is free!
Affordable prices for any budget – Our courses are priced for optimum value.
Print licenses & you're ready to work – FLC allows you to print your workers' forklift licenses once they've passed our courses. No waiting around for the mail.
Take FLC's helpful questionnaire to help pinpoint which courses you need for OSHA compliance. 

Indianapolis Forklift Certification FAQs
Here are some frequent questions we get on forklift certification in Indianapolis:
Do all my employees need to get certified?
Every worker that operates powered industrial trucks has to get Indianapolis forklift certification, whether they use your equipment 5 times per year or 5 times per week!
What happens if I'm fined by OSHA?
Prepare to pay – a lot. Many OSHA fines can easily exceed $10,000 or even $100,000. Yet another reason to sign up for forklift certification in Indianapolis. If you have proof of training, you can avoid the super-expensive penalties.
Does your Indianapolis forklift certification cover all my operators?
From rookie drivers to experienced operators, FLC's certification is perfect for everyone. 
We'll Show You How to Get Forklift Certified in Indianapolis!
Don't put off your Indianapolis forklift certification any longer. It's against the law to have untrained workers running your forklifts. Register today and get started – it's easy and affordable.

Get Started Now for your Indianapolis Forklift Certification Online!
Whether you're an Indianapolis employer or an employee that needs forklift training, FLC has everything you or your employees need to become an expert forklift operator. Our online training is 100% OSHA-compliant and can be completed in about one hour using a smartphone, tablet, laptop or similar digital device. When you sign up for our Training Kit, you'll learn how to operate Warehouse Forklifts Classes 1, 4, & 5 and Pallet Jacks and Order Pickers, Classes 2 & 3. Once you or your employees complete their forklift certification training in Indianapolis, they'll be qualified to operate these types of forklifts in all the best Indianapolis forklift operator jobs. Our training is available in both English and Spanish versions, and includes free lifetime renewal training and recertification.
Why wait?  Sign up today and register your company. Just complete the training, download and print your operator card and you can be certified today – it's that simple! If you still have questions and would like to speak with one of our OSHA compliance consultants, call us today at (888) 278-8896. Thank you for considering ForkliftCertification.com for your OSHA-compliant Indianapolis forklift certification training needs.