Akron Forklift Certification, 100% Online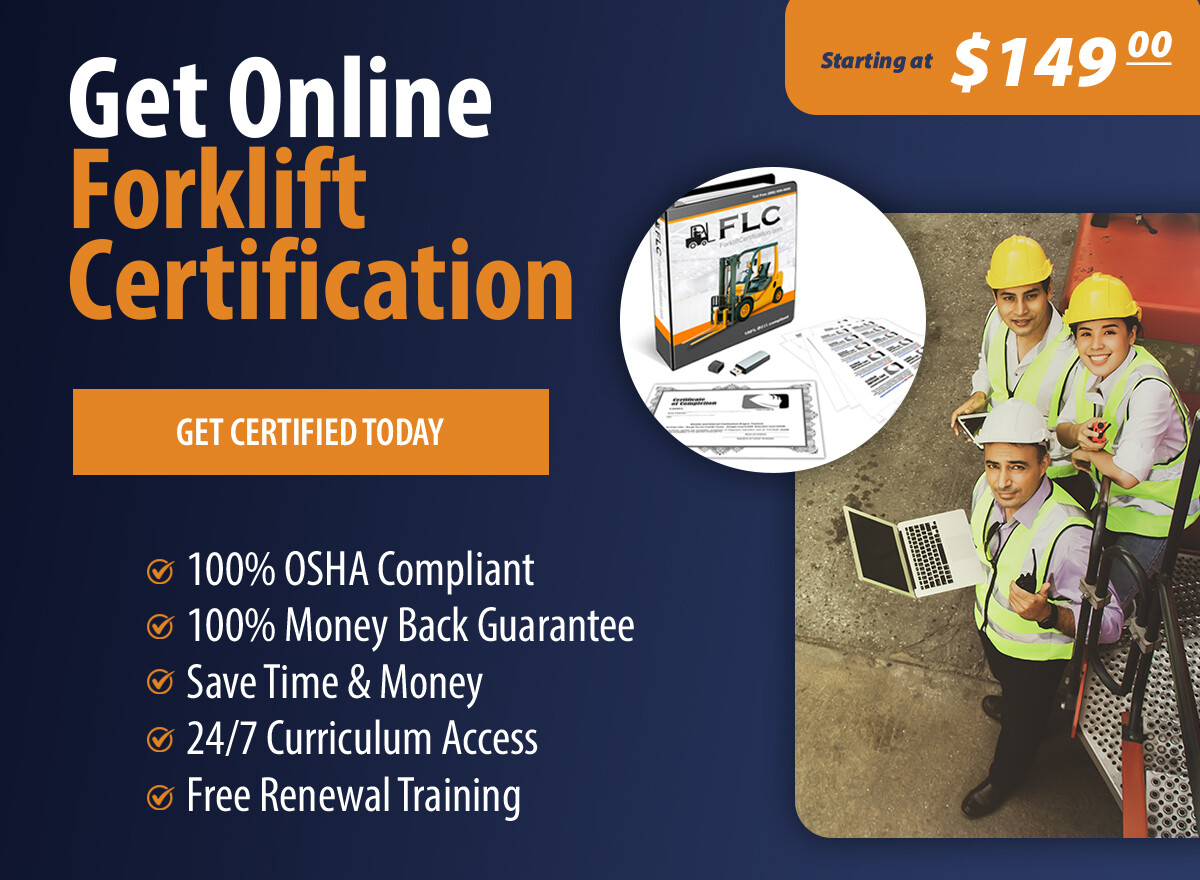 The problem: all your Akron forklift operators need trained and certified, per OSHA regulations. That's a tough chore, especially considering you have to also concentrate on other business activities. How can you stay on top of your employee safety?
The solution: ForkliftCertification.com (FLC), the preferred training partner for 100% OSHA compliance and total workplace safety. Thanks to our flexible & affordable online training program, you can ensure all your employees have access to Akron forklift certification.
We offer the following courses for all your compliance requirements:
Trainer Certification

– in-house training expertise for $149.00

Employee Training Kit

(training materials mailed to you) – popular training course for beginners and veteran operators alike, just $299.00

Bundle & Save

– for $399.00, you can get our Trainer Certification and Training Kit for a special discount!
Stay safe on the job. Learn which hazards lead to accidents. And stay compliant with FLC, the best option for forklift certification in Akron! 
How to Get Forklift Certified in Akron
It's not hard to get Akron forklift certification online. Just follow these steps, and you'll be OSHA compliant before you know it.
Get registered

– You can choose your login data for your company and each individual employee.

Start shopping for your Akron forklift certification

– FLC's

course catalog

is where you'll choose what training courses you need.

Complete online tests

– There's no specific schedule for our

forklift certification in Akron

. Your employees can complete their training & tests whenever it's convenient.

Skills test

– It's time for the on-site evaluation. Your employees will actually operate your forklifts to current OSHA safety standards. With FLC's

Train the Trainer

course, you can designate any employee to handle this evaluation process.  

Hand out credentials

– Simply print your Akron forklift certification for every employee that passes. We recommend printing one for your HR files as well – you'll need these in case you're

audited by OSHA

.

Why Choose FLC for Forklift Certification in Akron?
The biggest benefit of having Akron forklift certification is enhanced safety. But there are plenty of other features you'll enjoy, such as:
Compliance in about an hour

– It takes about 60 minutes for your employees to study and take our tests.

Renewal training included –

Akron forklift certification

expires after 3 years. All FLC customers stay compliant, since

renewal certification is free

. No gaps in training – keep working with FLC.

Ultimate convenience

–

Online Akron forklift certification

accommodates any schedule, at your convenience.

Low prices

– Get all your forklift operators certified, or have your own in-house trainer at prices that won't break your budget.
Choosing your forklift certification in Akron is important. If you're not exactly sure which classes you need, just answer a few questions and we'll help you decide. 

Akron Forklift Certification FAQs
From how to get forklift certified in Akron and other subjects, here are some common questions about our training programs:
Is it OK to Skip Training for an Employee that Drives a Forklift Only Once per Year?
All employees who operate your powered industrial trucks – whether one day or 365 days a year – are required to have forklift certification in Akron.
What Kinds of Fines Should I Expect for Willful Violations?
For "willful or repeated" violations, OSHA can fine you in excess of $100,000. But if you have Akron forklift certification and proof of training – which FLC provides – you're not held liable for these types of penalties.
Are All My Employees Covered?
Absolutely – whether you need a few operators or your entire forklift fleet trained, FLC accommodates everyone. Pay one price, sign everyone up – that's the FLC method for total workplace safety.

Get Forklift Certified Online for Akron Today!
If your organization employs workers who use lifts on the job, turn to the best forklift certification and training in Akron. FLC offers convenient, affordable training opportunities for companies across industries. Fail to provide the required training and your company may up the odds of a workplace accident. Injuries, fatalities, and OSHA penalties may be on the line.
FLC's forklift certification in Akron is incredibly cost-effective. Given our 100 percent pass rate, this is one investment you'll want to make in your employees. Secure online access makes it easy to learn on the go. Since our training is constantly updated to reflect changing OSHA guidelines, you'll always be in the know about the latest requirements.
Still have questions about forklift training in Akron, OH? Our team is happy to help address them and guide you through our OSHA-compliant packages. Call us at 888-278-8896 or reach out online today.