How to Get Everett Forklift Certification
ForkliftCertification.com: Your Training Solution for Online Forklift Certification for Everett in an Hour or Less | 100% OSHA Compliant | Online Convenience | Affordable Prices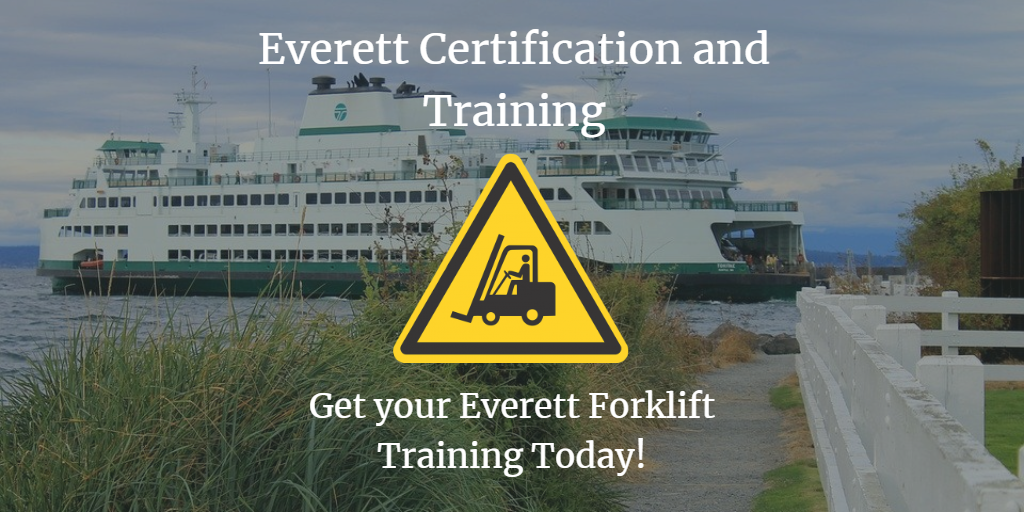 The seat of Snohomish County, Everett is located 25 miles north of Seattle. With a population of just over 110,000, it's Washington's seventh-largest city and plays an important role in the economic, cultural, and civic development of the greater Puget Sound area. Many companies throughout the area have created an ongoing demand for skilled forklift operators, who require OSHA-approved forklift certification training to get the best jobs.
Employers need to keep in mind that OSHA holds them responsible for ensuring their drivers have received Everett forklift certification training. Whether you're an employer or an employee, ForkliftCertification.com is the fastest, easiest and most affordable way to take care of your operator training needs!

IMPORTANCE OF FLC'S FORKLIFT CERTIFICATION IN EVERETT
When you sign up for FLC's 100 % OSHA-approved Everett forklift certification training, here are some of the many benefits you'll enjoy:
✓ Our certification process is online – your employees won't need to take time away from work to travel to and from an expensive offsite facility for their training.
✓ All materials are available 24/7. Classes can be taken any place there's an internet connection any time that's convenient using a smartphone, tablet or another digital device. ✓ Certification can be completed in as little as an hour, although there are no time limitations, so those who need more time are free to work at their own pace.
✓ The renewal training OSHA requires every three years is free for life, as is lifetime refresher training.
✓ Once the Everett forklift certification training is complete, operator certifications can be immediately downloaded and printed, so there's no waiting for them to arrive in the mail.
Without forklift certification in Everett, your company can't legally hire any forklift operators. Sign up with FLC, and ensure your company is 100% OSHA compliant today!
AVOID OSHA FINES – GET YOUR FORKLIFT CERTIFICATION IN EVERETT TODAY!
OSHA takes workplace safety seriously. Under OSHA Guideline 29 CFR 1910.78 (1) (1), forklift operators, regardless of whether they work full time, part-time or under contract are required to take forklift operator safety training.
Nearly 100 fatal forklift accidents occur on job sites every year, and failure to comply with OSHA's regulations can be expensive. CertifyMeOnline.net recently conducted a survey of more than 100 managers, supervisors and safety personnel that revealed that OSHA had audited 51% of their safety programs; of these, 82% had received fines, more than half of which were over $100,000.
When FLC certifies your employees with forklift certification in Everett, you and they will both be OSHA compliant. Because your drivers will know how to use their equipment correctly, your workplace will be safer, you'll experience increased productivity and an improved bottom line right away!
GET YOUR FORKLIFT OPERATORS OSHA CERTIFIED WITH FORKLIFT CERTIFICATION IN EVERETT TODAY!
We offer three training course choices, which are the Training Kit, Train a Trainer and a Bundle Package. Each includes helpful study guides, streamlined learning modules, convenient templates and plenty of extras like a convenient data-packed USB drive. Here's a summary:
✓ Training and Certification Kit
In as little as an hour, each of your drivers will learn everything they need to know about how to safely operate forklifts – all this is included for only $299, so there's nothing else to buy. This is the only forklift certification in Everett course you'll ever need!
This forklift certification in Everett lets you have an in-house trainer to conduct both initial and renewal training classes for your employees. One of your operators will be a certified OSHA safety expert! It was designed for companies that already have a forklift training program, but want the convenience of having a trainer always available. The cost to have your own in-house certified forklift safety expert on hand is just $149.
SIGN UP YOUR OPERATORS FOR EVERETT FORKLIFT CERTIFICATION TRAINING TODAY!
Our Everett forklift certification training is fast, easy and affordable! Just choose the course or courses that meet your company's needs and follow these five simple steps:
Log on to the FLC website, create an account and register your company (this will take only a couple of minutes)

Register each operator

Instruct your employees to log in to the account

Have them work through the training modules. Although there are no time limits, they can be completed in as little as an hour.

After finishing the written portion of the exam, a certified trainer will evaluate the drivers' proficiency by watching them operate the equipment.
After they pass the written test and operating evaluation, all that's left to do is download and print the certifications, place copies in the personnel files and that's it! There's no waiting for the certifications to arrive in the mail.

GET STARTED NOW AND DON'T DELAY WITH FORKLIFT CERTIFICATION IN EVERETT
Go with the leader in online forklift certification in Everett! If you still have any questions about our Everett forklift certification training, or if you'd like to speak with FLC's OSHA compliance consultants, give our office a call at (888) 278-8896 or visit our contact page for more information. We're here to help your company create a better and safer workplace with forklift certification in Everett! Thanks for visiting ForkliftCertification.com!