The most trusted online resource for OSHA forklift certification and training since 2002
Questions? Call us! (888) 278-8896
Everett Forklift Certification
The fifth-largest city in Washington, Everett also plays an important role in the economic, cultural, and civic development of Snohomish County and the greater Puget Sound area. With well over 100,000 people, the city is large enough to offer the amenities and attractions of much larger urban areas, while keeping that small-town character in its numerous neighborhoods.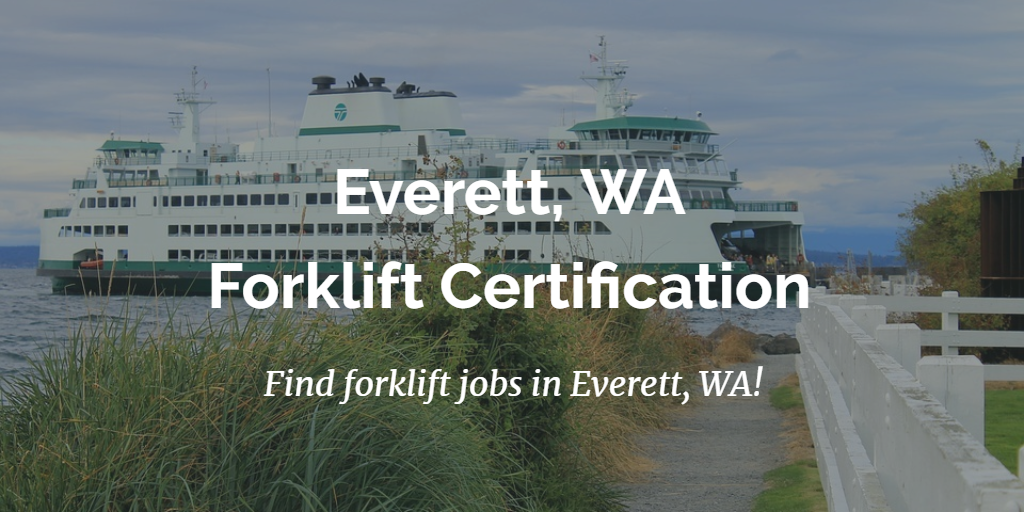 Everett's close proximity to Seattle and other cities throughout the Puget Sound region make it a critical part of the Pacific Northwest's economy. Boeing's largest assembly plant is located in Everett, and there are plenty of other well-known companies throughout the metro area. For forklift drivers, there are plenty of jobs with Boeing alone. Once the rest of Everett's businesses are included, forklift operators have bountiful opportunities to choose from – yet only the best-trained candidates receive consideration for the best careers.
Thanks to ForkliftCertification.com (FLC), getting trained in Everett has never been easier. If you're looking to obtain a forklift job in Everett or need your OSHA compliance ASAP, FLC has forklift certification courses for Everett, WA, and beyond.
Advantages of Forklift Certification in Everett, WA
When you sign up with FLC for your Everett forklift training, you'll enjoy:
Less liability. An HR record with approved instruction and proof of training is one of the first thing OSHA looks for when investigating accidents.
Decreased risk. Speaking of accidents – they're less likely to occur with your forklift certification in Everett, WA.
Better career prospects. Boeing and other Everett employers don't want the risk and liability that come with an untrained operator. Sign up with FLC for forklift certification in Everett, WA, and you'll see better job opportunities come your way!
Superior productivity. Productivity follows professional, competent training. With FLC, you'll have the peace of mind and confidence that come with knowing which safety hazards to watch out for.
Forklift Jobs in Everett, WA
We've already mentioned Boeing's assembly plant in Everett, which employs thousands of workers. Aside from aviation assembly and storage, there are plenty of other forklift jobs in the greater Everett area. Just some include:
Shipyard worker
Warehouse / cargo handler
Marina transport
Fishing dock assistance (Puget Sound is known for its busy docks)
Distribution center coordinator
Rough terrain forklift operator
And many others
Everett enjoys a high quality of life – and it starts with landing a well-paying job in the city. Get your forklift certification in Everett, WA, today. It's the best career move you can make!
Sign up with FLC Today – Get your Forklift Certification in Everett, WA
Our three training courses (Train a Trainer, Training Kit, and Bundle Package) include helpful study guides, streamlined learning modules, convenient templates, and more to help with your OSHA compliance.
Go with the leader in online forklift certification in Everett, WA – get started today! If you have any questions about our Everett forklift training, or if you'd like to speak with FLC's OSHA compliance consultants, give our office a call at (888) 278-8896. We're here to help you become a better – and safer – forklift driver!