San Antonio Forklift Certification, 100% Online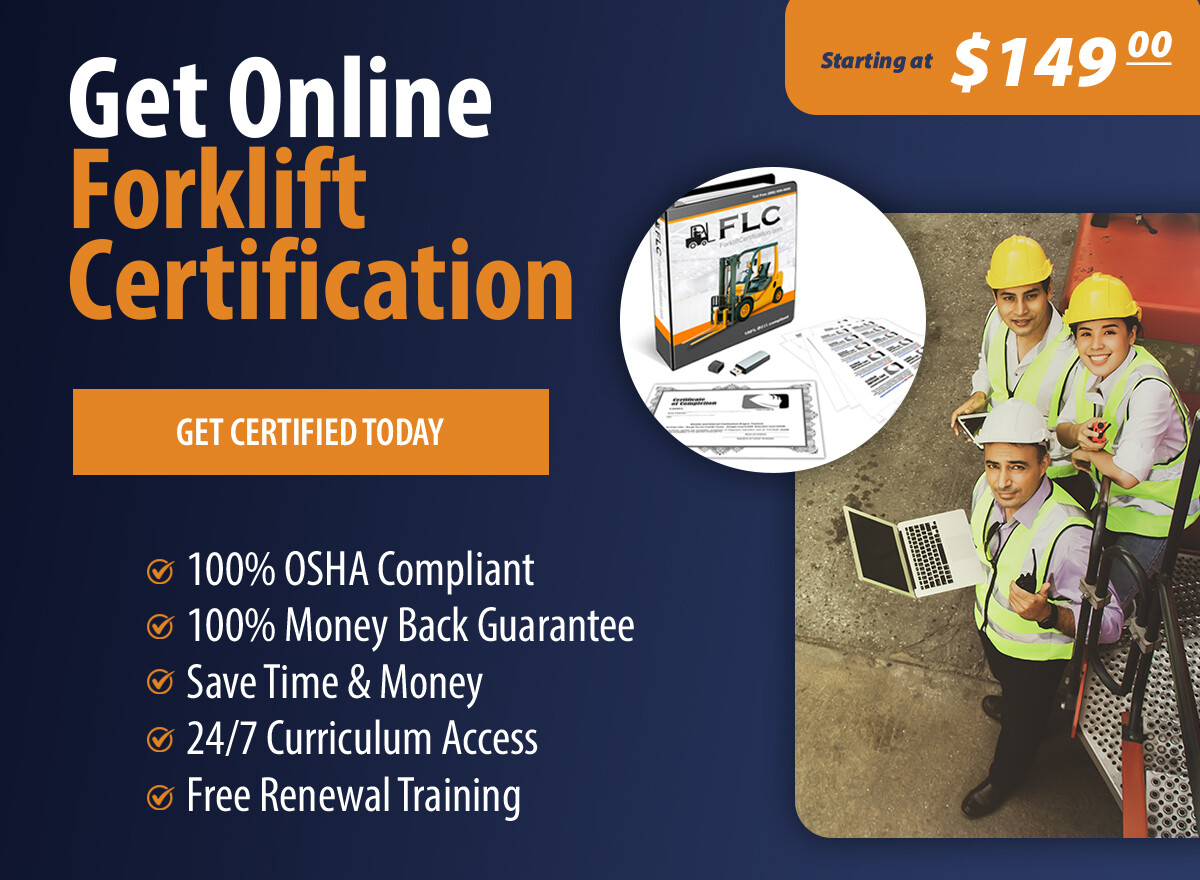 ForkliftCertification.com makes earning your online forklift certification in San Antonio easier and more affordable than ever. Instead of spending time and money on time-consuming, expensive classroom training, you can bring all future forklift training in-house. Our tools allow trainees to learn the fundamentals of forklift operation. Once certified, workers will be ready to use forklifts throughout Texas and the rest of the United States. Training options include:
Trainer Certification
Want to invest in your organization's safety program? Select an employee to oversee the training of your entire team. This $149 course is the best way to train a safety manager to educate their coworkers. Train the Trainer is a great investment in your business – it'll save you cash in the long run by bringing all future forklift training in-house.
Employee Training Kit
This $299 employee training kit includes all the tools and resources to teach workers about forklift fundamentals. The coursework is usually completed in about an hour. The training tools may be reused whenever you need to train someone new.
Bundle and Save
The best value for most customers is to bundle our two-course offerings. For $399, you can make a smart investment in your organization's safety.
How Online Forklift Certification in San Antonio Works
San Antonio forklift certification once required countless hours and hundreds of dollars. Traveling to and from an off-site classroom was time-consuming and expensive. FLC resources, on the other hand, allow you to train from anywhere. As long as trainees have a device connected to the internet, they can learn how to operate forklifts. Here's what you need to do to get started:
Register Trainees: Managers should sign up any employees needing forklift training and certification.
Choose Courses: Pick from our forklift training class or Train the Trainer course.
Complete the Class: Trainees typically complete the material in about an hour.
Pass the Online Test: Employees can take the written test as often as necessary to earn a passing score.
Undergo a Hands-On Evaluation: Choose an on-site employee of your organization to conduct a hands-on evaluation for learners. Suppose you don't have someone in mind. In that case, our Train the Trainer course is the best way to train a safety manager to oversee all your future training evaluations.
Print Proof of Training: Certification cards are ready to be printed off after completing the hands-on evaluation. Print them off and keep them with your HR files.
At this point in the process, employees are considered to be OSHA certified so long as they complete training and pass the written and hands-on evaluations.

Why Choose FLC for San Antonio Forklift Certification
If you're ready to foster a safe work environment, San Antonio forklift certification online is the best way. Qualified, educated, and experienced workers are far less likely to be involved in a workplace incident. Training and certification also help keep your business compliant with OSHA regulations, helping you avoid fines. Here are some additional reasons to train with FLC:
24/7 Access to Training: Employees can learn wherever and whenever is most convenient.
Quick and Simple: Most people finish the material in about an hour.
Printable Proof of Certification: Print off certification cards to add to HR files after completing training.
Free Lifetime Renewals: OSHA requires all forklift operators to recertify every three years. FLC trainees get lifetime access to our training courses.
A Fantastic Value: Our forklift certification classes are a mere fraction of what most classroom training courses typically run.
We also offer a 100 percent money-back guarantee for our classes. There's no risk in giving our training classes a try!

Frequently Asked Questions About San Antonio Forklift Certification
After reviewing our guide on how to get forklift certified in San Antonio, you may have more questions about the training process. Here are the answers to some of our most frequently asked questions:
Does OSHA Fine Companies in Texas?
Yes. The Occupational Health and Safety Administration routinely hands down fines that total tens of thousands of dollars. An untrained, uncertified forklift teen operator at a landscaping Austin attracted the attention of OSHA, leading to $34,000 in fines.
Are Forklifts Dangerous? 
They can be – especially in the hands of untrained, uncertified workers. An incident in a Wichita Falls glassmaking plant resulted in the death of one person. 
Do You Need a License to Operate a Forklift in San Antonio?
Yes. All forklift operators working in the United States must be fully trained and certified.

Sign Up For Our San Antonio Forklift Certification Training Today!
OSHA requires that all employees complete refresher training at least every three years, and when you choose FLC, you'll receive free lifetime forklift recertification training.
If you'd like to have you own OSHA-certified in-house trainer to train your other workers and new hires, our Train a Trainer course is for you. Your designated trainer will be certified to teach others how to safely operate forklifts and receive forklift operator certifications.
Getting started on the road to OSHA-approved San Antonio forklift training and certification is simple. It takes just a few minutes of your time to set up an account, and your operators can be certified in virtually no time at all!. Do it now!
If you have questions or need more information about our forklift certification classes in San Antonio, give FLC a call at (888) 278-8896. You can also visit our contact page to send us a secure message. Thanks for considering FLC for your San Antonio forklift certification training needs – we look forward to helping you and your operators become fully OSHA compliant!