The most trusted online resource for OSHA forklift certification and training since 2002
Questions? Call us! (888) 278-8896
Get Same Day Dallas Forklift Training and Certification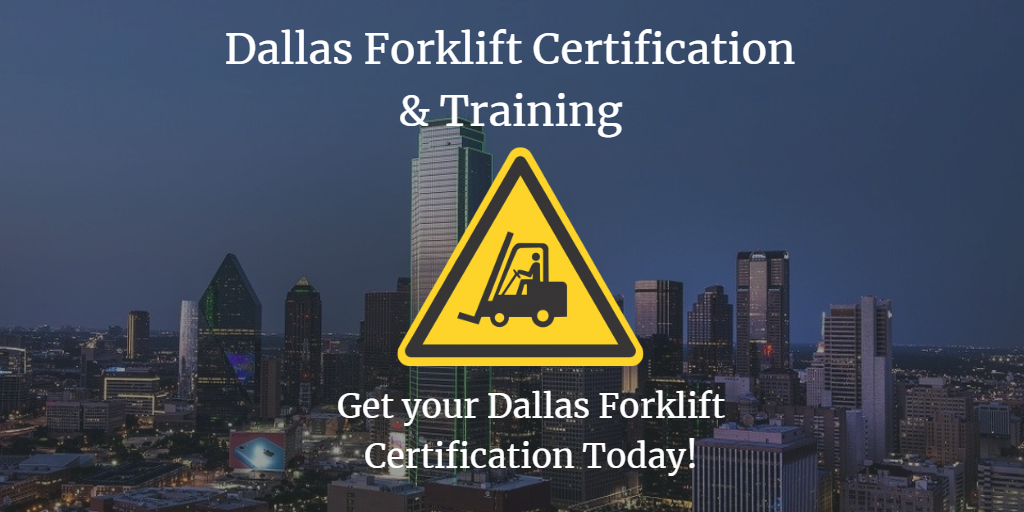 OSHA requires every Dallas employer to provide safety training for forklift operators. If you're not sure where to turn and need forklift certification in Dallas, look no further than ForkliftCertification.com (FLC) for all of your compliance needs!
REASONS TO ENROLL YOUR WORKERS IN DALLAS FORKLIFT CERTIFICATION TRAINING
It's a forklift operator's job to gather, move and distribute pallets, crates and miscellaneous items from one location to another in and around the workplace. Their duties might include managing inventory, stacking items on shelves for storage and removing them when they're needed. If your company has training gaps or lacks OSHA compliance, Dallas FLC training can help. Here are some of the many reasons to choose us to certify your workers:
✓ Our training and certification course can be completed in as little as an hour, although there are no time constraints, so students can work at their own pace.
✓ Our training is convenient – all materials are available online 24/7 and can be easily accessed using a digital device any time and anywhere there's an internet connection.
✓ Avoid costly OSHA fines due to noncompliance.
✓ Our program is also affordable – you'll save both time and money with our online, automated program when compared to paying an in-person instructor.
✓ There's no need for employees to take time away from work traveling to and from an offsite facility.
✓ Refresher or re-certification required by OSHA is free for life!
✓ Our pass rate is 100% – if needed, the classes can be repeated as many times as necessary.
✓ Operator cards and certificates can be downloaded and printed immediately after completing the training.
Why wait? We're Dallas's most recognized and trusted forklift certification training program, so sign up today!
Here's an overview of our forklift certification in Dallas:
✓ Warehouse Forklifts, Classes 1, 4, 5
✓ Pallet Jacks and Order Pickers, Classes 2, 3
✓ Rough Terrain Forklifts, Class 7
Like any thorough Dallas forklift certification, our OSHA-compliant program includes:
✓ Formal instruction (video, computer learning, lectures)
✓ Evaluation (performed in person)
✓ Training
What's more, our Dallas forklift certification also has:
✓ Powered industrial truck-related topics (Operation, controls, steering, maneuvering, and navigating ramps and slopes)
✓ Workplace safety issues and how to avoid them (OSHA guidelines, regular hazards, etc.)
You'll get all this and much more with our Dallas forklift certification!
Here are our Dallas forklift certification courses:
Training Kit – popular Dallas forklift certification course, just $299
Bundle Package – get our Training Kit and Train a Trainer courses for just $399
Online Certification – handled by CertifyMe.net, one of our OSHA certification companies – for only $59!
WHY FORKLIFT CERTIFICATION FOR YOUR WORKERS IS IMPORTANT
According to OSHA, employers are responsible for the safety of their employees, and must take all necessary precautions to reduce any jobsite hazards that could result in serious injuries or deaths. This includes making sure forklift drivers are capable of operating forklifts properly and safely. It  also means that Dallas forklift certification as required by OSHA is an essential undertaking that's intended to both keep workers and workplaces safe and distance employers from the risks of penalties, fines and litigation. If an employer ignores these rules for forklift training, they'll be at risk of incurring costly fines from OSHA, which for willful violations can exceed $100,000!
Dallas needs plenty of qualified forklift operators.  Employers whose workers operate forklifts, however, need to be cautioned that under OSHA guidelines they're responsible for ensuring that all their powered industrial truck operators, including forklift and pallet jack operators are properly trained and certified.
Enroll your employees for forklift certification in Dallas with ForkliftCertification.com. We provide everything you need in one established and reliable training partner! If you need forklift certification in Dallas for your forklift drivers and pallet jack operators, sign up today and enjoy a safer, more compliant work environment.
CertifyMeOnline.net, an FLC affiliate, conducted a survey of more than 100 business owners, managers, supervisors and safety personnel to learn about their experiences with OSHA. More than half of the respondents reported having been audited by OSHA, and 18% of them received fines, most of which were more than $100,000! Click here to see the entire study.
It's really very simple: don't neglect OSHA's requirements or be caught arranging unsuitable and non-compliant operator training for your employees. Get your forklift certification in Dallastoday and give them the finest and most comprehensive forklift certification program available, which will prepare them to avoid accidents and protect your business from severe penalties, crippling fines and serious legal issues.
ABOUT OUR DALLAS FORKLIFT CERTIFICATION TRAINING CLASSES
To become certified forklift operators, your workers must complete a Dallas forklift training program that conforms to OSHA standards. FLC's forklift training will teach them proper operating procedures and give them the knowledge needed to safely operate forklifts and Pallet jacks in the workplace.
Being online, FLC brings complete OSHA compliant operator training directly to your company. We've designed our forklift certification in Dallas programs to be as fast, easy and convenient as possible for your workers to complete, whether they're new to the industry or have some experience but lack OSHA-approved training and certifications. Our forklift training in Dallas can be accessed using a smartphone, tablet or laptop computer wherever the internet is available—at home, at work or in a coffee shop. In about only one hour, they can be trained, certified and have their official forklift operator certification cards in hand..
OUR FORKLIFT LICENSE TRAINING COURSES
Here are FLC's three forklift license training programs and what's covered by each of them:
✓ Forklift Training & Certification Kit:
In about an hour, this OSHA-compliant course will teach your forklift operators what they need to know about safely driving forklifts in and around the workplace. The  Training and Certification Kit includes everything needed to train and certify your current and future operators for a one-time fee of just $299.
✓ Train A Trainer Program:
Our Train a Trainer Course is designed for companies that already have a forklift operator training program in place, but need an-in-house trainer that's always available to certify their unlicensed drivers, as well as new workers as they're hired and come on board. The training  cost to become a Certified Forklift Safety Expert is $149.
✓ Bundle and Save Package:
This is a  money-saving package. Our Bundle and Save Package includes both FLC's Forklift Training & Certification Kit and our Train A Trainer Course for just $399, which is a savings of $50 over purchasing the two courses separately.
Your forklift workers will receive training that covers everything they need to know to fulfill their duties and protect the lives of their coworkers and themselves while on the job. As the employer, you'll avoid expensive fines and severe penalties associated with allowing workers to operate forklifts without being properly certified and licensed.
WE'VE MADE IT EASIER THAN EVER FOR WORKERS TO RECEIVE THEIR FORKLIFT LICENSES!
Enrolling your operators in our OSHA-compliant forklift certification training program will make your workplace safer, more productive and OSHA compliant. As an employer, you'll avoid costly fines and even imprisonment. Just follow these five simple steps:
✓ Create an account on FLC's website (it takes just a few minutes)
✓ Register each individual operator
✓ Next, your workers log into the company account
✓ Have them work through the training by viewing the online videos and take the exams. This usually takes about an hour, although trainees can work at their own pace since there are no time limits. Using a smartphone, tablet or similar digital device, training materials can be accessed online 24/7 any time that's convenient and anywhere there's an Internet connection
✓ After completing the quizzes, a qualified person will observe and assess each student's lift operating capabilities and safety knowledge. (see our Train A Trainer program).
That's it! Once students pass the test and operating evaluation, the forklift certification process is complete and they're OSHA compliant. All that's left to do is download and print their temporary forklift operator cards, so there's no need to wait for them to arrive by mail – your newly certified employees are ready to get to work!
Enroll your drivers in FLC's forklift licensing program today!
ENROLL YOUR WORKERS IN DALLAS FORKLIFT CERTIFICATION TRAINING TODAY!
There's no reason to put off having your aerial lift operators trained and certified any longer! Click here to read more about our affordable and convenient OSHA-compliant online forklift operator training and how simple and convenient it is for your workers to receive their forklift operators' licenses in about an hour! Get started today with FLC's forklift licensing program!
Still have questions? Call us at (888) 278-8896 to speak with one of FLC's training and compliance experts or contact us online  for more information on Dallas forklift certification training. FLC is here to help with all your forklift operator training and certification needs!