The most trusted online resource for OSHA forklift certification and training since 2002
Questions? Call us! (888) 278-8896
Dallas Forklift Certification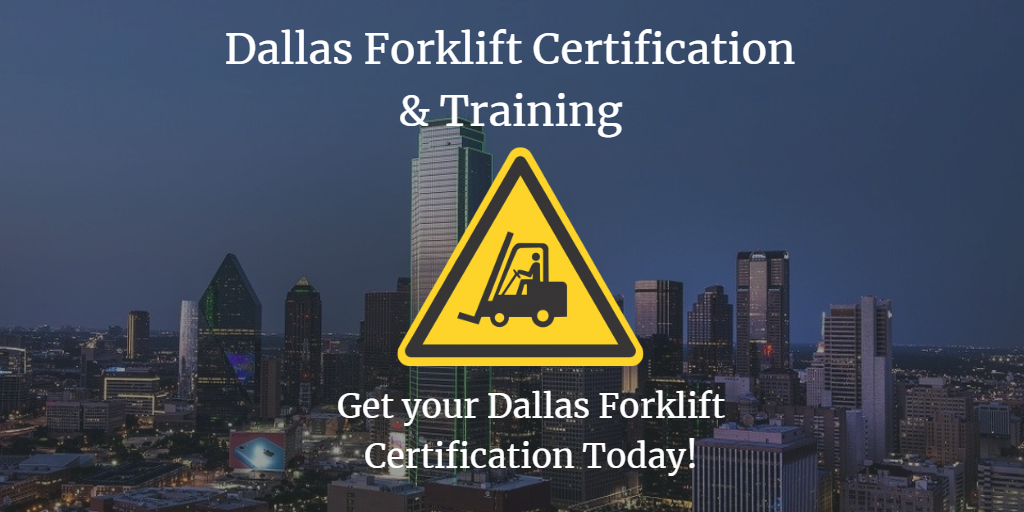 Dallas is a hub for lots of commercial activity, producing a diverse business climate. By getting your employees forklift certification in Dallas TX, you'll benefit from a rewarding career with many advancement opportunities.
With FLC, you can achieve OSHA compliance in one day. Our training modules are ideal for both employees and employers.
Employees enjoy better job prospects with forklift certification in Dallas since the best-trained candidates are always given preference.
Employers must meet OSHA guidelines for powered industrial truck training. This means every forklift operator, pallet jack driver, and other lift employee needs training, along with forklift certification. At FLC, you'll have everything you need, all with one reliable training partner! If you need forklift certification in Dallas for your pallet jack operators or forklift drivers, sign up today!
It doesn't matter which side of the Dallas employment dynamic you come from – what matters is that you become OSHA compliant before operating a forklift! With our training programs, we'll help make you and your workplace safer today! Keep reading to find out all the benefits of our Dallas forklift certification.

WHY DO I NEED A DALLAS FORKLIFT CERTIFICATION?
Forklift operators gather, move and distribute items from one location to another while performing other related tasks, such as managing inventory. They are a much-needed component for many different types of workplaces all over Dallas and are always in demand. Forklift drivers can find work in a number of industries and can be in a new job quickly. If your company has training gaps or OSHA compliance needs, our training can help with forklift certification in Dallas.
With the proper forklift certification Dallas training, your company reduces the risk for workplace injuries. By remaining OSHA compliant through the knowledge gained from forklift training, your company is safer. More productive. And your employees know that you have their backs when it comes to safety. It's hard to put a price tag on well-trained, confident forklift operators. With Dallas forklift certification, you'll enjoy all the benefits that come with OSHA compliance.
OSHA'S RULES FOR FORKLIFT CERTIFICATION DALLAS FOR WORKERS AND EMPLOYERS
Getting a Dallas forklift certification isn't only to appeal to employers. Forklift certification in Dallas is also an essential undertaking as required by OSHA, and will keep workplaces away from the risk of fines and legalities.
According to OSHA, employers are responsible for making sure forklift drivers are competent at operating forklifts safely.. This also means that employers are responsible for the safety of their employees, and to take all necessary precautions to reduce any accident-causing hazards. If an employer does not follow these rules for forklift training, they will be at risk for costly fines from OSHA, which can exceed $100,000 for willful violations! It's quite simple: don't get caught providing less-than suitable training for employees. Get your Dallas forklift certification today! Give them the best, most comprehensive forklift certification Dallas program available, prepare them to avoid accidents, and protect your business from devastating fines and legal issues.
REASONS TO CHOOSE ONLINE DALLAS FORKLIFT TRAINING
In such a big city as Dallas, there's no shortage of forklift jobs or forklift certification Dallas programs. Forklifts are an important part of keeping the infrastructure safe and allowing new construction to take place. It seems there's always a new restaurant, bar or café popping up in Dallas, and forklifts are a big part of each of those fun new spots. To take advantage of the hot job market in Dallas, completing your forklift certification Dallas TX is the first step. But don't choose just any training program, go online with ForkliftCertification.com. Here's why:
Complete your Dallas forklift training on your schedule, whether that's in the daytime, nighttime, or broken up into chunks
Skip the hassle of traveling to a facility to complete in-person training. Our forklift certification in Dallas is wherever you have an internet connection!
Save money with our online, automated program compared to paying instructors
Complete only the type of forklift training you need for advancement at your current job or to qualify for your most ideal forklift jobs in Dallas
Prevent accidents on the job to avoid injuries and enjoy more financial rewards from your happy employer
What are you waiting for? There's no choosing a date from a calendar and signing up for an in-person forklift class needed, or planning your schedule to travel for training on a day off or during the workweek. Save all the hassles and hundreds of dollars by going online with the Dallas forklift training from ForkliftCertification.com. We are the number one recognized and trusted forklift certification Dallas TX training program!
HOW TO RECEIVE A FORKLIFT CERTIFICATION IN DALLAS?
Through comprehensive online Dallas forklift training, you'll receive the knowledge needed for common procedures and practices used to comply with pre-established state and local guidelines. Upon completing the training, you'll obtain an OSHA compliant forklift certification Dallas.
All you need to do is have your employer register the company where you work, or you can simply create your own account. Next set up your log in information and begin working through the modules. You'll come across a quiz at the end of each section and a final test at the very end. Once you have the online course complete, you'll need to find a qualified Trainer to lead the in-person evaluation for you. When you have passed that, you'll be able to start work as a certified forklift operator! Forklift certification in Dallas is that easy – and affordable!
Contact ForkliftCertification.com to begin your training today to receive your forklift certification Dallas TX and qualify for forklift jobs in Dallas!
WHAT KIND OF FORKLIFT CERTIFICATION DALLAS TX DO I NEED?
To become a certified forklift operator, you must complete a Dallas forklift training program that abides by OSHA standards. Forklift training teaches the proper procedures and knowledge needed to safely operate a forklift according to pre-set regulations.
We have created our forklift certification Dallas programs to be as convenient as possible for workers to complete, whether you are new to the industry and wish to certify for the first time, or you want to become a trainer for inexperienced operators. Our forklift training in Dallas can be accessed wherever the internet is available—at home, at work, on a smartphone, tablet, or desktop computer. In only about one hour, you can be trained and certified with your official certification card in hand.
FLC brings complete OSHA compliance and training right to your company. Here's an overview of our forklift certification in Dallas:
1. Warehouse Forklifts, classes 1, 4, 5
✓ Class 1: Electric Motor Rider Trucks
✓ Class 4: Internal Combustion Engine Trucks—Cushion Tires,
✓ Class 5: Internal Combustion Engine Trucks—Pneumatic Tires
✓ Costs $49.95
✓ OSHA-compliant
✓ English and Spanish versions available
2. Pallet Jacks and Order Pickers, classes 2, 3
✓ Class 2: Electric Motor Narrow Aisle Trucks, Class 3: Electric Motor Hand or Hand/Rider Trucks
✓ Costs $49.95
✓ OSHA-compliant
✓ English and Spanish versions available
3. Rough Terrain Forklifts, class 7
✓ Class 7: Electric Internal Combustion Engine Trucks
✓ Costs $49.95
✓ OSHA-compliant
✓ English and Spanish versions available
✓ Meant to be completed with one of the equipment training classes
✓ Costs $110
✓ English and Spanish versions available

GET YOUR FORKLIFT CERTIFICATION IN DALLAS TODAY!
All of our classes are ideal for forklift certification in Dallas. The type of Dallas forklift training you need will depend on the type of forklift your particular job uses. Get started today with your forklift certification in Dallas! Whether you're an individual employee looking to become OSHA compliant, or an employer with training needs, FLC can help today. Give our OSHA training and compliance experts a call at (888) 278-8896.