The most trusted online resource for OSHA forklift certification and training since 2002
Questions? Call us! (888) 278-8896
How to Handle a Warehouse Spill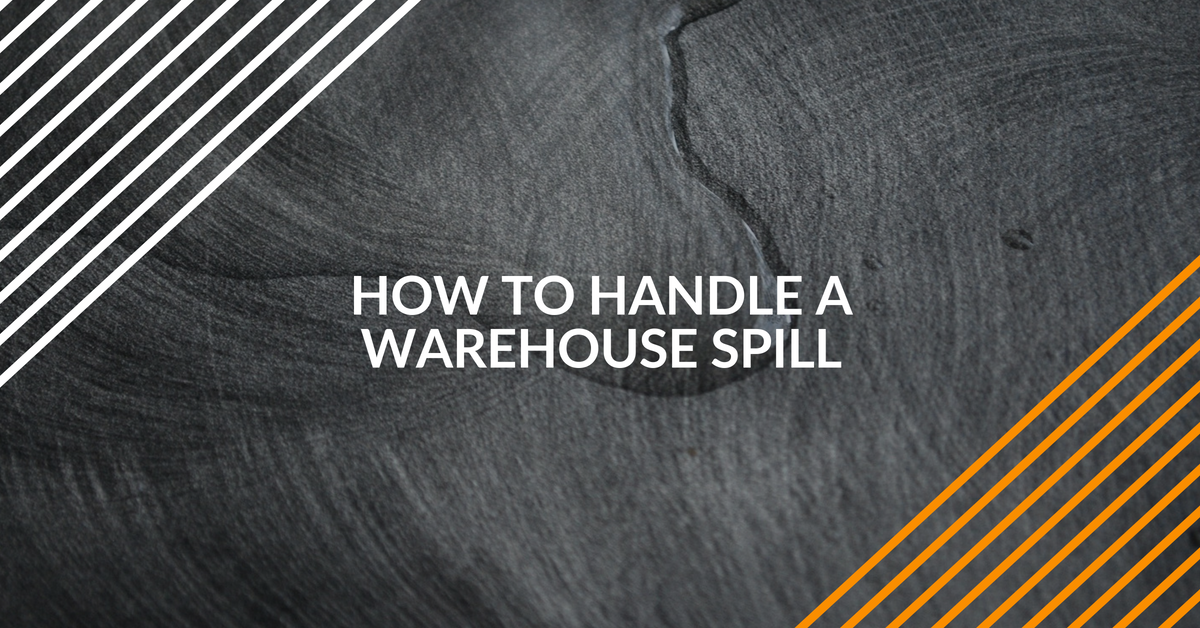 Spills can happen anywhere. The small town of Bardstown, Kentucky is home to the Barton 1792 distillery. It's about 40 miles south of Louisville in the heart of Kentucky's bourbon country. It's the home of  Barton 1792, which has been making and aging whiskey and other spirits since 1879.
There were no glasses being raised or toasts being proposed, however, when part of the warehouse collapsed recently. Bourbon lovers everywhere were mourning the loss of more than 18,000 oak barrels filled with whiskey that came crashing to the ground. Thousands of gallons of their much-coveted contents were spilled. Damage to the 80-year-old warehouse was extensive, but luckily, no one was hurt. Workers immediately began to contain and clean up the spill to lessen risks to the surrounding environment.
What to do When There's a Warehouse Spill
Bourbon isn't the only potentially dangerous material found in warehouses. There are chemicals in just about every workplace. They range from flammable cleaners and lubricants to corrosive compounds used in manufacturing. Some are toxic, some are flammable, but almost all pose risks to workers and the planet.
The best way to avoid chemical spills is to have rules in place that cover how to transfer, store, use and get rid of dangerous substances. All workers need to be able to spot potential hazards and know how to deal with them. Despite strict safety measures and training, workplace accidents, including spills can and do happen. Here are tips on how to be ready to deal with a spill:
Plan. The Environmental Protection Agency requires that written plans be in place for dealing with emergencies, including spills. Knowing what to do in advance is crucial to worker safety. It's also important for reducing harm to the environment. All workers need to know what to do if there's a spill, even if it's just the route to leave the building. It's important to plan, train and practice to be sure everyone's ready in case of a spill. The plan should include material safety data sheets (MSDSs) for all workplace chemicals, and what to do if one is spilled. Workers need to know what personal protective equipment (PPE) is on hand and how to use it. They also need to know who to contact if there's a spill, and when and how to evacuate. Finally, the plan needs to include information on how to contain, clean up, decontaminate and dispose of spilled materials, along with the equipment used to clean it up.
Train. OSHA requires that workers be trained on how to react to workplace hazards. Since no two spills are the same, they need to know the dangers of each and how to respond safely. For example, a production area spill will be handled differently than a spill out on the loading dock. Here are the basic steps to take for all warehouse spills:
Identify the Spilled Substance. Liquids leaking from marked containers are easy to recognize. For unknown spills, workers should keep away. They must never risk their health or lives by trying to identify a spilled material. Just reporting the spill may be enough. The first step is to immediately contact a person in the plan who can identify the spill.
Report the Spill. Whether or not the spill can be identified, training needs to include to whom spills should be reported. Whoever is in charge of handling the spill may need to report it to outside agencies. The Code of Federal Regulations (CFR) lists the amounts and types of chemical spills that must be reported. If a hazardous material spill enters a storm drain or poses other threats to the environment, it needs to be reported.
Protect Workplace Responders. The responding workers must know the type of PPE that's needed. If the spill hasn't been identified, they should assume the worst and use all PPE available. This may include gloves, boots, goggles, breathing protection, monitors, and detectors. Keep items like plugs, patches, wrenches and other tools with the PPE. It's also a good idea to have pumps and containers on hand to catch the spilled liquid. All PPE and supplies should be checked on a regular basis and replaced as needed.
Life Safety. Safety is the first priority in any spill. If it's obvious someone has been injured or contaminated, call 911. Spill responders must be trained to remove and treat the injured until outside help arrives. Since this isn't the sort of thing responders do every day, it can be difficult. Because they may be wearing clumsy PPE gear, the recovery might be even harder. It's important that drills are held regularly so that everyone knows what he or she is to do in the event of a spill.
Contain the Spilled Material. After removing any victims, responders should contain the spill to keep it from spreading. This is usually done by placing dikes around the spill's edges. If there are drains near the spill, they need to be covered. This will prevent the hazardous materials from getting into the drainage system. Cover them even if the spill has already started flowing into the drain to stop the damage.
Cut Off the Source. If it's still leaking, try to stop it. This might mean turning off spouts or valves, patching a seam or rolling a leaky drum so that the leak is on the top. This can be done at the same time as containing the spill.
Cleaning Up. Cleanup can begin once any injured parties are out of the spill zone and the spill is stopped at the source. Work from the outside in toward the center. This helps to make sure the entire area has been cleaned. Anything absorbent can be used – mops, shop towels, mats, socks – even pillows or cushions. Use shop vacs to clean up larger spills. Local HAZMAT teams may be available to assist with cleanup training drills. This will also make the teams familiar with the layout of the warehouse in case they're needed to help in a real spill.
Decontaminate the Area. Once the spill has been contained and mopped up, it's time to decontaminate. Responders need to know how to set up a decontamination area before entering the spill area. If there are people injured by the spill, they will need to be decontaminated before they are treated. The entire area needs to be thoroughly cleaned, along with all tools and equipment used to clean up the spill.
Do the Paperwork. It's important to know the regulations. Depending upon the type and size of the spill, reports may need to be filed with local, state or federal agencies. A large inside spill may not require a report, but even a very small spill of the same material outside that gets into a storm drain might. This is also the time to review the incident. Study what went well and where there's room for improvement. Changing the emergency plan now will improve the response to future spills.
Restock Supplies. Make an inventory and restock all supplies and PPE used during the cleanup as soon as possible. Be sure you're prepared for a future spill.
 Be Ready
Always assume the next emergency is right around the corner. Spills and other accidents can happen at any time. Workers need to be ready and able to deal with them. It's important that there's a written response plan, and that all workers are familiar with it. Hold regular training sessions so that everyone knows what to do – and what not to do – when a spill happens. A good plan and thorough training will help protect the health and lives of employees and minimize risks to the environment when a spill occurs.
Training forklift operators through Forkliftcertification.com's online certification classes is another way improve warehouse safety. OSHA requires all forklift operators to be trained and certified. Our training is fast, convenient and affordable. Using a smartphone, tablet or other digital device, workers can be 100% OSHA trained and certified in about an hour. All materials are available online 24/7, so training can take place anywhere and any time there's an Internet connection. Once the training is completed, certificates and operator cards can be immediately downloaded and printed. What's more, there's never a charge for the recertifications OSHA requires every three years.
To learn more about our online forklift operator training, call us toll-free at 888-278-8896. Better yet, get certified today. Click here to get started – your warehouse will be a safer place to work!