How Mobile Devices Can Improve Warehouse Operations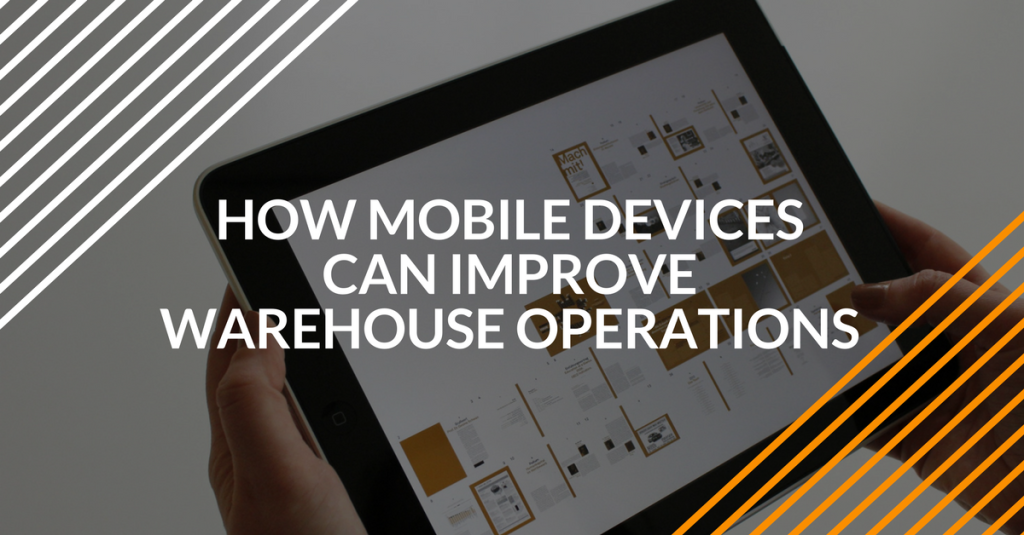 Looking at today's warehouse, you'll quickly see that the use of mobile devices is important to creating a productive workplace. Mobile devices can be used in the modern warehouse for everything from managing stocked goods to tracking employee time. These devices can be helpful for warehouse operations, but the lack of mobile-friendly software limits their use.
A recent VDC Research study looked at how operations software and mobile devices are used in warehouses. The study found that mobile devices are an important factor in warehouse productivity. Various factors researched in the study include: how warehouses currently use mobile devices, when to do software and hardware upgrades, and how easy mobile devices are to use.
The Need to Upgrade
In the VDC Research study, 53% of the warehouse professionals that were interviewed had plans to upgrade their existing mobile devices. The top reason for upgrades to mobile devices was age. Most warehouses currently use older laptop and desktop computers. The age of devices limited the warehouse's ability to upgrade applications or install new, more user-friendly software.
Mobile devices are becoming more logical for use in warehouses. Hardware and software companies are starting to make new, user-friendly products for warehouses. However, there are still challenges to linking currently used software with the newest hardware. Products like Microsoft Windows Mobile, Windows CE, and Windows Embedded Handheld, will be leaving the market in 2018, creating problems for warehouses that want to use their existing software on new mobile devices.
Moving to New Mobile Platforms
If your warehouse has a software program that is both user-friendly and effective for managing your processes, during 2018 you will want to find a way to move this software from old hardware to new mobile devices. However, it is likely that your IT department doesn't have the time or the skills to make this change. Along with the loss of tough mobile devices, the other challenge for the warehouse IT manager is finding a useful and cost-effective solution to switching warehouse software from the current format to a mobile-friendly format.
The Middle Ground
Most warehouses are not going to be able to afford to update their software in-house. So, there needs to be a logical and reasonable middle step that warehouses can use now. The solution to this problem is the use of industrial browsers. Industrial browsers allow older software programs to be put into a format that can be easily added to new modern mobile devices, without the high cost. Using an industrial browser to support older software warehouses can continue to use special keyboards and special hardware products like scanners and label makers.
Industrial browsers work by taking the current software and switching to a format that can be used on a mobile device. Many warehouse employees are now familiar with the touchscreens of smartphones and tablets, so this is an easy switch for your employees. Other benefits of using the industrial browser in your warehouse include better employee response, intuitive onscreen keyboards and quick updates to the newest features.
The Old Still Hangs On
The VDC Research study found that even though mobile devices like tablets, smartphones, hand-held scanners, and small, tough laptop computers improve warehouse processes, the use of these products in warehouses is not growing. Many warehouses still rely heavily on desktop computers, older software and even pencil and paper to manage operations and productivity.
Mobile devices have started to show improved shipping speed in warehouses and improved employee productivity. The VDC Research study showed that the biggest benefit that new mobile devices can offer affect shipping processes. The VDC study showed that 37% of warehouses that use things like tablets and smartphones have faster order processing and shipping. Other benefits mentioned in the study included reduced labor costs, better use of storage space, and a reduction in employee errors.
While the old systems are reliable and continue to provide good results for warehouses, the benefits of converting old software to mobile-friendly apps are proven. However, this study also showed that the biggest challenge to upgrading to mobile devices is convincing upper management to spend the money. IT managers will have to work extra hard to support their purchase of new mobile devices, especially when upper management works hard to spend less money.
Improving your warehouse process by switching to mobile devices will likely be a challenge for many warehouse managers. As older software loses the Microsoft operating systems, new hardware and software products will need to take their place. For some warehouses, this may mean using industrial browsers for an easy switch. Other warehouses may need to continue to rely on outdated technology until an easy, cost-effective product is available.