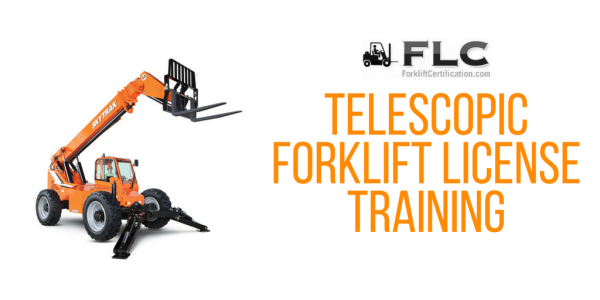 A telescopic forklift is a crucial component for any company involved in construction, maintenance, landscaping, and more. Forklift telehandler training ensures OSHA compliance for a variety of related tasks.
What is a Telescopic Forklift?
A telescopic forklift typically has a more extensive range than a regular warehouse forklift. Essentially, a telescopic lift has the forks on a "telescoping" mechanism to extend the lift range considerably. As such, the equipment requires specialized telescopic forklift certification, which your employees can get at ForkliftCertification.com. A telescopic forklift license from FLC includes a comprehensive review of all the key factors related to operating this type of machinery safely, efficiently, and effectively.
How to Drive a Telescopic Forklift
Before you decide to try your hand at driving a telescopic forklift, it's important to become certified. Online certification courses can help you get to know the type of vehicle you'll be working with and how to operate it safely. It's also a good idea to go over the manual of the machine so you can familiarize yourself with the various safety symbols associated with that particular model.
Conduct a thorough inspection of the telescopic forklift before use. Failure to do so could result in expensive OSHA fines – or worse, you could find yourself involved in an accident. Be mindful of weight as you operate the telescopic forklift. Excessively heavy loads may cause the vehicle to tilt. Always be sure to keep the forks at least 30 centimeters off the ground. If you're going over uneven surfaces, be ready to adjust the height of your forks accordingly.
Telescopic forklifts can reach speeds of more than 20 miles per hour. Just because you can speed through your warehouse or jobsite doesn't mean you should, though. Always factor terrain and the weight of your payload into your driving decisions. Never start, stop, or change directions while moving at high speeds. Always be sure to drive forwards when going uphill.
Obviously, this advice is the tip of the iceberg when it comes to learning how to operate a telescopic forklift. If you're new to working with lifts, you'll want to sign up for a training course to fully understand how to operate these complex vehicles. 
Telescopic Forklift Operator Certification Needs
In order to operate a telescopic forklift, you'll need to be officially certified. OSHA mandates that all employers are responsible for training their employees and providing telehandler licenses. But since most companies don't know how to handle telehandler certification, there's an easy and affordable solution: ForkliftCertification.com. FLC is the leader in telescopic forklift training and much more!
Online certification courses make it easy to learn to operate telescopic forklifts from the comfort of your living room. Since they only take about an hour to complete, you can be ready to hit the ground running fast. Hoping to train your entire team? Become a certified trainer by taking a "train the trainer" course! 
Consequences of Not Certifying Employees to Drive Telescopic Forklifts
Operating a telescopic forklift without proper certification is a risk most businesses aren't willing to take. That's because OSHA frequently audits and fines organizations whose workers aren't officially certified. A recent study shows that of 100 participants, 53 had their safety plans audited and 85 received OSHA fines in the past. Of those 85, 57 of the fines totaled more than $100,000.
There's also worker safety to consider. Even if an organization manages to fly under OSHA's radar, uncertified employees are at risk every time they operate a telescopic forklift without proper training. Forklift accidents lead to worker injuries, vehicle damage, and can seriously disrupt productivity. By certifying your employees ahead of time, you save valuable time, money, and energy. 
Forklift Certification Course Lineup Offers
FLC has three different telehandler certification and training packages, all designed for optimal value and comprehensive OSHA certification. What's more, we also have an online certification program through our related training company, CertifyMe.net. Sign up today and discover the difference FLC can make with your OSHA safety, training and overall compliance!
Don't take chances with your telehandler forklift training or telescopic OSHA forklift safety. FLC has the telescopic forklift operator training you need, all with a convenience factor that's hard to beat – not to mention, affordable prices to fit any budget! If you're looking to enhance your own telescopic forklift license requirements, or if your company needs to hire a batch of new forklift drivers, we have a package for everyone:
1. Train a Trainer 
This course includes forklift telehandler training techniques, along with exclusive info to help anyone become their company's main OSHA training resource! If you need an internal resource in charge of telehandler licenses, this is the course for you!
2. Training Kit 
Basic telehandler forklift training, advanced safety methods and everything in between is included with the FLC Training Kit for telescopic forklift certification. We also review telescopic forklift license requirements.
3. Bundle Package 
Can't decide between the previous two training courses? Get the best of both worlds with the value-added Bundle Package, specially priced for supervisors, safety coordinators and more. This is the perfect package for any company looking to increase telehandler operator certification safety.Begin your telehandler certification FLC training module today. If you need to get your telescopic forklift license or conduct a refresher on forklift telehandler training, we have you covered. We're the most reliable, affordable, OSHA compliant telescopic forklift certification and telehandler operator certification company you'll find anywhere.
If you have any questions or would like to speak with our OSHA forklift training consultants, please call Forklift Certification at (888) 278-8896. Thanks for considering FLC for your telescopic forklift certification and training needs!

FAQs About Telescopic Forklifts
1. What's the Difference Between Telehandlers and Forklifts?
Telehandlers – also known as telescopic forklifts – perform many of the same duties as regular forklifts. They can also act as cranes. Telescoping capabilities allow telescopic forklifts to operate at great heights, moving loads to and from rooftops that are typically beyond the reach of standard lifts. 
2. What is telescopic forklift driver training?
Telescopic forklift driver training and telehandler certification covers everything related to safe equipment operation. The training involves study sessions, test, and skills evaluation. It's required by OSHA, and employers are responsible for providing telehandler certification.
3. How long does it take to get a telescopic handler license?
Depending on how much free time your employees have, our telescopic handler license training can be completed in just a few hours. It all depends on how well they grasp the training content, and how they do on the skills evaluation!
4. When does telehandler certification expire, and how much does it cost?
After three years, telescopic handler licenses expire. But no worries; FLC offers renewal training to keep your safety program on track and up to date. Our basic training kit costs $249, while our Train a Trainer training is $149. You can get both with our value-added Bundle Package for $399.
5. How do you drive a telescopic forklift?
The steps are too much to list here, but if you really want to find out, sign up for FLC training today – we'll show you how to drive one the safest possible way with our telescopic forklift driver training!