The most trusted online resource for OSHA forklift certification and training since 2002
Questions? Call us! (888) 278-8896
Telescopic Forklift License Training
A telescopic forklift license is considered a crucial component for any industrial worker's job profile. But it's more than just a critical career booster; forklift telehandler training also ensures OSHA compliance for a variety of related tasks. Once you're done with FLC's telescopic forklift training, you're officially recognized by OSHA as compliant. And that's a win-win for you and your employer. You'll enjoy more safety awareness when operating telescopic forklifts, and your employer will have the training records to show you've taken the necessary training.
Telehandler forklift training is important for any job candidate, and it's also mandatory for any operator. Let's look at the basic functions of a telescopic forklift, along with how to get a telescopic forklift license – and how it benefits both employers and employees.
What is a Telescopic Forklift?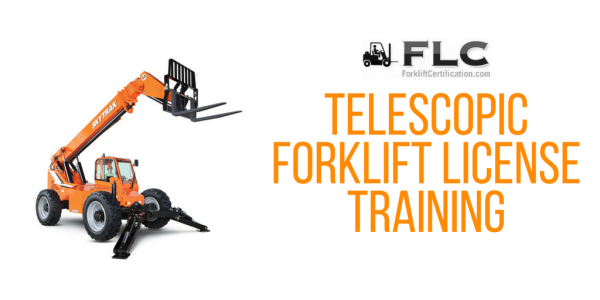 A telescopic forklift typically has a more extensive range than a regular warehouse forklift. Essentially, a telescopic lift has the forks on a "telescoping" mechanism to extend the lift range considerably. Telescopic lifts are commonly used for applications such as:
• Industrial repair
• Extreme elevated warehouse storage
• Specialized construction projects
• Heavy machinery assembly
• And much more
A telescopic forklift license from FLC includes a comprehensive review of all the key factors related to operating this type of machinery safely, efficiently, and effectively.
Benefits of Telescopic Forklift Training
With your telescopic forklift license, you're able to effectively and safely operate a whole new category of powered industrial trucks. As a result, you're instantly more valuable in the job marketplace. Since employers look for well-trained telescopic forklift operators, having the right training credentials is critical. With FLC's OSHA approved safety training, you can receive a telescopic forklift license that's good for three years. And once your telescopic forklift training expires, you can easily take our renewal course to become certified again – it's that easy!
Get Your Telescopic Forklift License Today with Forklift Certification!
FLC offers a trio of training packages to assist with your forklift telehandler training requirements. Each one covers telehandler forklift training, basic powered industrial truck safety, proper operating techniques and much more.
Don't take chances with your telehandler forklift training or telescopic OSHA forklift safety. FLC has the training you need, all with a convenience factor that's hard to beat – not to mention, affordable prices to fit any budget!
If you're looking to enhance your own telescopic forklift license requirements, or if your company needs to hire a batch of new forklift drivers, FLC has a package for everyone:
• Train a Trainer – this course includes forklift telehandler training techniques, along with exclusive info to help anyone become their company's main OSHA training resource!
• Training Kit – basic telehandler forklift training, advanced safety methods and everything in between is included with the FLC Training Kit. We also review telescopic forklift license requirements.
• Bundle Package – can't decide between the previous two training courses? Get the best of both worlds with the value-added Bundle Package, specially priced for supervisors, safety coordinators and more.
Get started today with any FLC training module. If you need to get your telescopic forklift license or conduct a refresher on forklift telehandler training, we have you covered. If you have any questions, or would like to speak with our OSHA forklift training consultants, please call Forklift Certification at (888) 278-8896.