Telescopic Forklift Training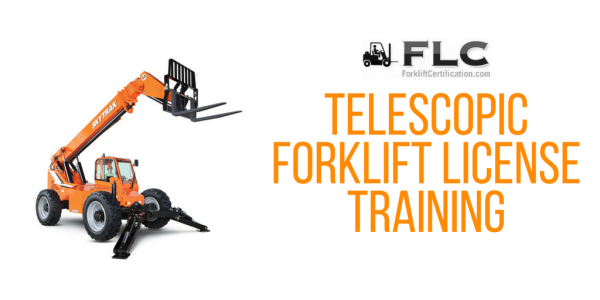 Telescopic forklifts are the backbone of American industry. These powerful machines are essential for construction, maintenance, landscaping, and so much more. Of course, telescopic forklifts would be nothing without the people operating them. Telescopic forklift training is essential to the safe, efficient operation of these machines. OSHA requires all employers to provide training and certification opportunities to their telescopic forklift operators.
Understanding Telehandlers
Telescopic forklifts, also known as telehandlers, are a type of lift with a more extensive range than average. They use a "telescoping" mechanism to significantly extend the range of lift. Telehandlers are incredibly versatile – whenever you need to pick up materials and move them to a higher level, you'll need a telehandler. This technology is powerful and, in the wrong hands, incredibly dangerous. That's why the equipment requires telescopic forklift certification. Telescoping forklift licenses are available from ForkliftCertification.com. Trainees can learn the fundamentals of operating a telescopic handler to understand how to use this equipment as safely, efficiently, and effectively as possible.

Telescopic Forklift Training Program
If you're in the market for telescopic forklift training, FLC has you covered. We offer three different telehandler certification and training options, all created with value and OSHA regulations in mind. Our Employee Training Kit includes everything you need to get certified to operate telehandlers. Learn the fundamentals of telehandler operation, advanced safety techniques, and industry best practices. Our course material is constantly updated to reflect the latest trends and technologies. Once you complete the training kit, you'll be certified and ready to operate telehandlers. The blend of theoretical knowledge and practical skills is essential for successful training.
We also offer a convenient Train the Trainer program if you want to bring telescopic forklift training in-house. This simplifies future training. With a staff safety expert on hand, you can get new forklift operators certified in no time. For the best value, take advantage of our Bundle and Save package, combining our Training Kit and Train the Trainer course at one low price.
Telehandler vs. Forklift
Do you understand the differences between telehandlers vs. forklifts? That's okay – we're here to help. The reality is that all telehandlers are forklifts, but not all forklifts are telehandlers. For instance, a pallet jack is a type of forklift used in warehouses. Often seen as the most basic type of forklift, pallet jacks are useful but limited in their abilities. Telehandlers are forklifts with incredible versatility and power. They can be used to lift materials without moving their base. They can move at diagonal angles on rough terrain to place cargo at high elevations. They offer a full range of motion and can be used in virtually any setting. It's easy to see why this equipment is in such demand.
The Role of Telehandlers in Material Handling
Telehandlers are used in a wide range of applications. Because they have various attachments, this equipment is great for moving heavy materials – especially vertically. This versatility makes telehandlers popular in agricultural and construction settings. Operators must consider their industry's needs as they choose attachments for the task. Forks can lift materials and pallets across terrain on construction jobs, while buckets can reach into trailers and hoppers in the agricultural field.
Telescopic Forklift Training Frequently Asked Questions
Still have questions about telehandlers? Allow us to answer a few of our most frequently asked questions.
What Class is a Telescopic Forklift?
The term telehandler is short for "telescopic handler." This equipment is a Class 7. It features variable reach and can be used on rough terrain. These versatile machines use a variety of attachments to lift, transport, and place materials across a job site. Whether you're moving pallets, bricks, gravel, or lumber, telehandlers rise to any occasion.
What is the Difference Between a Telehandler and a Telescopic Forklift?
It's easy to confuse these two machines, as their names are very similar. In reality, though, you'd never mix these up. That's because forklifts only have forks that lift loads up and down. Telehandlers have booms that can be fitted with different attachments. Telehandlers can move loads forwards and backward without needing to adjust their base. However, forklifts must drive forward and back to drop off loads in different locations.
Does OSHA Consider a Telehandler a Forklift?
Absolutely. OSHA Rule 1910.178 (I) requires all operators of Class 7 forklifts — also known as telehandlers — to undergo safety training before using these machines. Employers are legally required to provide this training for operators. Fail to do so, and your organization may face heavy OSHA fines.
Is a Telehandler a Forklift to OSHA?
Yes, OSHA considers telehandlers to be a type of forklift. All telehandler operators must be formally trained and certified through their place of employment.



Begin Telehandler Training Today
Telescopic forklift training can empower operators to work more safely and efficiently. Such training can also help foster a culture of safety within your workplace. Untrained workers tend to be more accident-prone and less effective behind the wheel of telehandlers. Given the potential OSHA fines at risk, it pays to be proactive about telescopic forklift training. ForkliftCertification.com offers convenient, affordable training for aspiring telescopic forklift operators. Get started today and see how proper training can impact your organization.