Thieves use Forklift to Steal ATM in San Antonio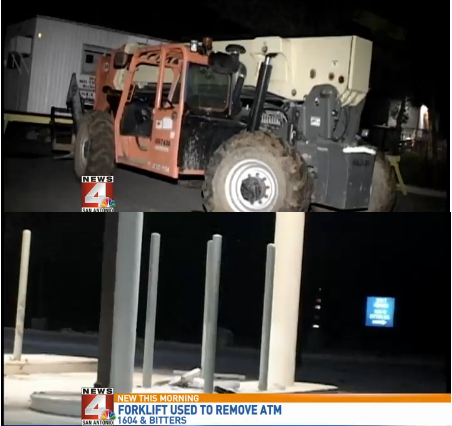 A pair of thieves welcomed the holiday season with a unique robbery in San Antonio, Texas.
According to San Antonio police, two men used a forklift on Tuesday, December 30 to steal at ATM. Unlike other recent attempts to rob ATMs, it appears this attempt was successful. In fact, the robbers got away with the entire ATM machine!
The ATM was stolen from the Randolph-Brooks Federal Credit Union, which is at Loop 1604 and Bitters Road. The brazen act was conducted, appropriately enough, in the drive-thru lane of the credit union's customer service area.
Police detectives and investigators said the two men pulled up in the early morning hours (about 4:00 AM) with a forklift from a nearby construction site. Both men used the forklift to pry the ATM from the concrete base. After extricating the money-filled ATM, the placed it in the back of the black truck and drove off.
No arrests have been made. Authorities are now looking at surveillance video to get more details on the heist.
This episode in Texas is the latest in a line of bank and credit union ATM robberies involving forklifts. In most cases, the forklift isn't strong enough to remove the ATM machine from its concrete floor. However, this pair apparently used a heavy-duty forklift to get the ATM into the back of the truck.
Forklift security is an issue that is more relevant than most people think. For the day-to-day operations involving your forklift, ForkliftCertification.com is the best place to acquire OSHA-compliant training. Our modules can be taken at your leisure. We also have a 100% pass rate.
Browse our 3 courses and decide which one is right for you. Many of our customers require all three training sessions for their entire facility. If you have any questions about getting started, simply get in touch at (888) 278-8896. Our OSHA forklift safety specialists can get you signed up today. To send an email or to find out more information on our company, please visit the FLC contact page.
Thanks for reading the FLC blog!