"In 1999 OSHA decided that there were too many people doing stupid things while operating forklifts. Not because they were bad people but because they just needed specific forklift training in what to do and more importantly what not to do.
      If you are ready to get this forklift training project off your desk and get a program that is 100% compliant with the OSHA requirements then just click below and order your forklift operator training and certification kit today!" ~ Tom Wilkerson
Why wait? Get Started Today!
Why Certify Your Forklift Operators
The majority of warehouse and construction jobs will involve the use of operating a forklift.
If an employee is not correctly trained and certified on how to use a forklift, their incompetence could lead to serious material damage, personal injury, or even death in the workplace.
If your employees need to operate a forklift on the job then they will need to complete forklift training and become forklift certified as required by the Occupational Safety and Health Administration (OSHA).
How To Certify Your Operators
Here are 4 methods available to employers that need to certify forklift operators.
1. Employers can provide training at the job site by hiring an outside consultant or by sending employees to an off-site training facility.
Expensive on-site consultation can disrupt company operations while off-site training must include employee travel and hourly time costs.
2. Employers may want to develop their own in-house training but this again involves costs in terms of time to research and develop a program.
Companies considering these training methods need to assess the associated costs because these costs will be in addition to the actual cost for forklift training and certification.
Both forms of training can have significant drawbacks in terms of loss of productivity and high costs.
3. Employers need a proven forklift certification program that offers the convenience of in-house training completed quickly and at a reasonable cost.
Looking for a quick, proven effective, way to get proper forklift operator training and certification?
ForkliftCertification.com has helped thousands of companies such as Verizon, U-Haul, Snap-on Tools, Harley Davidson, and many more, to efficiently train and certify their employees to become OSHA compliant. Why wait? Get Started Today!
Forklift Certification Online
Way back in the 20th century, when dinosaurs roamed the Earth, the cost of forklift operator certification for your employees could cost in the region of thousands of dollars. Today, ForkliftCertification.com (FLC) can help you provide your employees with online forklift certification for a tenth the price. We provide all the necessary materials to get your employees forklift certified. At FLC, we have been providing forklift certification online since 2002.
Why is Forklift Certification Necessary?
Without proper training, even the most diligent and well-intentioned powered industrial truck operator will do something stupid. According to OSHA estimates, forklift accidents are responsible for approximately 85 fatal accidents and tens of thousands of serious injuries every year. Basically, every three days someone dies as the result of a forklift accident. The four most common causes are:
Pedestrian struck by forklift
Victim crushed by forklift
So many of these accidents could have been prevented had the operator been properly trained and forklift certified. Is that something that you, as an employer, want to have on your conscience? Not only does OSHA require forklift operator certification, the training and certification must be documented.
OSHA Regulations Concerning Forklift Operator Certification
In today's health and climate, forklift operator certification is not an option, it is compulsory. Since 1999, the Occupational Safety and Health Administration (OSHA) has required that employers provide their forklift truck operators with adequate safety training and forklift certification.
Any time an OSHA compliance officer walks in off the street and observes a threat to your employees' safety, you may incur a fine of $7,000, or as much as $70,000 in the case of willful violations. What's more, no liability insurance company worth doing business with will pay any claims for incidents if they involve operators that are not forklift certified.
Online Forklift Certification Made Easy
Compliance with forklift certification regulations doesn't have to be complicated. We do all the research for you. At FLC, we even save you the trouble of having to download materials from the Internet. For a limited time, everything you need for online forklift certification is provided on a convenient flash drive.
Orientation DVD containing training tips and OSHA regulations covering forklift certification
Specialized curricula for rough terrains, warehouse forklifts, pallet jacks and order pickers
Step-by-step guides for forklift operator certification
Unlimited cards and forklift certifications
We can offer you the tools to prepare your employees to handle equipment with capacities up to 100,000 pounds. Although the same basic principles apply, the stakes, and the consequences of an accident, are a whole lot higher. Seriously, would you hand over the keys to a Hyster without first casting your eyes upon a forklift certification card?
We've Been There!
At FLC, we are not just a bunch of computer nerds who like to watch people drive forklifts. Our inspiration to put together a package of online forklift certification materials came from our own blood, sweat and tears. We have years of experience shifting very expensive, very heavy, yet delicate equipment used to manufacture semiconductors.
Get in touch with us to see how we can help you train and certify your forklift operators to OSHA compliance and beyond at a fraction of the price your granddaddy had to pay.
Promote safety the smart way with ForkliftCertification.com!
How it works
Watch the video now!
We want you to know what we are all about and our video introduction gives you the knowledge you need.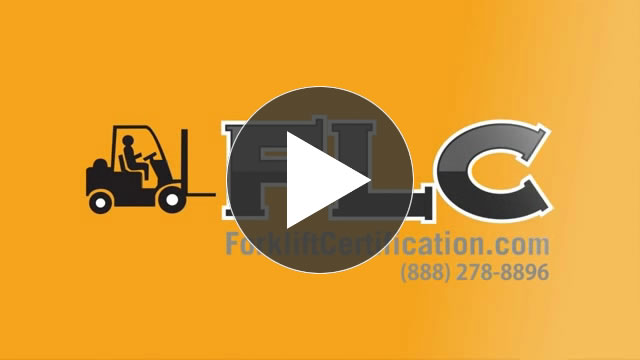 Limited
Time Offer!
Get the entire program loaded
onto your own Flash Drive! No
programs to download. Instant
access to what you need when
you need it! Unlimited printing.Get Yours NOW!
Why wait?
Get Started Today!