Charlotte Forklift Certification, 100% Online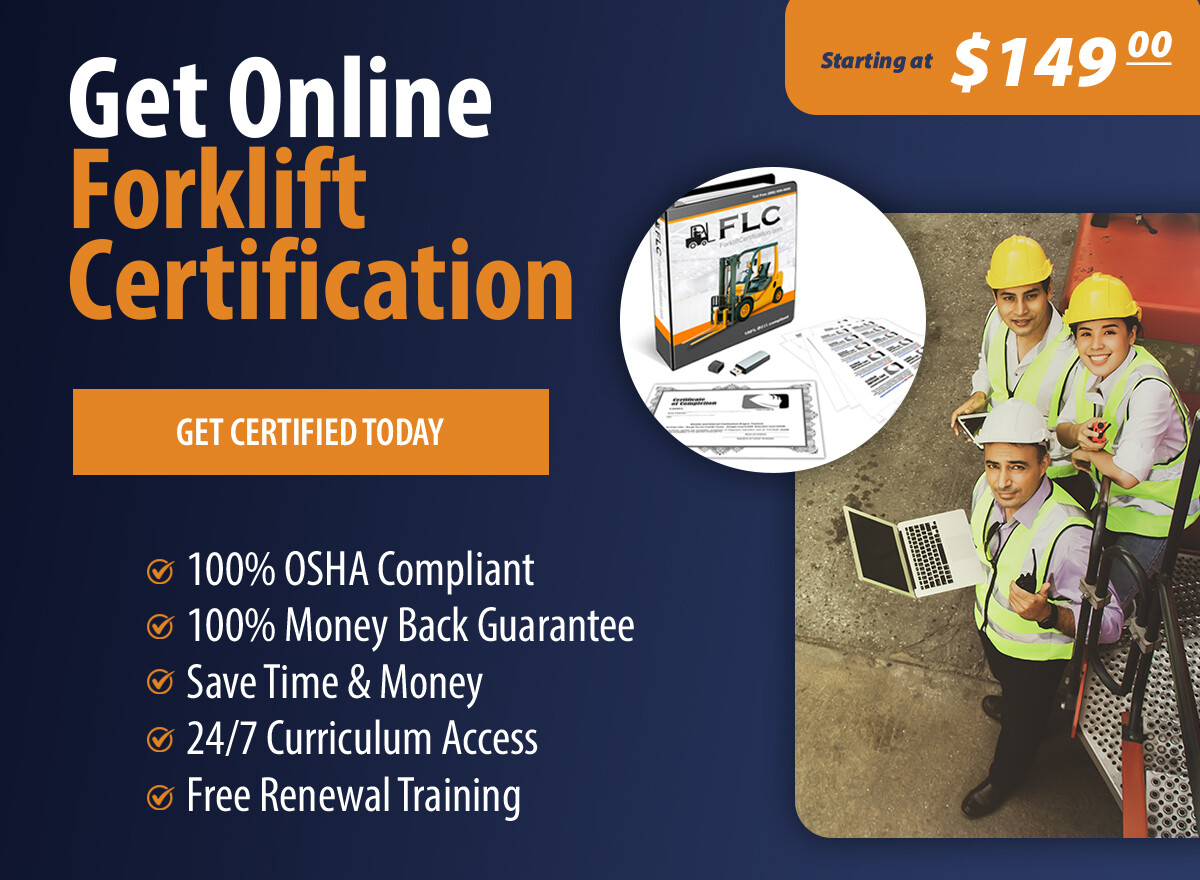 Charlotte was named as number 12 on a list of the top cities in the U.S. for construction workers as 2021 came to a close, and the industry is still booming here in North Carolina!
Are you currently considering taking on a construction job that will require the use of forklifts? If so, then you need to investigate how to get forklift certified in Charlotte first. Otherwise, you run the risk of being noncompliant with OSHA standards.
The good news is that obtaining a Charlotte forklift certification is easier than ever thanks to the internet. Now, you can obtain a Charlotte forklift certification online quickly and easily, especially if you opt to work with us here at forkliftcertification.com. Learn more about how our process works below.
How Online Forklift Certification in Charlotte Works
With our online forklift certification program, you'll be able to obtain your official forklift operator card. This important card will prove that you've obtained the proper training, and it will certify you to operate forklifts not only in Charlotte, but across the whole country. Here is how the process works:
Sign Up on Our Platform

: First, you'll sign up with us. If you're an employee, then you might want your employer to do this step for you.

Select Your Educational Course:

The main reason your employer should sign up on the platform is because they'll be the ones that need to pay for the course they select. Employers have the option of bundling our training material to include a trainer certification course. This deal lets you complete everything you need on-stie.

Use the Training Material

: Next, the individual seeking certification will need to go through the educational training material.

Pass the Online Quizzes:

Throughout the process, this person will need to submit to and pass several online quizzes.

Take an On-Site Exam:

Finally, the person will need to submit to an on-site hands-on evaluation to prove their competency when it comes to operating a forklift. A certified trainer will need to handle this task.

Print Your Operator Card:

Finally, you'll be able to print off your forklift operator card and training certificate. Congratulations! You've passed the course.
At the end of this course, you, your employees, or your team will be considered fully trained and legally able to operate forklifts throughout the country. Make sure to keep a copy of your operator card with you on the job site. If you're an employer, then it might be wise to retain copies of your employee's certificates on record in the event of a future inspection.

Why You Should Choose Forkliftcertification.com for Forklift Certification
In the past, certification was a hassle, but forkliftcertification.com makes the process quick and simple. Here are a few advantages of working with us:
24/7 access to the curriculum

– allows employees to learn at any time or place that's convenient. The courses can also be accessed from any device with an internet connection. 

Fast and Easy

– The course only takes about an hour to complete, and the test at the end can be taken as many times as an employee needs until they pass. 

Certification Cards

– Upon completion of the training, employees can print their certification cards that serve as proof of training and OSHA compliance. 

Free Renewals

– We're the only company who gives free lifetime access to the training course. OSHA requires an evaluation of forklift drivers' performance every three years. If a refresher course is needed, with Forkliftcertification.com there is no need to pay again. Use our course again every three years or whenever you need a refresher. 

Affordable

– Our Train the Trainer courses at $149 and Complete Training Kits starting at $299 are a great deal. You'll also save valuable time and money by not sending forklift operators off-site for training.
As if those perks weren't enough, forkliftcertification.com also offers a 100% money back guarantee for anyone who isn't satisfied with their purchase.

Forklift Certification in Charlotte: FAQs
Below, we'll go over some of the most frequently asked questions regarding forklift certification in Charlotte.
How High Do You Need to be to Fall to Your Death?
Unfortunately, forklift operation is a very risky ordeal, hence why certification is important. Forklift operation can also be fatal, especially if the operator or another employee falls from a height. According to construction experts, any fall exceeding 12 feet is in the 'danger zone' of being fatal. Don't let this statistic deceive you into a false sense of security, though. A fall from a smaller distance can also prove to be fatal, or it can cause permanent injuries.
Can Forklift Operation be Fatal in Other Ways?
Sadly, falling from a height is far from the only safety hazard when it comes to forklift operation. Forklifts can be fatal in other ways. For instance, many individuals have suffered fatal injuries after getting struck by a falling object while driving a forklift. Other serious concerns include crushing injuries. Just recently, a 22-year-old was fatally injured when they got caught between the forklift and a rack support. This crushing incident is unfortunately not a one-off event. Forklifts can also be dangerous if driven out on public roads or sidewalks.
How Can I Prevent Forklift Accidents, Injuries, and Fatalities?
Almost every accident is the result of human error. With that in mind, there are steps you can take as an employer to prevent accidents, injuries, and fatalities. One of the best things you can do is ensure that your employees are properly trained and certified. You should also inspect equipment regularly, inspect your job site to verify employees are compliant, and provide consistent reminders to spread awareness.

Get Forklift Certified Online for Charlotte Today!
If your organization employs workers who use lifts on the job, turn to the best forklift certification and training in Charlotte. FLC offers convenient, affordable training opportunities for companies across industries. Fail to provide the required training and your company may up the odds of a workplace accident. Injuries, fatalities, and OSHA penalties may be on the line.
FLC's forklift certification in Charlotte is incredibly cost-effective. Given our 100% pass rate, this is one investment you'll want to make in your employees. Secure online access makes it easy to learn on the go. Since our training is constantly updated to reflect changing OSHA guidelines, you'll always be in the know about the latest requirements. If you have any further questions please contact us today or call us at 888-278-8896.