The most trusted online resource for OSHA forklift certification and training since 2002
Questions? Call us! (888) 278-8896
Complete Your Forklift Certification in San Francisco in One Hour!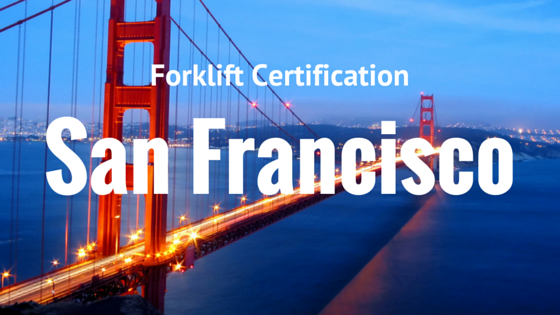 San Francisco is the fourth most populated city in California, and being famous for bridges, cable cars, and architecture, job opportunities for forklift operators are plentiful. And the best way to take advantage of these positions is to get forklift certification. Forklift training is beneficial to the safety of drivers, and employers are taking this certification very seriously.
What are the Kind of Jobs That Require Forklift Certification in San Francisco? 
There are many great forklift jobs in San Francisco, and these include: Dock Workers, Warehouse Driver, Material Handler, Warehouse Cargo Agent, Yard Worker, Construction Worker, Engineer, and Data Warehouse Worker. More available jobs include a Staging Company Driver such as those who work with audio and video staging for concerts, and a Shipping and Logistics Coordinator.
All of these jobs are great for those who wish to become a part of the ever-growing and thriving San Francisco community. However, they all require employees obtain forklift certification to keep city dwellers and workers safe and protected from injury due to amateur operators.
Do You Want a Rewarding and Recession-free Career?
A large city like San Francisco will always be in need of repair and renovation to maintain its reputation as a great place to live. More and more young people are moving to this vibrant and diverse city, and that means fiercer competition for forklift jobs. You can set yourself apart from the other candidates by completing forklift certification. And once you finish your training, you will impress employers and will be practically turning down jobs. Forklift certification in San Francisco is very appealing to employers because it can save them from expensive OSHA fines, as well as high employee liability costs. Certification also awards employers and workers a safer workplace that benefits everyone.
Forklift Certification in San Francisco is Easy, Fast, and Affordable 
Now that you're convinced how significant and beneficial forklift certification is, you're probably wondering how you can complete it. As you do some research into programs, you may find ones that are inconvenient and expensive, which may make you put off certification. But since this certification is so helpful to workers, training shouldn't be a pain-in-the-neck to complete. ForkliftCertification.com has designed an online certification program that is very convenient and affordable, costing a fraction compared to other programs. Training can be completed in as little as one hour–on the couch at home or during an extended lunch break at work—and it is 100% OSHA compliant. With ForkliftCertification.com, training is easy and won't require you to go to an off-site facility because this program can be accessed from a laptop, smartphone, iPad or wherever internet is available.
Whether you wish to work in the field operating forklifts, or you feel more suited to a warehouse manager position, you can quickly complete your forklift certification in San Francisco and be qualified for many positions in about one hour.
Sign up today for the ForkliftCertification.com course!