The most trusted online resource for OSHA forklift certification and training since 2002
Questions? Call us! (888) 278-8896
Are Daily Forklift Inspections Required?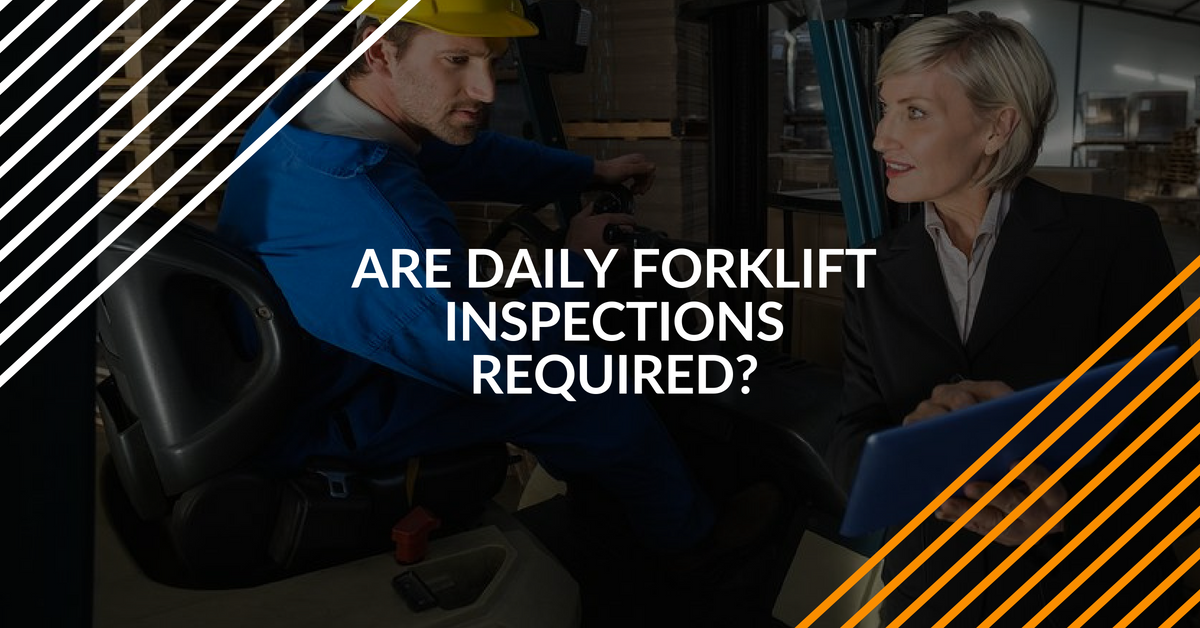 An Inspection a Day Keeps OSHA Fines and Penalties Away — The Importance of OSHA Forklift Inspection Requirements
Does your forklift get inspected on a daily basis? It should. According to OSHA, all forklifts should be part of a regular maintenance program.
Are Daily Forklift Inspections Required? What You Need to Know
Part of forklift maintenance involves daily inspections. If your lift currently doesn't receive daily inspections, or you're not sure about OSHA forklift inspection requirements, you should notify your supervisor immediately. The absence of a forklift maintenance plan and daily forklift inspections could mean huge penalties and fines down the line.
The OSHA compliance experts at ForkliftCertification.com know all about the importance of having a forklift daily checklist. Our training modules cover all of the required OSHA regulations, including rules involving forklift maintenance. If you aren't quite up to speed with your forklift safety, or you need a refresher with the most complete training online, sign up today. We'll get you on the fast track to OSHA compliance. And that's great news for you.
Advantages of a Daily Forklift Checklist
There are many reasons that OSHA requires daily forklift inspections. A forklift inspection checklist will help prevent accidents, and it also helps set safety standards for your entire company. And remember – OSHA requires lift inspections every day. A forklift daily checklist is a great way to keep on track with OSHA compliance, your company's safety plan, and — most importantly — promote a safer, more productive work environment.

A Closer Look at OSHA Forklift Inspection Requirements
According to OSHA guideline 29 CFR 1910.178 (q) (7), all forklifts should be examined at least once a day before use. This applies to a wide range of industrial settings, including:
Shipyards
Warehouses
Distribution centers
Construction sites
Here's the actual wording of 29 CFR 1910.178 (q) (7). Note the emphasis on forklifts that operate within a 24-hour shift:
Industrial trucks shall be examined before being placed in service, and shall not be placed in service if the examination shows any condition adversely affecting the safety of the vehicle. Such examination shall be made at least daily.
Where industrial trucks are used on a round-the-clock basis, they shall be examined after each shift. Defects, when found, shall be immediately reported and corrected.
Forklifts that aren't given maintenance attention are more likely to fail while in operation. That's the main driving force behind 29 CFR 1910.178 (q) (7) and many other OSHA forklift inspection requirements.
The OSHA Powered Industrial Truck Pre-Operation eTool reviews critical safety concepts behind daily forklift inspections, and this includes forklift daily checklists. Some of the items that should be a part of your company's forklift inspection checklist include:
Fork condition
Safety devices like finger guards, decals, etc.
Visible fluid leaks
Operator compartment
Tire and wheel condition
Battery restraints
Cables and connectors
We also created a helpful forklift inspection checklist to assist with your company's OSHA forklift inspection requirements. This informative infographic will help you and your maintenance personnel ensure every forklift is working properly and is ready to perform as intended. For more information, be sure to check out our daily forklift inspection infographic.
From the visual pre-check to operational inspections, this will help ensure everything on your forklift gets inspected prior to use. You can also print out copies for co-workers, safety supervisors, and anyone else involved with forklift safety!
There are two types of forklift inspections: a visual check and an operational check. Both should occur prior to operating a forklift. Make this part of your daily forklift inspection checklist today!
Does Your Business Need a Forklift Daily Inspection Sheet?
Forklift daily inspection sheets are must-have for businesses that require workers to use forklifts. These sheets allow workers to perform a full review of a forklift and track their results over time.
A forklift daily inspection sheet is vital for forklift operators and their employers. The sheet makes it easy for a forklift operator to track issues identified during an equipment review. Meanwhile, the sheet allows a business to monitor forklift issues and address them before they escalate.
How Long Should Your Business Keep Forklift Daily Inspection Sheets?
Forklift daily inspection sheets should be retained for at least one year, according to OSHA regulations. With these sheets at your disposal, you can provide them to OSHA upon request — without having to worry about violating the agency's forklift daily inspection sheet reporting mandates.
Should Forklift Operators Fill Out a Daily Inspection Checklist by Hand or Electronically?
Your company can decide how its forklift operators complete a daily inspection checklist. Ultimately, a business that lets its workers use forklifts on a daily basis must track daily inspections of these machines. With handwritten or electronic checklists, your business can ensure that its forklift operators are performing the necessary reviews before they start using a machine. Then, you can collect these checklists, review them, and ensure that your business complies with OSHA requirements.
Forklift Daily Inspection Checklist — Visual Pre-Check
The first step in a proper forklift inspection involves a cut-no-corners approach to how the forklift appears. If it doesn't pass the eyeball test, address any issues immediately.
✓

Obstructions

Ensure the floor is clear of debris, overhead impediments are removed and nearby objects are removed from the operating area.
✓

Mechanical Inspection
Check the engine oil level and also look for any cracked or loose hoses.
✓

Safety Items
Early warning systems like the horn, alarms, fire extinguisher and lights should be fully operational.
✓

Harnesses

Ensure the seatbelt or other restraint mechanisms are intact.
Forklift Daily Inspection Checklist — Operational Pre-Check
Once the visual pre-check is complete, your forklift should pass the following operational pre-use inspection:
✓

Brakes
Test the parking brake, regular brakes, and other stopping systems.
✓

Cargo Handling

The forks, lift mechanism, tilt function, and related functions should perform error-free
✓

Cockpit Controls

If any steering or control panel issues are present, do not operate the forklift.
✓

Audio Check

Listen for any unexpected sounds during the operational pre-check. Common systems to listen for include the transmission, leaky hoses (hissing sounds) and other "weird" noises.
✓

Lights and Alarms
Even if your visual pre-check found no problems with lights and alarms, it is recommended to test the same functions during a test drive.
Did You Know?
According to the National Institute for Occupational Safety and Health (NIOSH)'s recent study, more than 1,000 workers died in forklift-related incidents. Of these fatalities, the most common were:
22%: Forklift Overturns
20%: Workers on foot struck by a forklift
9%: Fall from a forklift
These issues can be reduced or eliminated if a forklift is inspected before use. Key areas to focus during a forklift inspection include the tires, safety indicators (lights, alarms, etc.), and safety harnesses.
In addition to our own infographic, OSHA has published a valuable online resource, Sample Daily Checklists for Powered Industrial Trucks, which contains a thorough forklift inspection checklist for maintenance personnel and forklift drivers. This checklist ties in directly to 29 CFR 1910.178 (q) (7), and is recommended as a go-to OSHA forklift inspection requirements check for any forklift maintenance crew.

Teach Your Workers How to Perform Daily Forklift Inspections
With our online knowledge base and OSHA-provided guidelines, you can improve your forklift daily inspections right away! But remember, nothing beats forklift certification — and our training is a great way to obtain OSHA compliance easily and affordably!
ForkliftCertification.com offers three different training packages for anyone that needs to achieve OSHA compliance or wants to become the most efficient, safety-minded forklift driver possible. To learn more or to enroll your workers in one of our training programs, please contact us online or call us today at (888) 278-8896.