The Most Expensive Forklifts in the World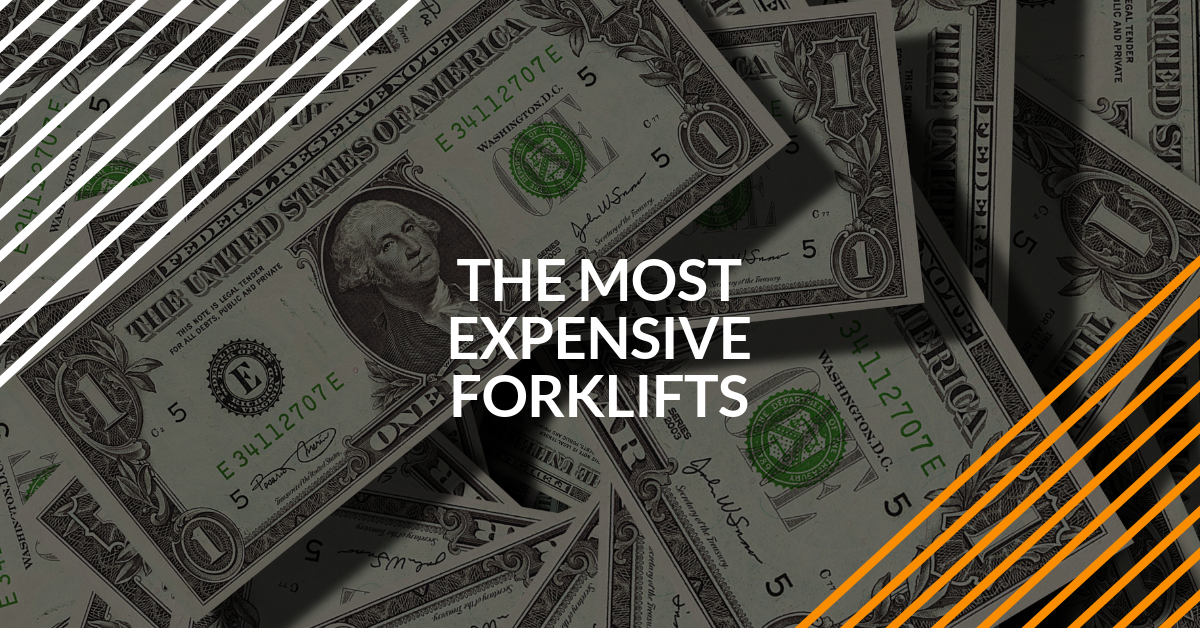 The new and used forklift market has suddenly become as competitive as the automobile industry. Due to new electric models, more manufacturers, and ever-increasing customer demand, the
U.S. forklift market alone will be worth nearly $12 billion by 2025
.
That's a lot of money! There are some forklift models, individually, worth a lot of money as well.
From time to time, some of our customers will ask us for input on which forklift they should buy. We're not in the purchasing segment of the forklift market because we focus on OSHA compliant training. However, we've often wondered about which forklifts command the highest price tags.
With that in mind, our team here did some research on the world's most expensive forklifts. Here's what we came up with – enjoy!
Made in China – The World's Priciest Forklifts
When looking at the most expensive forklifts, one thing is obvious: you have to pay for performance. Whether your company is looking for a high-end lift with plenty of high-tech features or a real workhorse of a forklift (capable of lifting 35,000 pounds or more), be prepared to spend big bucks on some forklifts.
It's one of the most common phrases you'll find on everything from toys to garments to household goods: Made in China. Well, when it comes to pricy forklifts, the most expensive lifts in the world also qualify as "Made in China."
In recent years, Chinese lift manufacturers have made inroads with the heavy duty forklift market. One expensive model is the VIFT 30-ton diesel forklift. This lift has a max load capacity of 35,000 pounds and usually sells for up to $300,000, depending on current market conditions. It features a diesel engine and has a max lifting height of almost 12 feet.
But the VIFT has nothing on the most expensive lift currently on the Alibaba.com online forklift market. The Kion MC45 (also a Chinese heavy-duty forklift), rated at a 45,000-pound capacity, has a price tag of $430,000. To put that in perspective, that's the price of about 15-20 high-end warehouse forklifts – all in one single purchase.
One obvious contender for the most expensive used forklift is the Clark C80D. This ultra-reliable lift is popular for heavy duty industrial applications. The 2016 Clark model is known to hold its value, and some used forklift sites routinely list the Clark C80D for around $60,000. Contrast this price with most brand new forklifts, and you can see why Clark forklifts are included in many "most expensive" lists.
From Expensive Lifts to Budget Models, Your Training Needs are Covered
The cost of your forklift means little to OSHA when it comes to workplace safety violations. Expensive lifts, affordable pallet jacks, and every model in between – if you don't have training, safety suffers. And so does workplace confidence. That's why we are one of the most popular OSHA training providers.
Our courses cover an incredible amount of information, and we present everything in an easy to understand format. From advanced safety theory to basic operational skills, we have training classes have something for everyone.
Get started today with your forklift training. We'll help you get the OSHA compliant training you need to become a safer, more skilled forklift operator. If you have any questions about our OSHA forklift training, give our safety experts a call today at (888) 278-8896. Thanks for visiting FLC!