How to Motivate Your Employees
Happy workers are productive workers. Many studies have shown that, in order to keep employees happy, motivation is important. If your forklift driver really doesn't have a reason to perform their job well, there's a chance that work will lag behind. Stuff will get missed. Workers may come in late, and also leave early.
Plus, the chance of having an accident will also increase. Distractions play a big part in many forklifts mishaps that can be avoided.
How do you keep your employees motivated? There are a number of things you can try. These tips have been used by supervisors and bosses in warehouses, plants and other areas where forklifts are used:
Give Bonuses. Money talks, no doubt about it. For any employee that performs above expectations, offer a bonus.
Have Office Parties. Fourth of July picnics, Christmas parties, birthday celebrations – these out-of-office get-togethers are a perfect way to build relationships, learn about each other, and have a good time!
Introduce Flex-Time (if possible). With flexible start times (say, 7:00 AM to 9:00 AM) and quitting times (4:00 PM to 6:00 PM), your employees will be motivated to fit their personal schedules around their work schedules. Everyone wins!
Bring in a motivational speaker. It doesn't work for everyone, but an energetic speech can help boost workers' attitudes – at least for a little while!
Along with motivation, there's another way to help avoid forklift accidents: Forkliftcertification.com. With our 3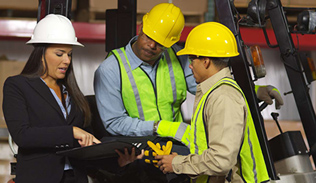 forklift training programs (Forklift Training Kit, Bundle Training Package and Train the Trainer), you can find just what you need to improve the safety of your workplace. From the latest OSHA guidelines to tried and true safety practices, our courses cover all the bases, so you don't have to!
Coca-Cola, Jenny Craig, Siemens and Snap-On Tools are just some of the companies that rely on FLC. We can help your firm, too! Please call (888) 278-8896 to speak with a customer service representative, or visit the FLC contact page for more information on signing up today.
Thanks for reading the FLC blog and stay tuned for more forklift updates!