The most trusted online resource for OSHA forklift certification and training since 2002
Questions? Call us! (888) 278-8896
Common Sense, Your Most Important Ally with a Forklift
It's a cliché, but it's also true…nothing beats common sense, especially as it relates to potentially dangerous jobs. Tree climbers, construction workers, law enforcement personnel and others rely on quick, correct decisions every day on the job. And so do forklift drivers.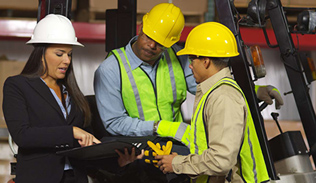 A forklift driver has to use common sense for a variety of job situations. The circumstance could change, but one aspect should always remain the same – when in doubt, use common sense.
There are a ton of online examples of what NOT to do with a forklift, and these are absent of anything that could be called common sense. Speeding, turning corners too fast, ignoring safety hazards – if your supervisor would frown upon it, then you shouldn't be doing it in the first place.
These core concepts of "common sense" read like a list of smart things to do when driving a forklift.
Watch your speed, especially when transporting heavy loads.
Obey all safety rules.
Don't cut corners – literally and figuratively.
Keep your forklift maintained and checked on a daily basis.
If you have to make an extra trip, make the trip. Many accidents are caused by top-heavy loads.
Report all accidents – however minor you may think they are – immediately to your supervisor.
Remember, ignoring safety procedures not only puts you in danger, but it also jeopardizes your co-workers.
Along with common sense, some expert instruction also helps. That's why ForkliftCertification.com is the industry leader in affordable, efficient forklift training. Our popular programs have been used by small, medium-size and large businesses all over the country.
Our client list includes names like Snap-On Tools, Coca-Cola, Harley-Davidson and many more. Our affordable courses can be taken anytime, anywhere, on any schedule.
Thanks for reading the FLC blog. To get more information about our training, please call (888) 278-8896 or visit our contact page. We can get you started today!