The most trusted online resource for OSHA forklift certification and training since 2002
Questions? Call us! (888) 278-8896
How Hurricanes and Other Natural Disasters Drive the Need for Forklifts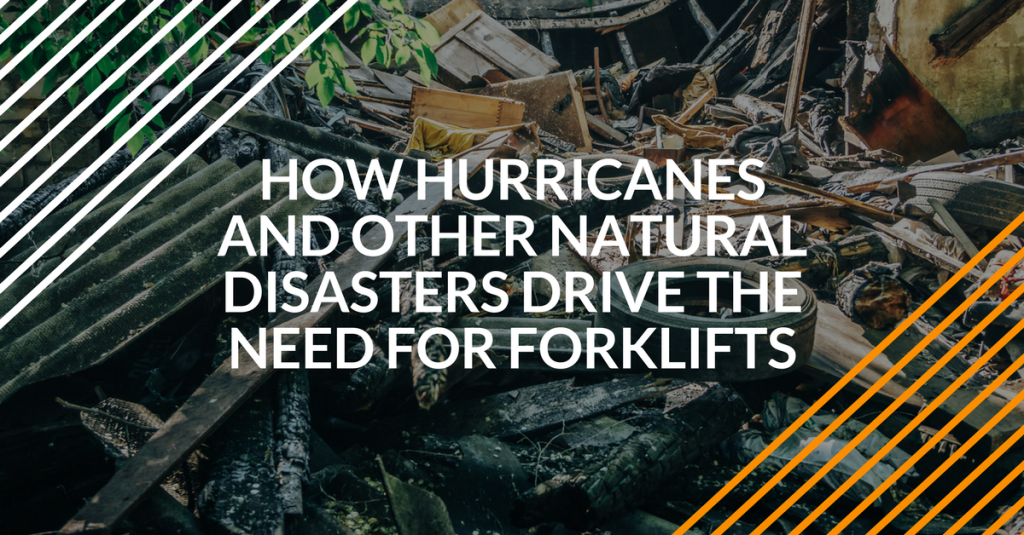 Hurricanes Harvey and Irma have left more than lost lives, lost homes, and displaced loved ones in their wake. They've also left an insurmountable amount of debris, from large stones and plant life to mounds of earth and human belongings. Besides the courageous rescue teams who've come to help victims of the storms, equipment handling professionals have also been in high demand for the massive clean-up.
How Forklifts Have Helped After the Hurricanes
After hurricane Harvey and Irma, forklifts have greatly aided the relief efforts and have helped to speed up the removal of thousands of pounds of debris. Hundreds of forklifts have been used to move debris and unload delivery trucks bringing emergency supplies to the devastated areas. For example, forklifts brought food, water, and medical supplies to victims in Texas and Florida following the hurricane storms. They've also organized and loaded supplies at logistics centers, pulled out buried cars, and have even pulled boats out of the water. The versatile power of forklifts has made them an invaluable tool after these recent natural disasters and has skyrocketed their demand, causing a scramble for equipment.
The Booming Forklift Economy in Texas and Florida
Immediately following the devastation of Harvey and Irma in Texas and Florida, the demand for new and used forklifts has boomed exponentially, depleting forklift companies like Jamco and Worldwide Forklift of much of their ready-to-go inventory. Relief organizations like Red Cross are being given forklifts and other equipment through donations, and many other local companies and residents are renting and purchasing new and used forklifts to handle the damage. With a high demand for getting forklifts sent to the necessary areas, routine maintenance has been a lesser important priority, which has slowed some of the distribution efforts due to forklifts spending more time in service centers.
With all of this demand, a representative of the Modern Group estimates that the demand of new and used forklifts has not yet peaked, and will see a significant increase when business owners in Texas and Florida need to rebuild their properties. The current and future demand for equipment has already started increasing prices of forklifts.
The Most in Demand Forklifts Following Harvey and Irma
Forklifts with pneumatic tires have been especially useful for cleaning up devastated areas with their rugged capabilities, and hand pallets have been essential for unstacking and organizing supplies. Relief volunteers and organizers are not certified to operate electric forklifts, and so manual pallets powered by hand are the safest type of equipment for untrained helpers.
Additional Relief Efforts of Forklift Companies
Numerous forklift companies have stepped up to the plate to help affected areas devastated by Harvey and Irma in more ways than just making the necessary tools. Doosan Bobcat has donated a fleet of equipment valued at more than $325,000, and has provided financial assistance to their employees and families who were impacted by the recent hurricanes. Jamco has provided over a dozen forklifts to the Red Cross in Orlando for their relief efforts, and forklift manufacturer JLG has delivered more than 60,000 pounds of supplies and food to Harvey victims in Texas.
Learn more about what it takes to operate forklifts and provide relief for victims of natural disasters at ForkliftCertification.com.