Material Handling Safety Includes Worker Well-Being (Guest Blog)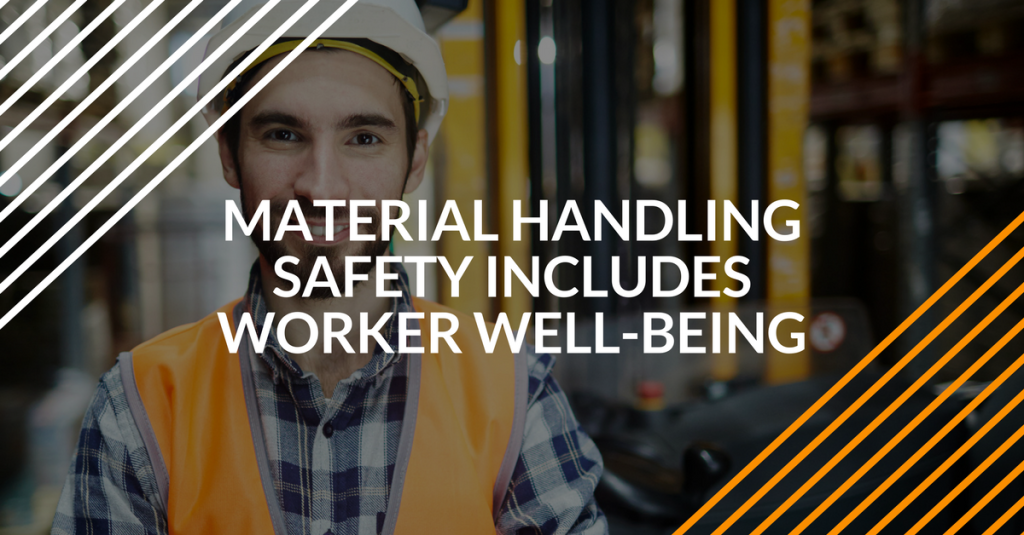 A massively understated portion of forklift operation is understanding worker capability and safety. We partnered with The Forklift Pro, a leader in wholesale forklifts, to discuss the importance of worker safety and how it relates to operating material handling equipment.
"Remember to take care of yourself. You can't pour from an empty cup."
Many of us can relate to this quote, and it rings especially true for workers in the heavy machinery and material handling industries.
One of the most commonly discussed topics in the material handling industry is forklift operation safety. Proper maintenance, daily checklists, and machine and operational knowledge are essential components to successfully and safely operating a forklift. A topic less commonly discussed is self-care and its necessity to optimal safety and performance on the job.
Safety of the worker and pedestrians goes beyond proper forklift operation and machine upkeep (though those are important components). Here are some essentials to self-care and how it relates to the material handling industry.
Understand Operator & Job Capability
Part of a successful forklift purchase is knowing the exact capabilities and workloads of the people operating the forklifts. It goes without saying that in order to sell the right equipment, a wholesaler needs a firm understanding of the job at hand.
Another important component is worker safety. How much space do they have to navigate? What types of accessories will help them safely and efficiently complete a job? How quickly do they need to complete a job? Are there any restrictions? These are questions that will help your wholesaler better understand the needs of your customer and their workers.
Stay Trained
Forklift operators are lifelong students. Forklift companies are always releasing new equipment updates, features, attachments, accessories, safety features, and other various upgrades in technology.
While it's nice to be "in the know" with new forklift trends, it is more beneficial from a safety perspective. Staying current with OSHA training and training your team on current industry standards ensures that your team is safe and informed. Being stringent about training policies and keeping your employees current could reduce approximately 70% of forklift injuries and accidents.
Get More Sleep
That may sound like a pipe dream for some of us, but sleep is essential to your health and well-being. Lack of sleep affects your memory, mood, immune system, ability to retain information, alertness, and much more. Making adequate rest a priority means you are more capable of functioning on all cylinders and pose yourself as less of a safety threat. Reiterate the importance of overall wellness to your employees.
Wear Appropriate Clothing on the Job
Having a required uniform takes the guesswork out of what is and what is not safe to wear on the job. If uniforms are not required, it is important to refer to OSHA guidelines and standards for proper material handling attire.
According to OSHA, personal protection equipment (PPE) must be provided and maintained by the employer if the job has any type of dangerous elements, such as working with concrete or heavy machinery. Certain types of PPE include eye, head, and hand protection, as well as reflective gear.
Take Scheduled Breaks
Sometimes we find it hard to step away from our work during the day, especially during peak times. Much like a forklift, employees have operating limits that need to be adhered to. The demand of the industry sometimes puts an added pressure on employees to meet deadlines and over-perform.
There is something to be said for maximizing your time, but neglecting to take a scheduled break is actually doing you and your employer a disservice. Taking a break helps workers refuel, prioritize, and get focused. Employees do their best work when they take the time to recharge.
The Forklift Pro is adamant about worker safety. We understand that in order to take care of our customer, we must first take care of the people who work hard for us – our team. We partner with our dealers to ensure forklift safety in all aspects, starting with the people.
Our team takes the time to get to know our dealers' needs and the nature of the work involved, ensuring that they purchase the best and safest MHE for their needs and the needs of their employees. To discuss buying or selling used forklifts, visit our website or call (704) 716-3636.