The most trusted online resource for OSHA forklift certification and training since 2002
Questions? Call us! (888) 278-8896
Most Common Forklift Accidents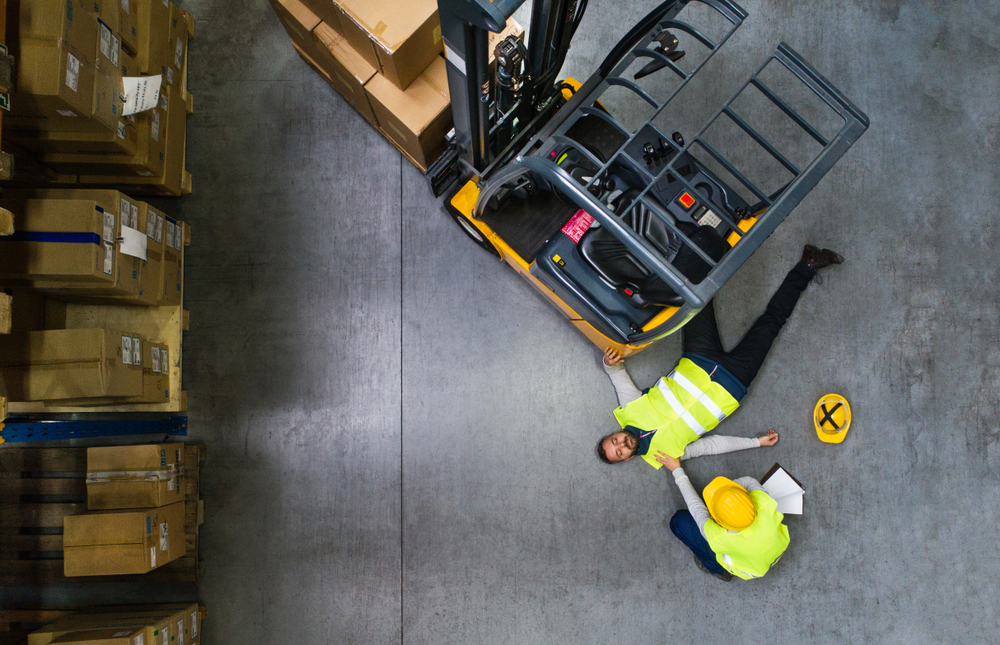 Avoiding forklift accidents is a common goal for safety supervisors, foremen and powered industrial truck drivers everywhere. The U.S. Occupational Safety & Health Administration (OSHA) requires employers to provide forklift certification for drivers & operators.
Lack of training is a major reason for accidents – ensure you're on the right track with our courses, designed to reduce all causes of forklift accidents.
Sign up today and reduce accidents and forklift injuries at your facility today!
All of our courses help your employees determine what are the main causes of injuries when using forklifts, avoiding forklift accidents and are a great way to make your workplace safer & more productive today.
WHAT ARE THE MAIN CAUSES OF INJURIES WHEN USING FORKLIFTS?
The main causes of injuries when using forklifts are:
Tip-Overs
Tip-overs occur for a variety of reasons, but exceeding max load capacity on a forklift and sudden turns are two of the primary causes. Drivers should stay seated and lean away from the point of contact – and seatbelts always help! Not wearing a seatbelt is one of the main causes of injuries when using forklifts.
Pedestrian Accidents
Many warehouses have designated areas for foot traffic. If drivers are distracted, forklift accidents involving pedestrians will happen. Solution: Eliminate these kinds of forklift injuries with clearly marked walking areas, barriers, & backup lights, and make sure your drivers are alert and not fatigued. According to OSHA's own statistics, working more than 8 hour shifts constantly can lead to this forklift accident.
Inadequate Operator Training
This one pretty much explains itself. Most forklift accident and forklift injuries are directly tied to lack of proper training. Untrained operators can't correctly identify what are the main causes of injuries when using forklifts, obvious hazards and other dangers related to forklift use. Solution: sign up with FLC today and ensure your drivers are OSHA compliant. Training and certification to avoid forklift accidents is easier than you think.
Forklift Falls from Height
Docks, trailers, platforms and other areas are particularly dangerous for forklifts. Many deaths happen when forklifts fall off elevated surfaces. Slick floors, brake malfunctions and distractions are responsible for these forklift injuries. Solution: ensure parked forklifts have wheels properly chocked when unloading. This is a safety guideline from OSHA and helps prevent forklift falls. Speed reduction and proper floor cleaning are also advised.

The Bottom Line
These are just some of the most common forklift accidents. As you can see, forklifts can be dangerous without proper training and certification. FLC is here to get your entire forklift fleet certified today. Choose any of our courses and get started today – you can't afford the cost of non-compliance!
We offer:
– Train a Trainer: Enjoy own in-house training resource for just $149! Our Train a Trainer course is a great time & money saver in the long run!
– Training Kit: A popular, versatile certification option that can help prevent the main causes of injuries when using forklifts – get it for just $299
– Bundle Package: Get our Train a Trainer course and the Training Kit for a special reduced price of only $399. Sign up for the Bundle Package today!