DIY Forklift Costume Ideas for Halloween
Halloween is an opportunity to get creative. Each year, people dress up as their favorite pop culture icons, celebrities, and characters. Career costumes are equally as popular. If you're hoping to stand out in the crowd this year, ditch the stereotypical nurse or firefighter outfit and wear a forklift costume instead! Whether you're a forklift operator by trade, a child of a forklift operator, or just love forklifts, these DIY forklift costume ideas are sure to bring a smile to the face of everyone who sees you. After all, there's no time like Halloween to try out a new persona.
Forklift Halloween Costume Inspiration
If you're not sure where to start when putting together your forklift Halloween costume, look no further. We've rounded up some of our favorite looks. Whether you recreate these costumes in precise detail or just borrow certain elements, you're sure to make a splash at your holiday parties.
Forklift Suspenders
Flickr user Kevin Smith uploaded this fun forklift Halloween costume idea. He pairs a painted cardboard box with suspenders for an easy warehouse inspired outfit. Of course, no such costume would be complete without the proper PPE. A hard hat, eye goggles, and high visibility fabrics can really elevate your look to the next level.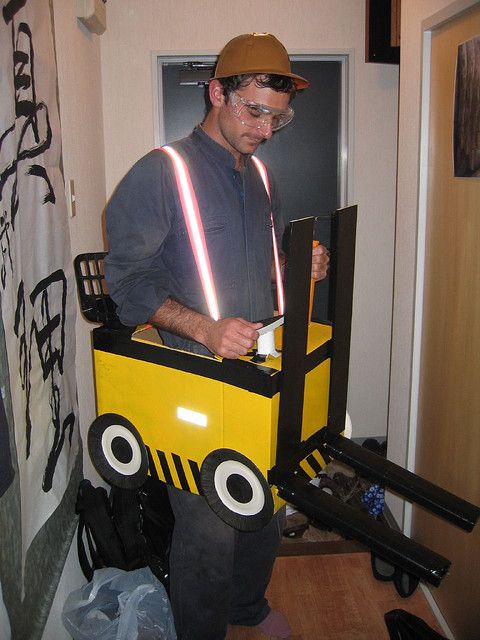 Full Body Forklift
The employees at Better Engineering are behind this hilarious forklift Halloween costume. Like similar costumes, this version makes the most out of painted cardboard, affixing a giant box around the wearer. What makes this costume so memorable are the large forklift tines affixed to the front of the box. Who knew poster tubes could be so versatile for spooky season?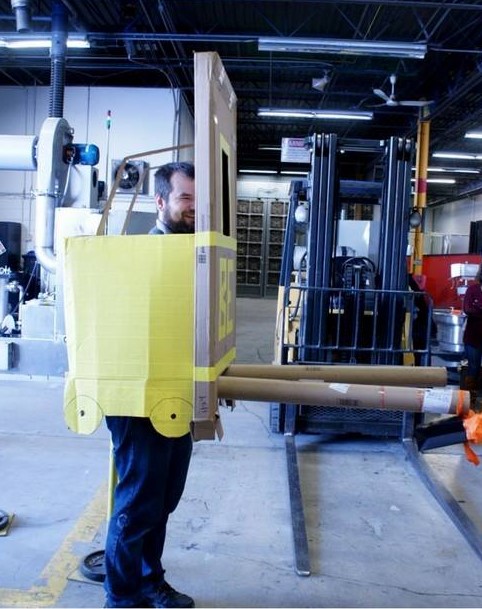 Forklift Costume for Kids
Perhaps the cutest forklift Halloween costume we've seen anywhere, this version is perfect for little ones. Pinterest user Chelsea Montgomery Gonzalez's son Ben dons another painted cardboard box with suspenders, but this time our operator is actively moving cargo. The box loaded on the forklift tines adds a lot to the costume, and serves to remind everyone just how important lift operators are in the delivery of goods and products around the world.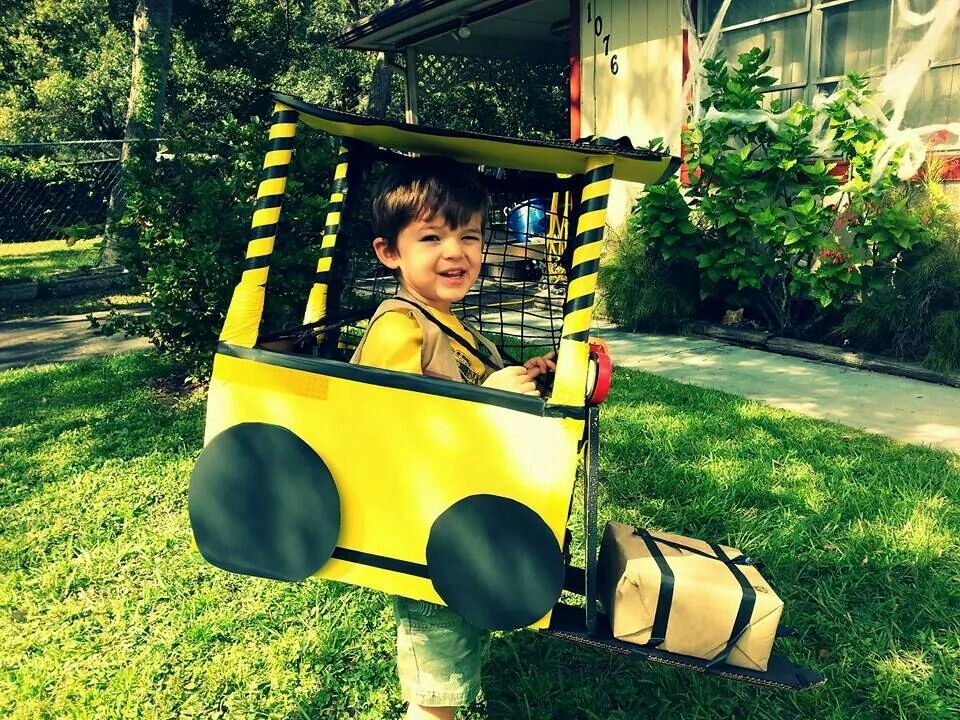 Gusto the Forklift
Did you know that a professional forklift mascot costume exists? Gusto the Forklift was built by Olympus Group for Toyota Industries, and he's a great source of inspiration for your forklift Halloween costume. Featuring movable forks, rotating lights, and horn sound effects, Gusto is as adorable as he is fascinating. While recreating this exact look could be a challenge for the average Trick or Treater, the cartoon eyes and silly smile may be worth incorporating in your own costume.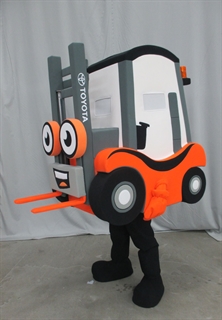 Forklift Operator Costume
Hard-working forklift operators are the backbone of our modern supply chain. Without their efforts, we'd never receive the goods and products we order online. Show your appreciation for the profession by donning a DIY forklift operator costume this Halloween. You can get all the components of your outfit from a local thrift store. Pick up a pair of blue jeans, work boots, and a flannel shirt. Then, add a high visibility work vest and hard hat to complete the look. Design your own forklift license to carry with you to show that you're indeed forklift certified. 
If you've got a little one who is eager to match your costume, considering creating a forklift costume for them, too. Boys and girls of all ages can find basic forklift operator clothing at thrift stores or their own closets. While child safety vests and hard hats are a little harder to come by, they can usually be purchased at costume shops. Of course, no forklift operator costume would be complete without the forklift itself. Parents can easily fashion a forklift out of recycled boxes and a little paint. The result is sure to win over the hearts and minds of Halloween costume contest judges everywhere.

Safety Training for Forklift Operators
If your forklift Halloween costume has you inspired to start a new career, consider getting certified via ForkliftCertification.com. We make it easy for new operators to learn how to safely and effectively leverage these incredible machines. In a single afternoon, you'll discover all you need to know about safe, practical ways to operate a forklift. It's never been so easy or affordable to get certified. Learn more or sign up by clicking here or dialing 1-888-278-8896 today.