The most trusted online resource for OSHA forklift certification and training since 2002
Questions? Call us! (888) 278-8896
Forklift Lockout Tagout Procedures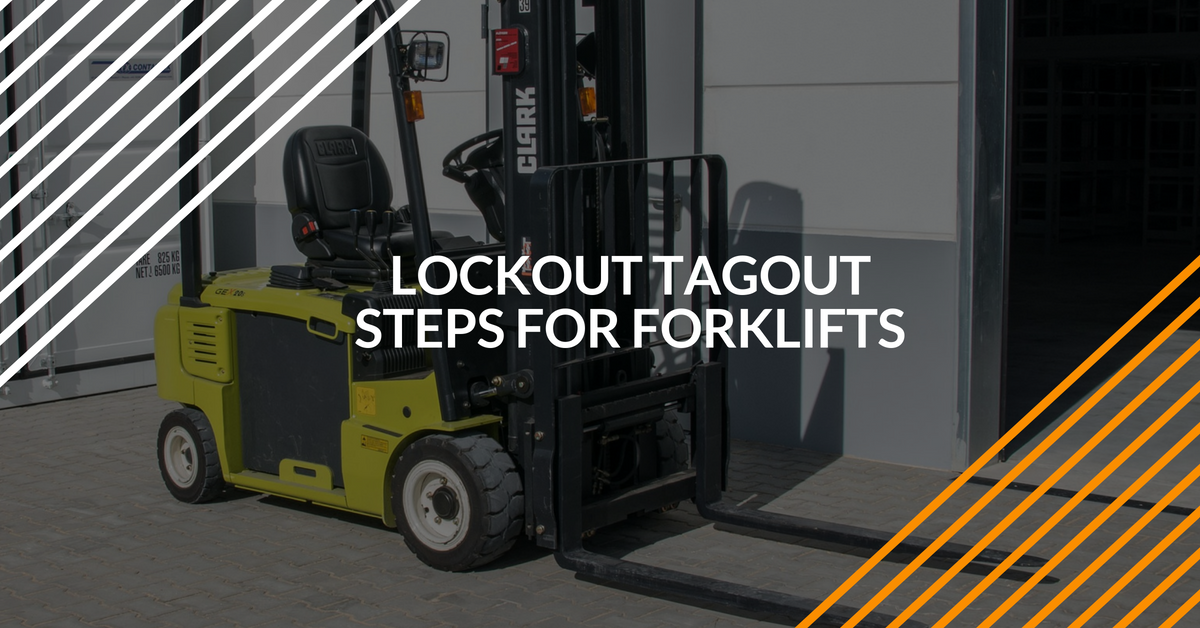 Lockout tagout (LOTO)
is a lock and tag safety procedure used in industrial and research and development (R&D) settings. Its purpose is to ensure forklifts and other dangerous pieces of equipment are shut down and can't be restarted until they're once again safe to operate.
In simple terms, lockout involves placing a lockable device such as key or combination padlock on a piece of equipment to make it temporarily inoperable. Tagout is a clearly worded and highly visible warning sign that's attached to a forklift or other dangerous piece of machinery.
Tagouts are used to advise workers that the equipment is either undergoing or is about to undergo maintenance or repair and can't be operated until the work has been completed. In some situations, OSHA will allow tagouts to be used in place of lockouts, but only when there's no place on the equipment to attach a lockout device and the employer can demonstrate that a tag will provide the required level of worker protection.
LOTO Procedure for Forklift
Forklift lockout tagout procedures and practices were originally put into use to protect forklift operators and other workers from being injured by machinery or equipment that could unexpectedly start through what is known as hazardous energy. This can happen while equipment is being repaired, during power outages, when the equipment is out of service for routine maintenance and other times when operating the equipment would be unsafe. Hazardous energy includes electrical, mechanical, hydraulic, pneumatic, chemical, and thermal energy sources.

OSHA Guidelines for the Lockout Tagout Procedure for a Forklift
OSHA has created LOTO guidelines to protect forklift operators and their coworkers, and these guidelines are often the last line of defense against avoidable workplace accidents and injuries.
The OSHA standard for controlling hazardous energy through LOTO procedures is covered by Title 29 Code of Federal Regulations (CFR) Part 1910.147, which addresses the procedures for disabling forklifts and other equipment to prevent them from being started when they're down for maintenance or other reasons. OSHA estimates that lockout tagout procedures prevent 120 fatalities and 50,000 injuries each year. For more information on hazardous energy and LOTO devices, see the OSHA lockout tagout fact sheet.
A Closer Look at the Proper Lockout Tagout Procedure for Forklifts
Here are the steps for implementing a forklift lockout tagout:
Provide training to familiarize all employees with proper LOTO procedures
Establish and enforce a policy that only the employee who installed the LOTO device can remove it once the equipment is no longer considered to be a threat
Identify and isolate the equipment that's to be locked out and tagged out
Install a locking device approved for the particular piece of equipment to ensure the equipment can't be powered on, along with a clearly worded warning tag
Keep employees a safe distance away from the LOTO'ed piece of equipment at all times it's under lockout tagout
Look for and remove any flammable materials or other potential hazards in a lockout tagout area
Once it's safe to resume operating the equipment, remove LOTO devices and advise employees that the threat is over
For more information on forklift lock tagout procedures, see OSHA's lockout tagout tutorial.
Does Removing a Key Lock Out a Forklift?
For those who want to lock out a forklift, removing the key from the equipment is insufficient. Instead, forklift operators must follow the proper procedure to correctly lock out a forklift.
Should Your Business Document Its Lockout Tagout Procedure?
Documenting a forklift lockout tagout procedure is crucial. If your business documents the procedure, it can share this information with forklift operators at any time. This helps ensure that forklift operators can properly lock out and tag out their equipment as needed.
Do Your Employees Need Forklift Lockout Tagout Training?
Forklift certification training can be beneficial, particularly for businesses that require workers to use forklifts. The training teaches workers about forklift lockout tagout, along with related topics.
A forklift certification training program may help your business minimize the risk of accidents and injuries. The program ensures that forklift operators can use their equipment in compliance with OSHA guidelines.
Forklift operators should receive regular training every three years, too. In doing so, they can keep their certification up to date — and your business can avoid OSHA fines and penalties.

Enroll Your Workers in Forklift Online Lockout Tagout Training
Don't wait to enroll your workers in forklift online lockout tagout training. In fact, if you partner with ForkliftCertification.com, your workers can learn about forklift lockout and tagout, best practices for operating a forklift, and more.
FLC is the leading provider of OSHA-approved online forklift operator training and certification. We have the tools, knowledge, and resources to ensure that both employers and employees learn everything they need to know about forklift lockout tagout policies and procedures.
Need more information? You can get started today by contacting us online or calling us at 888-278-8896.