The most trusted online resource for OSHA forklift certification and training since 2002
Questions? Call us! (888) 278-8896
Proper Lockout Tagout Steps for Forklifts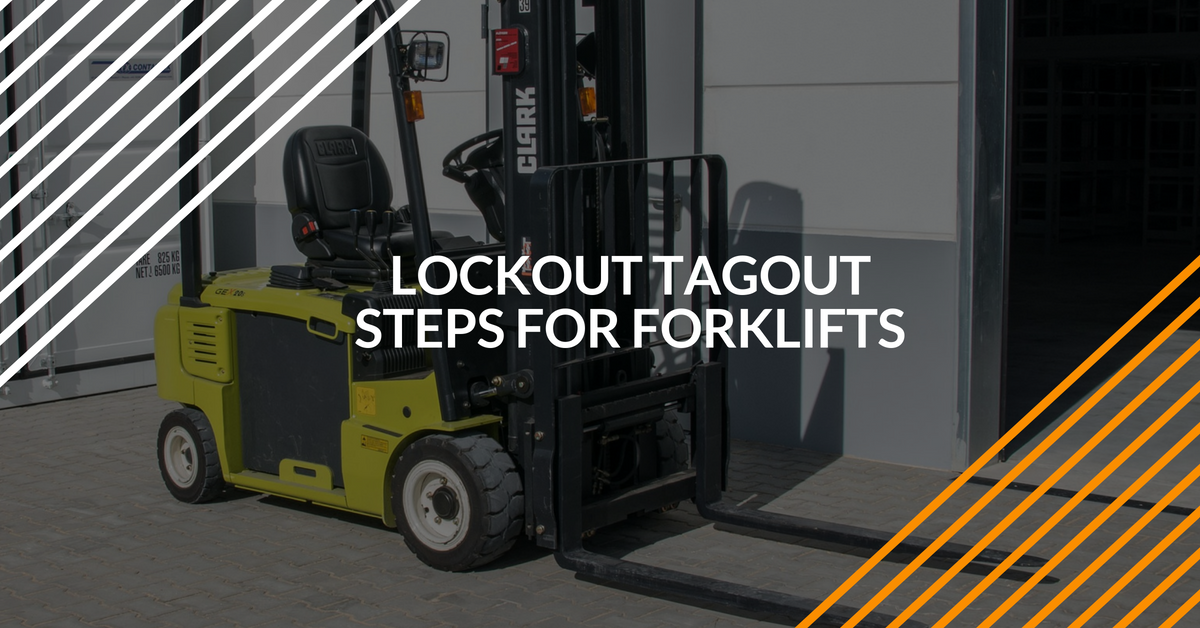 Lockout tagout procedures are often the "last line of defense" between accidents and injuries. Created as a means to prevent machine operators and other workers from using equipment during outages, planned maintenance, and other special times, a lockout tagout is required by OSHA to protect you and your co-workers from unnecessary danger.
What is OSHA's definition of a lockout and tagout? How does it relate to forklift drivers? ForkliftCertification.com, the leading online provider of OSHA forklift training, has a handful of training classes for forklift drivers of any skill level. First-time operators, veteran powered industrial truck drivers, and everyone in between will benefit from our affordable, effective training programs.
We also cover lockout tagout steps and policies, and review their importance for the following types of powered industrial trucks:
Pallet jacks
Indoor forklifts
Warehouse forklifts
Order pickers
Rough terrain lifts
And many more
Let's look at how OSHA handles lockout tagout protocols, and also review how a proper lockout tagout program will make your workplace safer and more OSHA compliant!
Lockout Tagout Steps & OSHA Requirements
OSHA's machine and inspection policies regarding lockout tagout steps are clear. Defined by OSHA standard 29 CFR 1910.147(e)(1), a work area must "be inspected to ensure that nonessential items (e.g., tools, spare parts) have been removed," while all "machine or equipment components are operationally intact."
So before any lockout tagout can even take place, you and your site safety supervisor should ensure that this important "pre-step" is taken care of.
Why would a forklift undergo a lockout tagout? According to OSHA's widely-referenced Lockout – Tagout Fact Sheet, a lockout tagout is performed to control "hazardous energies – electrical, mechanical, hydraulic, pneumatic, chemical, thermal, and other energy sources," that could harm you or your co-worker.
Another common reason to implement lockout tagout steps is forklift maintenance. If any of your forklifts, pallet jacks, order pickers, and other equipment is currently undergoing service, a lockout tagout is required by OSHA to ensure the equipment isn't powered on.
The basic steps of a forklift lockout tagout are:
Provide training for all employees about proper lockout tagout steps.
Clearly identify the equipment that is locked out/tagged out.
Ensure forklift cannot be powered on.
Keep employees a safe distance away from the forklift or other industrial powered trucks.
Eliminate any other potential hazards in lockout tagout area.
Once lockout tagout is complete, communicate to employees that it has ended.
For more information, consult with OSHA's Lockout – Tagout Tutorial.
Contact ForkliftCertification.com for Complete Lockout Tagout Forklift Training
ForkliftCertification.com has the tools, knowledge, and resources to make sure you and your co-workers know everything about lockout – tagout procedures. This safety training is just one part of our entire OSHA training packages. With training courses for different types of lifts, you'll get the training you need at a price you and your company can afford.
Forget expensive 3rd-party "solutions." ForkliftCertification.com's staff includes experienced industry experts who know exactly what you need to learn. Click here for a complete list of our training packages, or give us a call at  (888) 278-8896 if you have any questions about forklift lockout tagout training.
Thanks for visiting ForkliftCertification.com!