What New Forklift Operators Should Know About the Job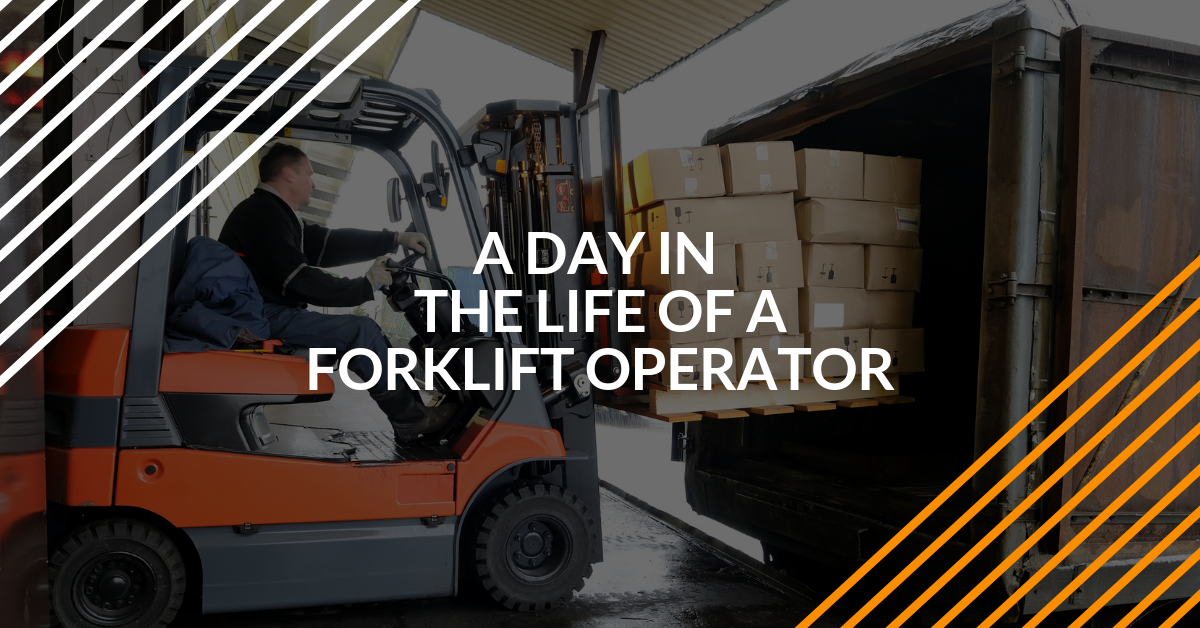 Interested in becoming a professional forklift operator? It's a job that's increasingly in demand. From warehouses to construction sites, factories to ports, there's no shortage of places in need of skilled, trained, and certified forklift drivers. There's nothing "typical" about a forklift operator in a frozen food distribution warehouse and a rough terrain lift driver on a construction site. Those two jobs are about as different as possible.
A day in the life of one forklift operator isn't even in the same ballpark (or dockyard) as a day in the life of another.
However, some common similarities link all forklift operators, regardless of where they work:
Safety first.

From regular indoor warehouse settings to inclement outdoor forklift jobs, safety is always the most important thing. That's why our training courses are popular with companies all across the United States. We help companies get their employees compliant, which is required by OSHA. Speaking of OSHA…

OSHA.

If you operate a forklift in the United States, you're subject to the U.S. Occupational Safety & Health Administration (OSHA). This agency of the U.S. Department of Labor establishes safety rules, conducts accident investigations, and has the power to impose fines and penalties on any person or company that's not compliant with the latest safety standards.

Common sense forklift operation

. Whether you operate an outdoor forklift, a pallet jack order picker, or an indoor man lift, the same tried-and-true principles of sound, common sense forklift operation are the same. In order to avoid accidents and injuries,

forklift operators

need the basic skills and knowledge to perform efficiently and safely. It all starts with common sense behind the wheel.
Forklift operators make important contributions to indoor and outdoor worksites. Now, let's take a closer look at forklift drivers, how they work, and the skills they need to succeed.

What Does a Forklift Operator Do?
At the most fundamental level, industrial truck operators move goods around industrial spaces. For instance, a warehouse forklift driver might be in charge of moving new inventory to storage area shelving. Load by load, the haul products across the building, ensuring that pickers can later find plenty of goods to fulfill orders. Pickers themselves often use forklifts to do their jobs. This is just one example of what forklift operators do in a day. A worker who uses a forklift on a construction site might have a very different day ahead of them than a warehouse employee.
Forklift Operator Duties
A forklift driver has plenty on their plate. In a given work day, a driver may complete the following forklift operator duties:
Unload materials and merchandise
Hauling goods around the warehouse is among the most important duties of a lift truck operator. It takes patience, practice, and plenty of experience to master the fundamentals.
Locate and/or move stock or products
Product pickers are in charge of finding items ordered by customers and loading them up for shipping.
Inspect machinery
Daily inspections can help prevent accidents and ensure equipment is regularly maintained.
Track inventory and activity logs
Forklift operators regularly relieve their colleagues, taking over where they left off. Activity logs and inventory tracking help keep everyone on the same page.
A forklift operator must comply with OSHA regulations at every worksite, at all times. Failure to do so can lead to forklift accidents. It can also cost a forklift operator their job and cause their employer to receive costly OSHA penalties.
Forklift Operator FAQs
If you're considering a career as a forklift operator, it's important to be fully informed about what to expect. Here are a few of the most frequently asked questions about the job:
What Qualities and Skills Do Forklift Operators Need to Succeed?
Employer requirements for forklift operators vary. Yet, there are several trademarks of successful forklift operators. These trademarks include:
✓ Commitment to maintaining a safe, productive work environment
✓ Ability to complete tasks independently and as part of a team
✓ Attention to detail
Successful forklift drivers are dedicated to their craft. They strive to constantly improve and do their part to make a jobsite a great place to work.
How Many Hours Do Forklift Operators Work?
Forklift operator duties often warrant 40-hour work weeks. In some instances, forklift drivers may work part-time schedules. This is especially true during the busy holiday season. Many companies rely on part-time workers to help ease the burden of increased demands for goods during the winter months. 
A typical forklift operator shift lasts eight to nine hours, with various breaks throughout the shift. A shift can take place during the day or at night.
How Much Do Forklift Operators Earn?
The U.S. Bureau of Labor Statistics estimates forklift operators and other machine operators earn an average annual salary of $38,380. Of course, you may be able to boost your forklift operator earnings if you enroll in a certification training class or other courses. Education, experience, and additional skills all factor into the wages of forklift operators. With an increased demand for goods and services throughout the country, though, you can count on serious job stability – so long as you earn your forklift operator certification, of course! Just be sure to pay attention to any forklift operator descriptions as you apply for jobs. It'll give you a good indication of your required duties and provide insight into your earning potential.
What Challenges Do Forklift Operators Face?
Forklift operator duties include the handling of heavy machinery. Workers must stay focused throughout the work day.
Also, forklift drivers must prioritize workplace safety. Even a single mistake can put a forklift driver or others in danger. As such, forklift drivers must do their part to contribute to safe work conditions. Safety must be a priority if accidents are to be avoided. Thankfully, there are a number of tools and strategies to employ in the hopes of mitigating the most hazardous parts of operating forklifts.
Anything But Routine: A Typical Forklift Driving Shift
Depending on a driver's particular role, day-to-day forklift operator duties can vary drastically. It's hard to pigeonhole forklift jobs into a one -size fits all description.
Here's what a day in the life of a forklift operator looks like, with different situations and job-specific descriptions thrown in for good measure:

Pre-Shift Inspection
Every forklift driver starts the day with a quick yet thorough pre-inspection. Are there any loose hoses? Are the brakes working as intended? Do all safety accessories (backup alarms, turn signals, etc.) work fine? Before work starts for a forklift driver, there's already a little bit of work to do! These daily inspections aren't just recommended. In fact, they're mandated by OSHA in the hopes of preventing many of the most common forklift accidents. A little due diligence can go a long way in minimizing risk.
General Job Duties
Ask five different lift truck operators what they do on a daily basis, and you're likely to get five different answers. Indoor warehouse forklift drivers typically unload trucks, move pallets onto elevated shelves, and perform other cargo management tasks. Most of the day is spent in climate-controlled conditions, and there is no concern about the weather. The one glaring exception is for refrigerated warehouses; some of these facilities are kept well below zero degrees, so forklift drivers are required to wear hats, gloves, coats, and other apparel to keep warm. 
Outdoor forklift drivers work in dockyards, ports, lumber yards, construction sites, and more. The type of work done by outdoor forklift drivers is dictated by the working environment. Construction site drivers may be required to transport material, while dock workers might spend some time on ships and other vehicles to unload cargo.
Avoiding Hazards
Through all the activity required to get the job done, forklift operators are required to put safety first at all times behind the wheel. For warehouse workers, this means blind spots around corners, pedestrian traffic, poor lighting, and more. Outdoor forklift operators (for example, a construction site) have different hazards to worry about: the weather, other vehicles, uneven terrain, and other factors.
Typical Work Hours
Most forklift operators work 8-hour shifts, though overtime is required during peak activity times.
On-the-job Perks and Benefits
Forklift operator descriptions often gloss over the perks associated with the job. For their efforts, many forklift drivers have health insurance, vacation time, and other perks – but those are away from the forklift. What about the advantages of being a forklift driver? For some drivers, simply being behind the wheel and contributing to their company's success is part of what makes the job worthwhile and enjoyable. For Jerry Smith, a packer, a typical day is a rewarding experience: "My favorite thing about operating forklifts is that it is easy to use and helps with heavy palletized items." 
Steve Weber, a low lift freezer driver for Campbell's Soup, says it's all about being in control – literally – of your career. "For me personally," said Mr. Weber, "I am much happier being on a forklift!"
For those who want to make a day in the life of a forklift operator a regular occurrence, enrollment in a forklift operator certification training program offers a terrific starting point. This program offers tips and recommendations to help forklift operators build their skill sets and grow their careers.
Why Get Certified to Operate a Forklift
Certification is an important piece of the puzzle for anyone looking to become a forklift operator. Many companies will not hire a forklift driver if they're not certified. In fact, many list certification as part of their official forklift operator description. If you don't have proper training and certification, it will limit your chances of finding a good-paying job at a warehouse, dockyard, factory or other employers.
The reasons a lot of people won't hire a driver without certification have to do with safety and money. A certified operator is more likely to follow rules and not get into accidents. OSHA may issue big fines if they do not have certain rules in place. Without certified employees on staff, OSHA can come in and shut a company down or levy hefty fines. 
Many businesses are looking for forklift drivers who are certified. You can work anywhere that needs heavy loads moved from place to place. It could be a shipyard that handles cargo. You might work in a warehouse that stores and sends products to stores. Factories, construction companies and other industrial employers are always looking for certified forklift drivers.
So the question is not always what you can do with a forklift certification – it's also where you can go!

Enroll Your Employees in OSHA-Certified Safety Training
Beginning your forklift operator career is impossible without thorough training and certification. It's actually legally required – you can't operate a forklift without getting licensed first. Thankfully, ForkliftCertification.com offers three convenient training packages to help your entire team get compliant. These affordable courses can be completed anywhere, at any time. So long as you have a device that's connected to the internet, you can train to become a lift truck operator.
Need to certify your staff? Our Train a Trainer course allows you to bring all future forklift operator certification training in house. If you're just interested in getting a single person trained and certified, our standard Training Kit is a good option. For the best value, bundle the two options for an exclusive discounted rate. 
Failure to certify your forklift operators and your business could face expensive fines from OSHA. Avoid penalties, accidents, and injuries by training your team the right way. It's hard to put a price tag on a safer, more productive workforce, after all. 
Have questions about our forklift operator training packages? Speak to our safety training experts online or via phone at (888) 278-8896.