Holiday Warehouse Safety Tips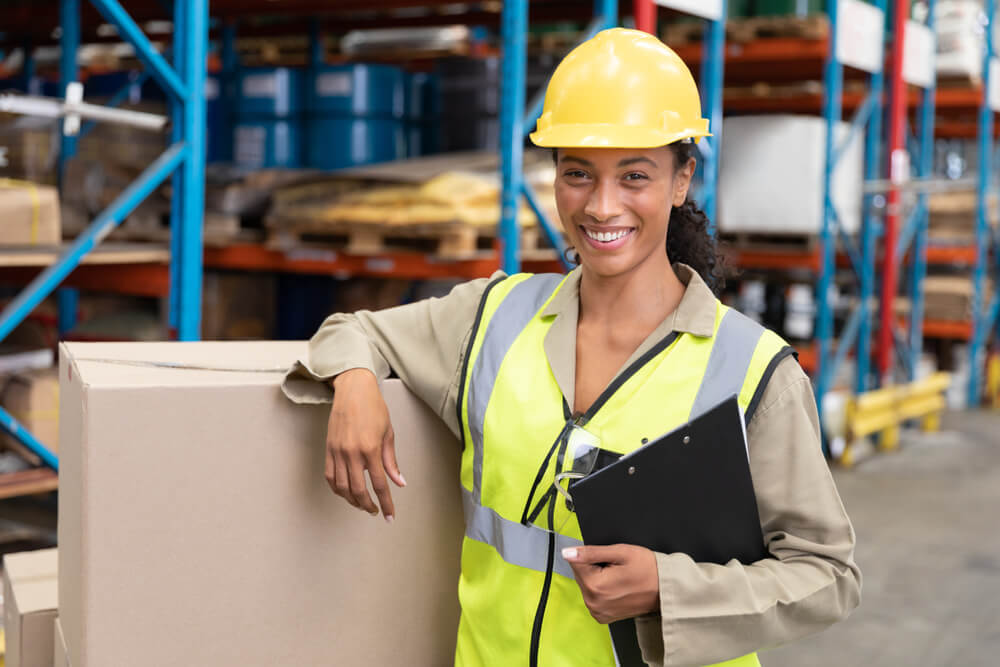 The holidays are usually associated with warmth, good times, and cheer. But they're also a time to exercise extra vigilance, especially concerning forklift operation at warehouses, construction sites, and other work areas. The best way for workers and employers to reduce accidents that lead to injuries and fatalities on worksites is to learn the proven most effective daily warehouse safety tips. 
Why Warehouse Safety Tips Matter
With the holidays quickly approaching, warehouses start moving large volumes of goods, which raises the risk for warehouse injuries. As loading docks and warehouses become busier, it can be difficult to maintain a safe work environment as employees work at a faster pace, causing simple safety measures to be overlooked.
Safety is a workplace priority, in every warehouse, every day. Warehouse workers frequently use forklifts as part of their daily work. And these workers must receive OSHA-compliant training that confirms they know how to do so safely. Otherwise, unlicensed forklift operators at warehouses can put themselves or others in danger. 
OSHA reports roughly 90 fatalities involving forklifts every year. Careless forklift operation also causes nearly 35,000 serious injuries and 62,000 non-serious injuries per year. Also, 11% of forklift operators in the United States are involved in at least one accident every calendar year. That means your business needs a safety plan in place to ensure OSHA compliance. 
Warehouse safety tips can help forklift operators avoid accidents, injuries, and fatalities. Your company can share these tips to entry-level and experienced forklift drivers. From here, your drivers can use your warehouse forklift safety guidance to safely operate their machines. They can drive forklifts in accordance with OSHA safety requirements, too. 
When the warehouse becomes busy, all employees need to take safety seriously and remain focused to reduce workplace mishaps. Set the example for your warehouse environment with a "Safety First" attitude to keep your workflow running smoothly and injuries to a minimum during the holidays.

Top 10 Warehouse Safety Tips
If you want to maintain a safe warehouse before, during, and after the holiday season, it pays to share warehouse safety tips with your employees. Here are 10 safety tips for warehouse workers.  
1. Use a Warehouse Safety Checklist
A safety checklist can do wonders to pull focus towards preventing workplace accidents. When workers use a warehouse safety checklist, they can easily identify on-the-kob safety hazards. It allows them to quickly and thoroughly audit the work environment and perform forklift inspections.
2. Promote a Clean Workspace
Of all the top 10 warehouse safety tips, this one is often the most overlooked. While keeping your space tidy might not seem all that important, a debris and clutter-free aisle is more easier to work in. Keeping aisles clear is just the beginning, though. Make an effort to keep all work surfaces neat and tidy. You'll see fewer accidents and a higher rate of productivity. 
3. Gear Up With Safety Equipment 
Each worker has their own unique gear. Whether they're gloves, hard hats, steel-toe shoes. or other apparel, make sure your workers are properly outfitted for the job. Warehouses contain many materials and objects that often get knocked, dropped, and clipped by on-foot workers and lift operators. Without the right safety equipment, other warehouse safety tips won't be as effective. 
4. Have an Emergency Plan in Place 
In the event of a fire or medical emergency, proper planning is the best remedy. When disaster strikes, workers should be able to act accordingly and in a manner that does not cause further danger by workers throwing the warehouse safety tips out the window. It's not enough to simply have a safety plan in place. Instead, businesses should routinely run drills so that workers automatically know how to proceed should a real emergency occur.
5. Establish Forklift Paths
Set up designated paths for forklifts. The paths should be clearly defined. They should only be used by licensed forklift operators. Workplace holiday safety starts with a clear understanding of where pedestrians should and should not be venturing. By establishing clear forklift paths, your organization can mitigate many of the most common workplace accidents and injuries.
6. Prioritize Pallet Rack Safety
Educate warehouse workers about pallet rack safety. Warehouse workers can complete a safety training program to learn about pallet racks, how they work, and their benefits. The program can teach workers how to audit a pallet rack and assess its conditions. It can ensure that workers know how to report pallet rack safety issues as well.  
7. Review Your Warehouse's Layout
Evaluate your warehouse's layout and look for improvement areas. You should always strive to maximize warehouse safety. As part of your efforts, seek out ways to reduce or eliminate risks that can lead to slips, trips, falls, and other warehouse accidents. OSHA holiday safety often boils down to eliminating the most minor sources of danger. What might not look like a big deal at first glance can sometimes cause the biggest accidents.
8. Keep the Lines of Communication Open
Communicate and collaborate with warehouse workers about on-the-job safety. Encourage workers to come forward with any warehouse safety concerns or questions. From here, you may discover new ways to minimize risk and help your workers become more efficient than ever before.   
9. Provide Ongoing Training
While OSHA requires workers to be trained upfront, many employers fail to offer ongoing training opportunities. Initial training can be helpful, but without regular reminders of safety best practices, workers are bound to forget some of what they learned. If you're hoping to promote workplace holiday safety, make ongoing training a part of your organization's safety plan.
10. Stay on Course
Track the results of warehouse safety training programs and initiatives. Furthermore, continue to explore ways to enhance warehouse safety. 
Along with the aforementioned warehouse safety tips list, warehouse workers should ensure that their forklifts have the following: 
Properly working electrical connections (battery cables, wires, etc.) 

Manufacturer recommended tire pressure 

Secure attachments 

No leaks (oil or other fluids) 

Easy-to-read warning labels (if applicable) 

Working turn signals, horn, and other safety equipment and warning systems 

Straight forks and mast
As the holiday season approaches and your business looks for warehouse workers, understanding the top workplace hazards and learning how to avoid them properly is paramount. These are some ways to make your warehouse (and forklift) safer during the holidays. We hope these safety tips help your warehouse become safe and productive. And remember, it's never too late to schedule your forklift safety training. 

Promote Workplace Holiday Safety with FLC
Of all the warehouse safety tips to keep in mind this holiday season, proper training and education are perhaps the most important. Employers are responsible for the safety of their workers. It's not enough to simply offer tips and tricks to prevent accidents. Instead, take iniative to educate your team with the help of ForkliftCertification.com. We'll help you achieve OSHA compliance, train employees to work as safely and effectively as possible, and help your organization avoid many of the most common workplace accidents and injuries. 
Contact us online or call us today at (888) 278-8896, and we'll make sure your forklift operators are certified and OSHA-compliant with the most safety tips and protocols for warehouses. If you're ready to improve your safety program today, check out our classes today!