The most trusted online resource for OSHA forklift certification and training since 2002
Questions? Call us! (888) 278-8896
How Much Do Forklift Drivers Make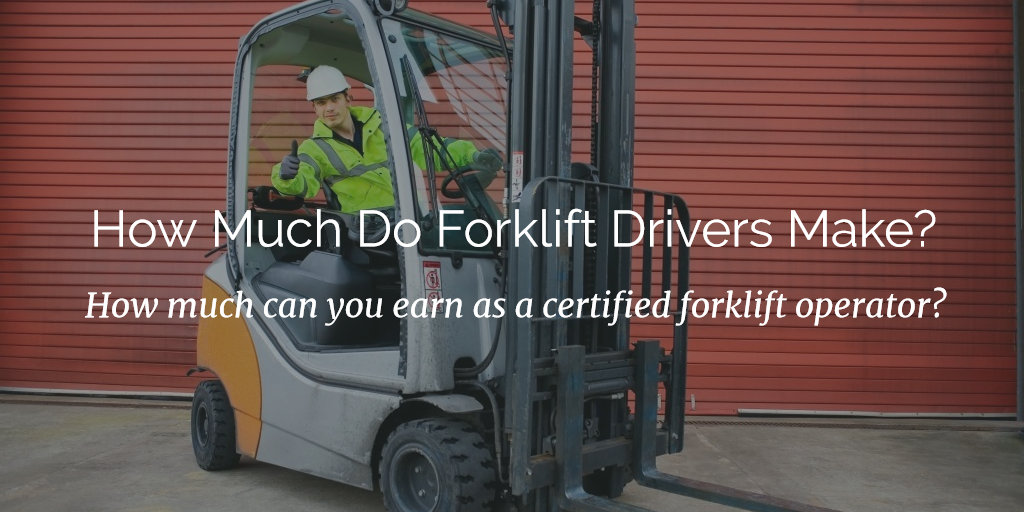 Being a forklift driver is a great way to make a steady living. With warehouses, construction sites and many industries always needing to move materials, there is always demand for qualified, licensed and certified forklift drivers. This career path provides individuals with the opportunity to learn a necessary trade, and in many cases, is the starting place to work into other careers within the warehouse, construction and industrial trades. If you are considering a position as a forklift driver, here is what you can expect to earn, and some of the essential duties of the job.
What Does a Forklift Operator Do?
Yes, the basic task for all forklift drivers is to drive a forklift, moving materials around in warehouses, factories, construction sites and other work areas. This job requires an individual who doesn't mind doing repetitive tasks, and who is willing to work hard. Forklift drivers may also need to pick up and move loads by hand every so often. Some of the typical forklift operator jobs available to those with proper training include Forklift Operator, Forklift Mechanic, Warehouse Worker, Construction Worker, Retail Employee, Dock Worker, Airport Employee, and Special Events Employee.
Forklift Operator Job Description
The day-to-day duties of a forklift operator can vary, depending on the job environment. But generally speaking, forklift operator duties include:
Cargo handling
Storage management
Pallet stacking
Helping other forklift operators when required
Operating their machinery as safely as possible
When you're thinking about how much do forklift operators make, one of the things to look at is versatility – a driver who is able to operate different types of lifts (stand up, sit down, pallet jacks, etc.) and perform different forklift operator duties  will earn the highest possible salary. With training from FLC, you'll ensure you have a well-rounded safety background to handle all sorts of forklift operator duties!
Requirements for Forklift Drivers
If you are considering a career as a forklift operator, there are some basic requirements that you need to meet, in order to be hired. Entry level forklift drivers with no experience should be at least 18 years old, and possess a high school diploma or GED. Since you will be driving a "vehicle," you will also need to possess a valid driver's license. Some employers will require that you obtain a forklift certification and/or operator's license during your employment. Many forklift operator jobs will favor those who already have their forklift certification, so it's definitely worth looking into, as you're considering this career.
How Much Do Forklift Drivers Make?
If you are looking to acquire a position as a forklift operator, you can expect to make anywhere between $10 and $20 per hour on average. Most entry level forklift operators make around $13 per hour, and many warehouses offer employees overtime at the standard rate of one and a half times their normal salary. In many cases, forklift operators who take the time to acquire a certification or license are compensated with a higher forklift operator salary for their efforts.
Another way to look at salaries is this way: how much do forklift operators make in different cities? As an example, a forklift driver in New York City will probably make more than one in Topeka, KS. It all has to do with the cost of living in a particular market. Since the Big Apple is more expensive than the middle of the country, forklift operators will make more money. But there's a downside: the cost of living in New York is much more expensive!
The Benefits of a Forklift Certification
Becoming a certified forklift operator can open other doors for you as an employee. Many employers will pay operators more if they have taken the time to become certified. Being a certified forklift operator can also help you work towards a position as a shift supervisor, or manager. Forklift certifications will also help you be a better, more knowledgeable operator. This additional knowledge makes your job safer, and increases the overall safety of your facility. If you already have a certification, you know how much easier it is to get a better job, with a better forklift driver salary.
Get Certified with ForkliftCertification.com
Forklift operators are essential positions in a variety of industries. If you are looking for steady, reliable work, becoming a certified forklift operator is a great place to start and ForkliftCertification.com can get you there. Check out our website to learn more about our fast, convenient and affordable online forklift training. It takes only about one hour to complete, from any device with an internet connection!
How much forklift operators are paid is directly related to an individual's skill set, knowledge, attitude, and many other factors. And one of the biggest is OSHA certification. If you're looking to become certified, you'd like to brush up on your skills, or are interested in making the most money as a forklift operator, contact FLC today. You can also reach us at (888) 278-8896. How much do forklift operators make? In the end, it's a tough question. But if you have the latest OSHA training, it's easier to be on the higher end of the pay scale!
Sources:
https://www.snagajob.com/job-descriptions/forklift-driver/
https://www.payscale.com/research/US/Job=Forklift_Operator/Hourly_Rate