The most trusted online resource for OSHA forklift certification and training since 2002
Questions? Call us! (888) 278-8896
How Old Must You Be to Operate a Forklift?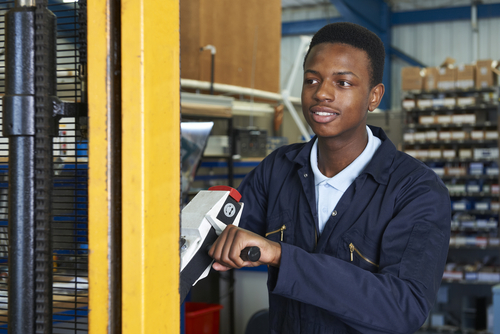 It is illegal for anyone — regardless of age — to operate a forklift without completing an OSHA-approved safety training course. During this course, students can learn about OSHA forklift safety requirements, along with the minimum age to operate a lift.
Do You Need a License to Drive a Forklift?
Forklift operators are not required to have a commercial or standard driver's license to legally drive a lift. However, OSHA mandates that operators earn safety training certification before they can use a lift. This applies to all types of forklifts.
What Age Can You Get a Forklift License?
The forklift license minimum age is 18 years old. At this time, people can enroll in an OSHA-approved forklift safety training class and earn the certification necessary to verify that they can properly operate a lift in a potentially hazardous work environment.
Is Driving a Forklift Dangerous?
Driving a forklift can be dangerous, particularly when a lift is operated by an untrained or inexperienced operator. In either of these instances, the operator can put himself or herself in others at risk of a lift accident or injury.
There are many reasons why forklift accidents and injuries occur, such as:
Insufficient Training or No Training: If a lift operator does not apply what he or she learns from a forklift safety training course or ignores this course altogether, he or she is unlikely to take the necessary precautions to safely drive a lift.
Falls: A lift operator who loses control of the lift on uneven terrain, does not use a seatbelt or forgoes other safety measures may fall from the lift.
Rollovers and Tip-Overs: A lift operator who turns too quickly or carries an unbalanced load or a load that exceeds the lift's load capacity may cause a rollover or tip-over.
The bottom line: forklift safety training is crucial. By enrolling in a forklift safety training program, anyone can learn what it takes to safely operate a lift.
Qualifies of a Great Forklift Operator
In addition to completing forklift safety training, a great lift operator often possesses several skills that help him or her stand out to potential employers. These skills include:
Patience: A great lift operator stays calm, cool, and collected. When faced with adversity, this operator won't rush; instead, he or she recalls their safety training and does what's necessary to guard against lift accidents and injuries.
Communication: A great lift operator prioritizes communication with coworkers and managers. He or she is unafraid to ask questions and point out any worksite issues that otherwise may put workers and bystanders in danger.
Attention to Detail: A great lift operator avoids shortcuts. Conversely, this operator commits the time, energy, and resources necessary to perform day-to-day tasks safely and effectively.
Flexibility: A great lift operator understands that work conditions can change at a moment's notice. Thus, this operator adjusts as work conditions change — without putting the safety of himself or herself and their peers on the backburner.
Organization: A great lift operator stays on track with their everyday responsibilities. He or she performs forklift inspections and other daily, weekly, monthly, and annual tasks to ensure that a worksite remains safe for all employees.
A great forklift operator is committed to their craft, and he or she won't settle for average. The first step to become a lift operator: enroll in OSHA-approved forklift safety training.

Ready to Sign Up for Forklift Safety Training? Partner with ForkliftCertification.com
ForkliftCertification.com offers a forklift certification safety training program that is accessible online and allows students to become OSHA-compliant lift operators in as little as one hour. To learn more or to sign up for our forklift safety training program, please contact us online or call us today at (888) 278-8896.