The most trusted online resource for OSHA forklift certification and training since 2002
Questions? Call us! (888) 278-8896
7 Preventative Steps That Will Decrease Workplace Injuries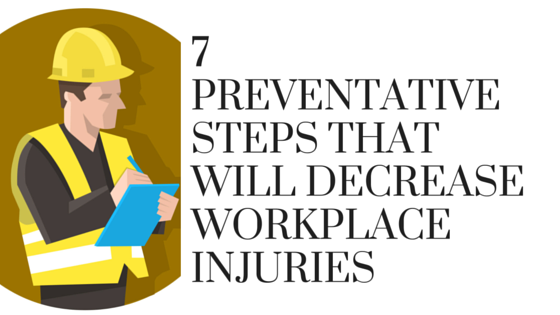 It may not seem time-efficient to consistently run maintenance checks on forklifts, but when a machine isn't properly maintained, there is no way it can function at its highest potential. As a result, you see a decrease in efficiency and an increase in costs. But poorly maintained forklift affect much more than just day-to-day functions. Improperly maintained equipment is one of the top sources of safety hazards in the workplace.
You can help ensure your forklifts stay well-maintained and safe to drive, and can help decrease workplace injuries by following these steps at work:
Carry Out Daily or Pre-Shift Inspections.
This is an easy step you can do yourself, and it doesn't have to take a ton of time. In fact, performing daily or pre-shift maintenance inspections on your lifts will prevent a serious issue down the road which could take a lift out of the game for a number of days or weeks. Before each shift, check the fluid and lubricant levels, and keep a manufacturer checklist with you to ensure a thorough inspection.
Inspect the Area for Debris
One thing to always take the time to do before a fleet moves out is to make sure there are no debris like wood, plastic, banding, or wire lying on the floor. Although they may seem insignificant, they can damage a forklift's radiator or axle, and can blow into the engine and cause a malfunction in the cooling system, or a fire.
Know OSHA Protocol
It is OSHA's job to research and develop new strategies and regulations to improve safety in the workforce. This includes forklift maintenance. Take the time to educate yourself on the latest OSHA rules and regulation and be sure you are doing all you can to follow proper safety protocols. You also have access to safety devices like speed reduction systems, warning signs and lights, as well as traffic signals to help everyone on a worksite be aware of safety hazards.
Professional Preventative Maintenance
Consider investing in a professional maintenance service to provide scheduled, on-site checkups. They are specialized in working solely on the equipment you use, and will know where to look and may catch things you missed. Service professionals will look over the forklifts, take into account the running time, the type of environment they are used on, and many other factors. There are many maintenance companies that allow you to schedule monthly maintenance checks for a flat-fee, giving you peace of mind and reducing the need to keep track of monthly reports.
Battery Maintenance
Most forklifts used on worksites are now battery operated and OSHA recommends dedicating a separate battery charging room for that purpose only. Educate yourself and employees on proper battery management and be sure to invest in quality employee training.
Employee Forklift Certification
Bringing us into the next and quite possibly most important point, well maintained forklifts start with educated drivers. If they know how to properly run them, inspect them, and maintain them, your fleet will be functioning without issue for a much longer time than with untrained employees. Another great benefit is that you will see an increase in overall workplace efficiency, uptime, and in reduced costs. For the most affordable, convenient, and comprehensive online forklift training available, look to ForkliftCertification.com. They hold their employee training to the highest standard and are completely up-to-date with OSHA standards and regulations.
Start implementing the DIY maintenance checks today and combine it with a professional monthly service to ensure the most efficient and well-maintained forklifts. And check out ForkliftCertification.com for employee training today!