Some Forklift Jobs are Cool, Others are COLD – The Unique Challenges Facing Frozen Food Warehouse Drivers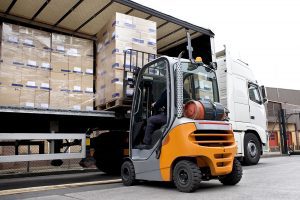 All that frozen food at your local grocery store was, not too long ago, sitting in a warehouse. But not just any warehouse. A frozen food distribution warehouse is typically kept at around 20-degrees below zero.
Called order selectors or "pickers," the workers who fulfill orders for stores have the tough task of transporting pallets & products in sub-freezing conditions – all while safety operating forklift and pallet jacks!
As you can imagine, working in this environment has its share of challenges. Here are just a few:
The temperature. There's no getting around it – 20 below is coooold! Due to the extreme temperature, selectors must wear bulky clothing, including gloves, hats, jackets, thermal pants and work boots.
The surface. Warehouse floors are usually slick enough, but ultra-cold warehouses are tricky to navigate. If something spills, workers must use extra caution.
The forklifts. Numb fingers, clouds of steamy breath, impaired hearing (due to earmuffs) – these are just some of the hazards drivers have to be aware of. Safely running a lift in sub-zero conditions requires vigilance, discipline and toughness.
The hours. Most stores run on 24-hour delivery cycles – that means you could work morning, noon or night.
Are there any upsides to driving a forklift or pallet jack in a frozen food warehouse? Most of the time, the pay is superior to regular warehouse forklift operators. Most employers realize the extra sacrifice involved by working in an Arctic-like setting.
Is this something you'd be interested in? Like regular forklift drivers, you would expect to have the proper training and know-how to avoid accidents and safely operate your lift, even in harsh conditions.
For up-to-date OSHA instruction, we have you covered (figuratively – you'll still have to actually cover yourself with warm clothing before you start). ForkliftCertification.com is a preferred forklift training source for companies all over the globe. We have 3 different modules: Train a Trainer, the Training Kit and the value-added Bundle Package.
To select a training course and get started today, call FLC's training professionals at (888) 278-8896 or visit our contact page for more information.