Attorneys Recommend Chicago Forklift Certification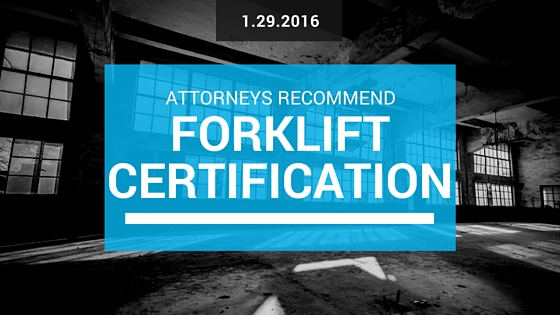 Chicago is the third most populous city in the U.S. with an incredibly diverse economy with many industries. Chicago has something for everyone: young generations and older citizens love the lively restaurant scene and numerous options for entertainment. Families enjoy the many parks, beaches, and museums. Chicago's vastly diverse culture draws many new residents every year. If you're interested in making Chicago your home, you'll probably be looking into a new job.
Chicago is home to some of the most diverse industries available for employment: Automobile manufacturing with top employers like Ford, Navistar and Omron; Fabricated Metals with top employers including Aktore, Handi-Foil, and Spraying Systems; and Food Manufacturing with leading companies like Kraft, Pepsi, and Nestle. Chicago is also home to 29 Fortune 500 companies and is a major transportation and distribution center.
Chicago Forklift Accidents and Untrained Workers
Many of these industries involve the use of forklifts. A forklift is a large piece of equipment that is used to lift and carry heavy loads. To become a forklift operator and qualify for jobs, you need to obtain forklift certification in Chicago. It is important to appreciate and respect the power involved in operating a forklift. And acknowledging the catastrophic accidents that can occur due to the negligence of proper care. According to Rosenfeld Injury Lawyers, Chicago area forklift accident attorneys, about 34,000 workers are sent to the hospital every year due to forklift-related accidents. Many of these accidents could have been prevented if employees had received better equipment training, including this unfortunate account:
Military war veteran, Thomas Neuhengen, lost his heel and underwent seven surgeries when he was caught under a forklift which crushed his left foot in 2012. Neuhengen was working as a spare parts manager for Hemle Machine Co. and was involved in the International Manufacturing Technology show in Chicago when he was struck by a 58,000-pound forklift. The driver was a GES employee and had apparently failed to keep a clear path of travel. GES was cited by OSHA in 2013 and was fined nearly $100,000. The company had two previous citations for hiring uncertified forklift drivers. During a trial in 2016, Neuhengen left with $12.2 million in compensatory damages from GES and $3 million in punitive damages. For the whole story, read here.
Save Lives With Chicago Forklift Certification
Loading docks and warehouses are full of potentially unsafe and life-threatening situations. They are busy workplaces with sometimes hundreds of workers and multiple forklifts running at once. Distractions are everywhere for workers and without proper equipment training, they may not be aware of their reckless actions. The attorneys behind Rosenfeld Injury Lawyers have placed uneducated drivers as a common theme in forklift accidents. High-quality safety training should be a requirement for all workers and can greatly reduce the safety hazards that lead to fatal injuries.
ForkliftCertification.com is an online course that takes only about one hour to complete. You can complete the learning modules wherever you have an internet connection. In fact, you can become forklift certified while relaxing at home on your couch, enjoying a latte at a coffee shop, or while on your lunch hour at work. If you are an employer, hold all your employees to a high standard and require all to receive forklift training.
Protect your life and your employees' with high-quality forklift certification in Chicago.