Why Forklift Aisle Width Matters

Your warehouse is probably facing more and more demand to house the inventory that your customers want. With this increasing demand, it's important that you make the most of your warehouse space by setting pallet racks in the most efficient way possible. This may mean a complete reorganization of your warehouse, or it could mean making adjustments in forklift aisle width to maximize space and improve efficiency. For many facility managers, it makes the most sense to adjust warehouse aisle width to improve space and flow efficiency. If you are considering making changes to your warehouse layout to improve efficiency and increase space, here are some considerations regarding aisle width that you should consider.
Why Do You Need to Calculate Warehouse Aisle Width?
You have only a limited amount of space available in your warehouse — and you want to get the most value out of the space at your disposal. To achieve your goal, you may explore ways to reduce warehouse aisle width.
As part of your efforts to minimize warehouse aisle width, you need to consider the forklift you use as well. You should examine your forklift turning radius, model and configuration, as different types of forklifts can impact how you determine the optimal distance between pallet racking and industrial shelving. In addition, you need to ensure that your workers can safely and efficiently use a forklift in your warehouse.
Putting Safety First
Before delving into the specifics on how wide should warehouse aisles be, it's worth discussing safety first. The experience level of your warehouse team must be factored into your calculations if you're hoping to avoid accidents and injuries. You may even want to give workers a seat at the table as you calculate the right aisle width for your warehouse. Forklift operators often have years of experience working in warehouses and can give first-hand insight into aisle size, traffic challenges, and navigating new layouts.
Forklift specifications should also be a consideration when determining aisle width and layout. If it's not possible to leave ample space between aisles, you may need to install additional rack protection to prevent pallets from toppling over. By thinking about these safety considerations before implementing new plans for forklift aisle width, you'll avoid many of the most common warehouse accidents.

What Different Forklift Aisle Types Are Available?
When you are thinking about the best ways to increase space in your warehouse, the first thing that you need to think about is the types of aisles that will work best for your space. In general, there are three sizes of aisles that are common in warehouses: conventional, narrow, and very narrow. Each aisle size has its pros and cons, and these should be carefully considered before you go forward with a complete redesign and reorganization of your warehouse.
If you plan to overhaul your warehouse, it often helps to plan as much as possible. If you develop a comprehensive plan that accounts for forklift aisle width and other factors, you're well-equipped to optimize the available space in your warehouse.
HOW MUCH SPACE DOES A FORKLIFT NEED TO TURN?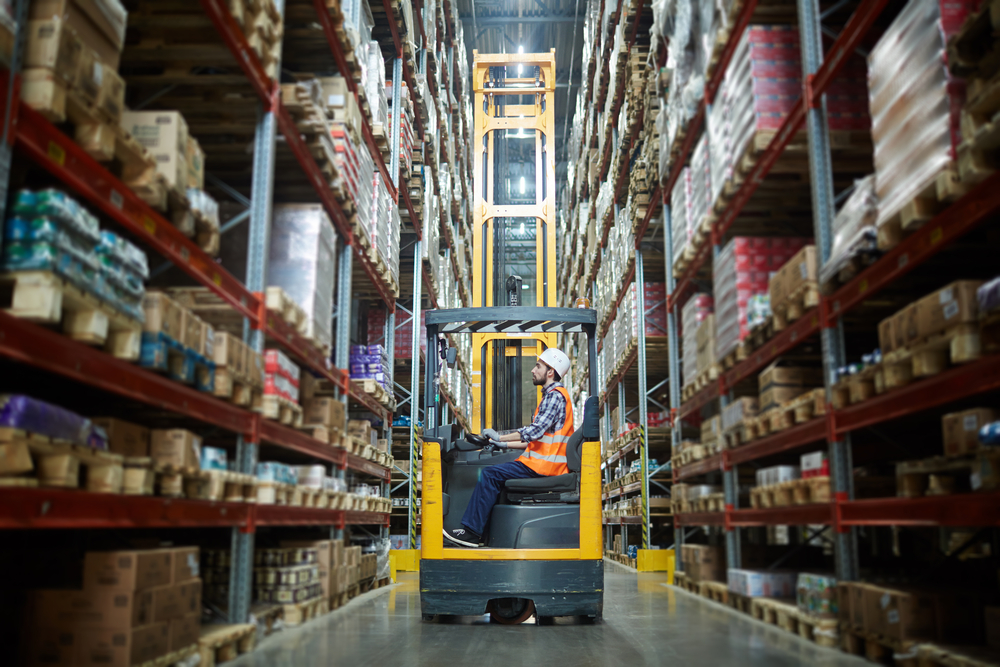 Before you begin calculating how wide warehouse aisles should be, it's worth considering the average forklift turning radius. The information will help you make informed decisions about which makes and models to invest in for your warehouse. So just how much space does a forklift need to turn? Start by measuring the basic right angle stacking width. This is the smallest space a forklift requires to be able to turn and enter a pallet.
Next, add the load length to the basic right angle stacking width. Since standard pallets are 48 inches in length, odds are good that 48 is the number you'll add – unless you're stacking non-standard pallets, of course. Finally, add an additional 12 inches to that figure. This allows for clearance on all sides.
Every forklift model is unique. You'll want to thoroughly review the manual and specifications before operating a forklift for the first time. Reviewing these details as you design your warehouse is also a good idea. By doing your research on the front end, you'll save your team a headache once the aisles are set up.
How to Calculate Forklift Aisle Width
When you are getting ready to reconfigure your warehouse and are thinking about changing your forklift aisle width, it's a good idea to know the right way to calculate the width necessary for your equipment. Some important factors to consider when calculating warehouse aisle width are:
1) Head Length: The distance from the back of the forklift to the front of the back rest of the load.
2) Load Length: The length of the pallet along the stringer, plus the overhang of the load.
3) Maneuvering Space: Add 12 inches to your head and load lengths for maneuvering space, and this will give adequate space for your lifts to turn and stack without difficulty.
4) Pallet Overhang: This is already considered in the calculation of the load length, but it's helpful to add some space for any additional overhang. Add an additional 6 inches for safety.
You should also consider the type of warehouse aisle you are using. Common types of warehouse aisles include:
• Conventional Aisles
Also is known as "wide aisles," conventional aisles are generally between 12 and 13 feet wide. They are the most frequently used in warehouses because they can accommodate a variety of equipment. It is likely that if your warehouse is a bit older, you are currently dealing with conventional aisles. Conventional aisles work best for standard 48-inch pallets combined with counterbalanced forklifts. Be sure to consider forklift turning radius requirements as you set up conventional aisles in your warehouse. Just because something is conventional doesn't mean it is necessarily industry standard.
• Narrow Aisles
Narrow aisles will save you as much as 20 percent of the current space in your warehouse. Narrow aisles are between 8 and 10 feet wide. It is important to understand that if you are not planning on replacing your equipment and only have standard counterbalance lifts, narrow aisles will not work for your warehouse. However, if you've reduced the size of your equipment, or are working mostly with hand operated lifts, narrow aisles will allow you to maximize your space and increase storage in your warehouse. Determining how wide warehouse aisles need to be often boils down to functionality. If your workers can navigate narrow aisles and get equipment through easily, you stand to save a lot of space.
• Very Narrow Aisles
The narrowest of the options, very narrow aisles can be 6 feet wide or less. The choice to have very narrow aisles is heavily dependent on equipment and operator skill. If you have green operators or older equipment, very narrow aisles aren't a great idea. Very narrow aisles can increase your floor space by 40 to 50 percent. Again, an understanding of the average forklift turning radius will come in handy as you calculate very narrow aisle space.
A thorough assessment of your use of forklifts in your warehouse is key. With this assessment, you can verify that your warehouse aisles can accommodate your forklifts and minimize the risk of lift accidents and injuries.
Which Forklift Aisle Type Works Best?
Now that you understand the types of aisles that are common in warehouses, you need to determine the best ones for your warehouse. The best way to make these decisions is based on the type of forklifts and lift trucks that you have on hand. It's not practical to change the width of your warehouse aisles if your equipment won't fit. If you are purchasing new equipment or have a variety of equipment options, you have more versatility in how you arrange your warehouse and the width of the aisles you select.
As you assess which aisle type works best for your warehouse, you may want to consider the following equipment:
• Counterbalance, Seated Lift Truck
This piece of equipment requires the most room to move and is only efficient in conventionally sized aisles. These machines use a 90-degree forklift turning radius. Even the most experienced operators will have trouble maneuvering this piece of equipment in aisles any smaller than 11 feet. These are also the most practical sized aisles for warehouses that are moving larger loads or loads on pallets.
• Single and Double Reach Trucks
These lifts can easily maneuver narrow width aisles. Your operator is generally standing in these pieces of equipment, and they are good for lighter loads. Popular for loading and unloading trucks, these versatile pieces of equipment can go from your warehouse to your loading dock with ease. The 20 percent increase in space potential will make an investment in a smaller single or double reach truck worth your money. And with a higher reach, these pieces of equipment will allow you to also optimize your warehouse's vertical storage.
• Aisle Turret Trucks
The smallest of lifts on the market for warehouses, these tiny workhorses allow you to reduce forklift aisle width to as little as 6 feet. Operator experience comes in handy with these lifts, allowing maneuverability in the tightest of spaces. Also helpful for going from the warehouse to the loading dock, Turret trucks are a great investment for the warehouse that knows they will be growing and increasing inventory. Not only will these little machines increase your available floor space, but with the ability to stack 8 pallets high, your warehouse will gain substantial vertical storage as well.
It is important to note that warehouses can benefit from a variety of forklift aisle widths and types of equipment. If your warehouse has inventory that ranges from small to large, you may want to consider investing in more than one type of lift and then creating the most efficient aisle widths for each stock and lift type. If you aren't ready to invest in new equipment, make sure that you do your legwork by calculating the right aisle width for your equipment, before making changes.

Teach Your Warehouse Workers About Forklift Safety
It can be tough to decide which forklift aisle widths and equipment are necessary. But, for a decision that's easy to make, leave OSHA-compliant forklift training for your employees to ForkliftCertification.com.
FLC offers a forklift safety training program designed for warehouse workers of all skill and experience levels. Our program is accessible online and can be completed in as little as one hour. Convenient and affordable, online certification programs like ours make it easier than ever to invest in your warehouse team while also growing their skills. For more information about our program, please contact us online or call us today at (888) 278-8896.