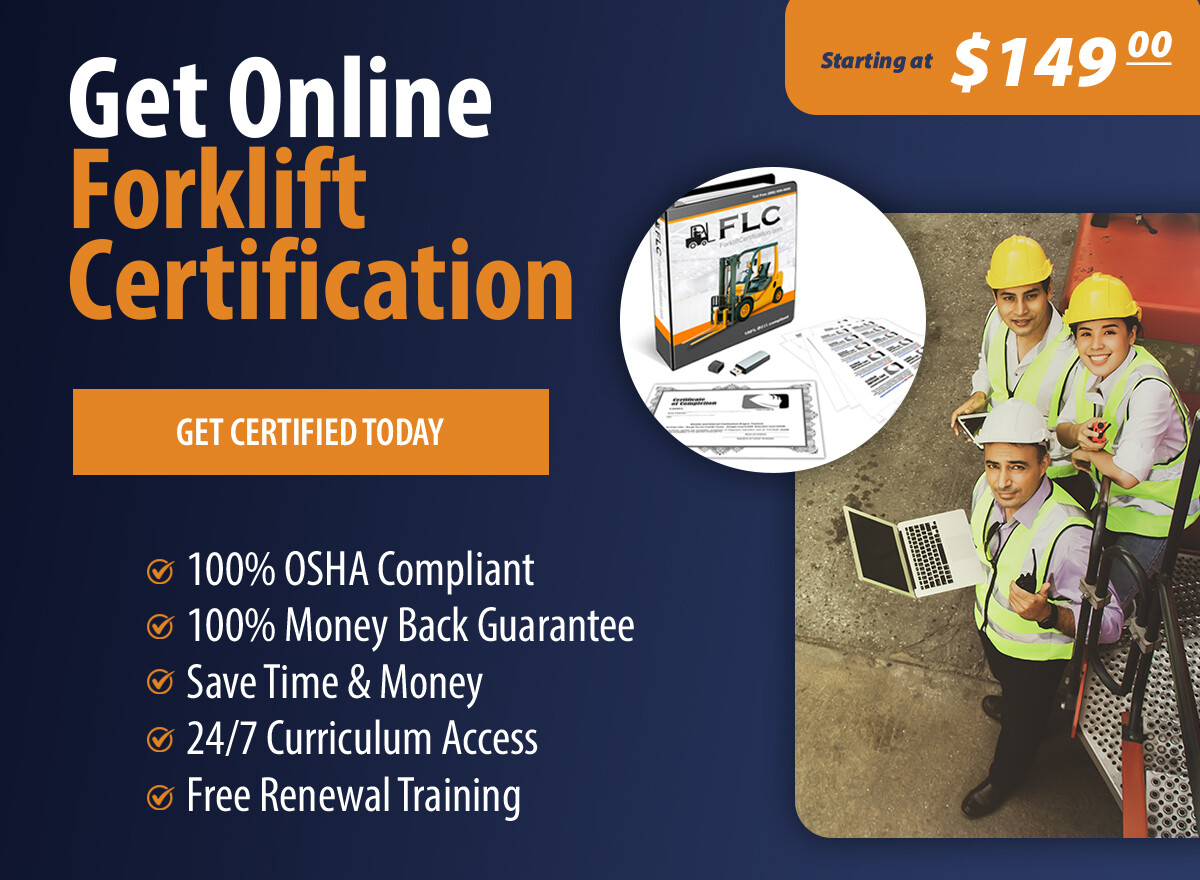 From Champaign to Chicago, from Aurora to Elgin, every Illinois employer requires forklift certification to run powered industrial trucks. Without forklift certification in Illinois, your company could be penalized thousands of dollars. And since OSHA requires that training forklift operators is the employer's responsibility, how can you ensure you're OSHA compliant?
The easy, affordable training choice is clear: ForkliftCertification.com. FLC offers a convenient, OSHA-compliant way to get your workers up to speed with safety standards. Our courses can be taken anytime, on any schedule. But that's not all – they're also priced to fit any budget.
Our three main classes for forklift certification in Illinois include the following:
The cost of non-compliance is too high. And it's against the law to have any operate your equipment with online Illinois forklift certification. Avoid deadly accidents like this and ensure your company is current with OSHA regulations. Sign up now and get OSHA compliance! 
How to Get Forklift Certified in Illinois
Want to get your employees trained in the Land of Lincoln? Follow these steps:
Get registered: Your company and employees will have login info assigned.
Choose courses: It's all up to you regarding Illinois forklift certification. Go to our course catalog and select what you need.
Tests & training:  Our forklift certification in Illinois is on convenient USB drives, which can be taken anywhere – and tests taken anytime!
Skills test: Your employees must show you they're ready to get behind the wheel. Using ourTrain the Trainer program, your employees can handle this task.
Hand out credentials:  Forget waiting for the mail to deliver forklift licenses. You can print your credentials with FLC.

Why Pick FLC for Forklift Certification in Illinois?
Enjoy these benefits and many more with FLC's Illinois forklift certification:
60-minute certification: While your employees can take their testing anytime, most complete everything in about one hour.
Free renewal training: When your Illinois forklift certification expires after three years, we provide renewal training at no extra cost.
Safety priced for everyone: A safe workplace should be affordable for all. That's why our forklift certification in Illinois is priced for great value!
Limit your liability: If OSHA audits your company, you won't be fined for having untrained workers.
Here's another benefit. If you're unsure how to get forklift certified in Illinois or need help choosing your courses, take the FLC questionnaire. 

Illinois Forklift Certification FAQs
Our customers ask plenty of questions about forklift certification in Illinois, and we have the answers!
I have some workers that rarely run my forklifts. Do they still need to be certified?
Whether your worker drives a forklift for two days or 200 days yearly, they need Illinois forklift certification.
How much could my company get fined for non-compliance?
OSHA penalties can easily reach up to $100,000. Here's an example of a fine that reached over $50,000.
What else do I get with my FLC purchase?
Friendly customer service, lifetime support, and training that updates as OSHA regulations change are just the beginning! 
We're here to help you with the process of how to get forklift certified in Illinois. And also, make sure your company stays OSHA compliant. Experience safety how it's meant to be and register today with FLC.

Why Do You Need Forklift Certification in Illinois?
For one, your drivers will learn how to avoid forklift accidents. For another, you'll see an immediate improvement in company morale, not to mention productivity!
But the main reason why your company needs forklift certification in Illinois has to do with the law. As an employer, you're required to ensure your workers know how to safely operate a forklift. If your company has an accident and you can't show proof of training, heavy penalties are sure to follow.
Don't take chances with your forklift training and certification in Illinois. Get started with FLC today, and make sure your company:
Register Today with FLC and Receive Forklift in Illinois
The best time to sign up with FLC was yesterday. And the most important time is now. Take advantage of our affordable prices, proven training content and unmatched customer support.
We're here for your forklift certification in Illinois. For any question, or if you're still unsure how to get forklift certification in Illinois, just call (888) 278-8896, or shoot us a message here.
We're ready to go when you are. Register your company today and get started on the path toward a safe, compliant workplace. Thanks for visiting FLC, your #1 source for Illinois forklift certification.