The most trusted online resource for OSHA forklift certification and training since 2002
Questions? Call us! (888) 278-8896
Rough Terrain Forklifts and Certification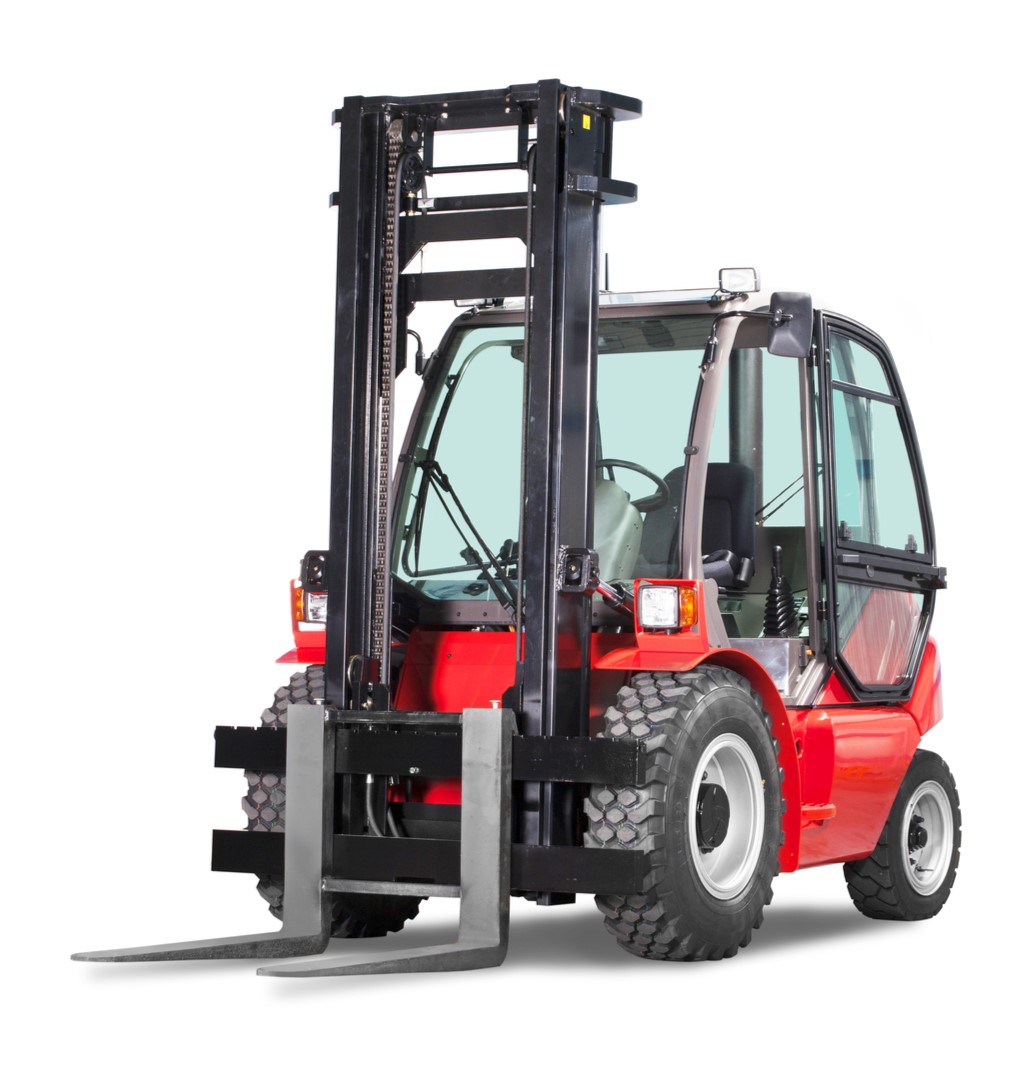 Rough terrain forklifts, off road forklifts and heavy-duty lifts are essential for large construction projects. They're also used by roadway crews, surveying companies and similar enterprises. Do you use rough terrain lifts? If so, you need to provide rough terrain forklift certification for all of your rough terrain forklift operators. ForkliftCertification.com (FLC) leads the way with affordable, OSHA compliant training and certification. Sign up to avoid expensive OSHA fines and penalties.
What are Rough Terrain Forklifts and Off Road Forklifts? 
Designed to travel across uneven terrain, rough terrain trucks are just like regular warehouse forklifts, in some ways. Functionally, they're very similar. Each has forks, tires, cabin controls, safety mechanisms, the whole works. But rough terrain lifts are specifically designed to handle all kinds of surfaces, not to mention variable outdoor conditions.
Off road forklifts
and
rough terrain trucks
have the following characteristics: 
Large, oversized wheels

Heavy-duty forks 

Large, rugged powertrain to handle heavy loads (some over 7,000 pounds!)

Protective cabin accessories for weather considerations

And much more
The three main types of
rough terrain forklifts
are:
Truck/trailer mounted

Variable reach

Vertical mast
Next time you drive by a road construction site, try to spot a rough terrain forklift. They're also common at construction sites, as they help move material into place.
 In the OSHA classification of forklifts, rough terrain forklifts and off road forklifts are Class VII.
How to Operate a Rough Terrain Forklift
Operationally, rough terrain trucks are similar to regular Class I and Class II forklifts. However, extra caution is required due to the following variables:
Terrain track
Weather
Load size
Other equipment vehicles nearby
Special OSHA safety standards for rough terrain forklifts
And more
One important factor to note with this type of lift: according to OSHA's own Rough Terrain Forklift e-Tool: "the term 'rough terrain' does not imply that the forklift can be safely operated on every conceivable type of terrain."
 The processes of lifting, maneuvering, etc. are common with regular lifts, but given the hazardous conditions often associated with outdoor work, it's imperative that your crew gets the proper training & certification to operate these special lifts. Without certification, OSHA could fine your company thousands of dollars!
Rough Terrain Forklift Operator Certification Needs
Your workers MUST have rough terrain forklift certification. All Class VII (rough terrain and off road forklifts) fall under OSHA standard 1910.178, but most companies lack the in-house expertise to understand all the ins and outs of this guideline, let alone create a training curriculum based on always-evolving safety data and rules.
With our Training Kit, we'll get your employees up to speed with the latest OSHA info regarding rough terrain forklifts. A typical FLC course for rough terrain lifts includes, but is not limited to:
✓ Driving outdoors
✓ Safety considerations on construction sites
✓ Navigating over rough terrain
✓ Safe driving speeds
✓ Rough terrain forklift operator requirements
✓ Using safety controls
✓ Inspections & maintenance
Interested in having your own certified trainer to train & certify new drivers? Get our Train a Trainer course today! 

The Consequences of Not Having Rough Terrain Forklift Certification
Construction sites have their own share of dangers. Having an uncertified operator increases the chances of injuries or even fatalities.
OSHA takes training and certification violations seriously. Fines for non-compliance often reach into the tens of thousands of dollars. In fact, according to a recent survey by our sister training company, CertifyMe.net, many companies were fined over $100,000 for negligence!
Safety is simply too important to overlook with rough terrain and off road forklifts. Make sure you're OSHA compliant with FLC and sign up for our certification programs today.