Warehouse Workers for Warehouse Industries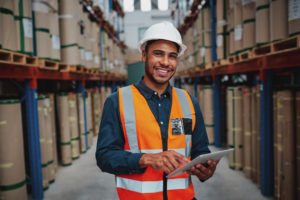 It's always a good idea for forklift drivers to keep an ear to the ground around new employment opportunities. Understanding which industries are growing can help ensure you're in the best fit for your career goals. Warehouse forklift operators in particular owe it to themselves to stay on top of the "hot" industrial sectors. 
Warehouse workers play a vital role in the storage, distribution, and management of cargo across a wide range of sectors and industries. Understanding which industries provide the most jobs and which one project positively in the years to come can help make you more informed when it comes to job hunting. No matter which warehouse industry you're working in, though, you'll need proper training and certification before you can begin work.
Like with any job, training matters. Safety knowledge isn't just a luxury – it's a necessity. If you're a warehouse worker seeking safety training, or if you're an employer hoping to meet OSHA regulations, ForkliftCertification.com is the solution. Our courses blend practical safety tips with real life working scenarios to prepare you for a long, rewarding career.
Opportunities in the Warehouse Industry
It seems there's always another exciting new warehouse industry popping up. Staying abreast of the changes within these industries can be a challenge, though. Allow us to walk you through a few of the most common opportunities for warehouse workers:
Retail
To put it plainly, retail is where it's at. The primary driver behind warehouse industry optimization and logistics management is the booming e-commerce sector, which has exceeded even the most optimistic expectations. Amazon and a host of other online companies keep a strong demand in place for warehouse workers all across the United States. Plus, traditional retailers like Wal-Mart, Target, JC Penney, and others ensure that warehouse employees will remain essential for decades to come. From a forklift driving perspective, the retail industry (both online and brick and mortar) keeps powered industrial trucks on a strong upward trend. The U.S. forklift market projects to be well over $11 billion by 2025!
Food Distribution
Grocery stores are bigger than they were a generation ago. This means that many outlets now have their own storage and shipment facilities – to put it another way, warehouses within grocery stores are more common than ever. While food distribution warehouse organization has changed, the bottom line is this: warehouse workers aren't going away anytime soon. From forklift drivers to loss analysts to other support personnel, the food distribution industry has a bright outlook, both short-term and well into the future!
Storage
Sometimes, a warehouse is just a warehouse. No drop shipments, no logistical considerations, no temporary holding. The storage industry (particularly self-storage) continues to grow, and a competent cast of support staff – administrative, forklift drivers, accountants, you name it – is required to keep things running smoothly. Make no mistake: working in a warehouse like this comes with its own set of unique challenges, which is why proper training is so important.
Logistics
FedEx, UPS, Ward Trucking, Coastal Transport, Penske, Rush Enterprises – the number of logistics companies seem to grow each and every day. Strong retail demand (see above) is primarily responsible, along with a growing world economy. Logistics enterprises deliver an ever-increasing amount of goods and services to people in all corners of the globe. As China and India continue to modernize, and other emerging markets enter the world marketplace, expect more of the same. This means more warehouse workers to handle significant and growing demand. If you're a forklift driver or other warehouse employee looking for job security, consider a career in logistics!
Manufacturing
A number of enterprises use manufacturing facilities to produce and assemble goods. Regardless of the company and its specific goals, warehouses for manufacturing rely on warehouse workers to move products throughout the space and package them up for distribution. While we might think of assembly lines and automated technology when we think about the manufacturing industry, the reality is that logistics and warehousing wouldn't be possible without qualified forklift operators.
Healthcare
When we go to the hospital, we rarely think about the logistics happening behind the scenes. Warehouse workers in the healthcare industry help ensure the safe storage, distribution, and delivery of medical devices, tests, and pharmaceuticals. Cold storage is often required for medical supplies, so workers must be trained to handle the unique challenges that such a setting entails. With lives on the line, storage and warehousing best practices are more important than ever. 

Comprehensive Training for Warehouse Workers
There's no denying it: warehouse workers are more in demand than ever before. No matter which industry you end up in, proper training can ensure career success for years to come. FLC's convenient online training modules offer benefits to both employers and workers alike. Whether you're a job-seeker hoping to make yourself more marketable or an employer seeking to bring your entire team up to OSHA standards, FLC has the resources you need.
Our forklift training kit is a great place to begin. In the span of a single afternoon, you can learn everything you need to about working in the warehouse industry and how to prevent accidents. Employers hoping to bring training in-house should consider our Train a Trainer course. It's the best way to save valuable time and money – a single employee can train your entire workforce.  Bundling both these options gives you access to both courses at a discounted rate. 
Whatever side of the employment dynamic you're coming from, ForkliftCertification.com helps with affordable, accessible OSHA compliance. Don't take any chances with OSHA – get trained today! From the retail industry to construction and beyond, you'll enjoy more confidence on the job, not to mention a better awareness of OSHA safety rules and regulations.
Go ahead and get started today! Our forklift certification consultants are here to help you and your company become OSHA compliant. If you have any questions about training, give us a call at (888) 278-8896.