The most trusted online resource for OSHA forklift certification and training since 2002
Questions? Call us! (888) 278-8896
Top Industries for Warehouse Workers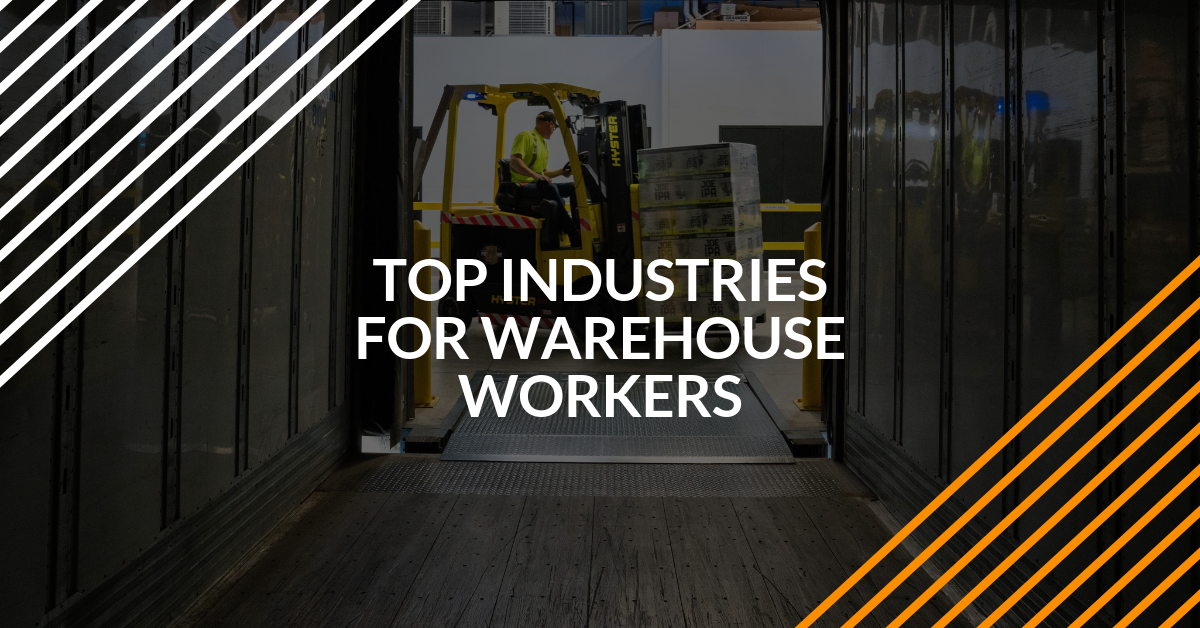 If you're a forklift driver (and since you're reading this post, there's a good chance you are!), it helps to know which industries are growing. And if you happen to be a warehouse forklift operator, figuring out the "hot" industrial sectors is also important, especially for job prospects.
Warehouse workers in general – not just forklift or pallet jack operators – play an integral part in the storage, distribution, and management of cargo for a variety of sectors and industries. Which industries provide warehouse employees the most jobs, and which ones project positively in the years to come? We did some research on our end, which includes some interesting data in terms of job growth, future economic projections, and more.
Like any type of job, training matters. For warehouse workers involved in the complex management of merchandise, safety knowledge isn't just a luxury. It's a necessity. If you're a forklift driver looking to acquire safety training, or if you're an employer in a pinch for OSHA compliance instruction, we're a great resource. Our courses blend practical safety know-how with real-life working situations to prepare anyone for a rewarding, well-paying career – no matter which industry they work in!
Let's take a look at the top current industries for warehouse workers.
Retail, Storage Rentals and More: Growing Industries for Warehouse Employees
Here are a handful of top industries for warehouse workers:
Retail
To put it plainly, retail is where it's at. The primary driver behind warehouse optimization and logistics management is the booming e-commerce sector, which has exceeded even the most optimistic expectations. Amazon and a host of other online companies keep a strong demand in place for warehouse workers all across the United States. Plus, traditional retailers like Wal-Mart, Target, JC Penney, and others ensure that warehouse employees will remain essential for decades to come. From a forklift driving perspective, the retail industry (both online and brick and mortar) keeps powered industrial trucks on a strong upward trend. The U.S. forklift market projects to be well over $11 billion by 2025!
Food distribution
Grocery stores are bigger than they were a generation ago. Which means that many outlets now have their own storage and shipment facilities – to put it another way, warehouses within grocery stores are more common than ever. While food distribution warehouse organization has changed, the bottom line is this: warehouse workers aren't going away anytime soon. From forklift drivers to loss analysts to other support personnel, the food distribution industry has a bright outlook, both short-term and well into the future!
Storage
Sometimes, a warehouse is just a warehouse. No drop shipments, no logistical considerations, no temporary holding. The storage industry (particularly self-storage) continues to grow, and a competent cast of support staff – administrative, forklift drivers, accountants, you name it – is required to keep things running smoothly.
Logistics
FedEx, UPS, Ward Trucking, Coastal Transport, Penske, Rush Enterprises – the number of logistics companies seem to grow each and every day. Strong retail demand (see above) is primarily responsible, along with a growing world economy. Logistics enterprises deliver an ever-increasing amount of goods and services to people in all corners of the globe. As China and India continue to modernize, and other emerging markets enter the world marketplace, expect more of the same. This means more warehouse workers to handle significant and growing demand. If you're a forklift driver or other warehouse employee looking for job security, consider a career in logistics!
Be Prepared for Any Warehouse Industry Work with Proper Training
If you keep true to your goals and have determination, it doesn't matter which industry you end up working in. Success will come. But it also helps to have the knowledge, skills, and confidence to operate a forklift safely. That's where we can help. Our training modules offer a double-sided benefit:
Employers. The U.S. Occupational Safety & Health Administration (OSHA) prohibits employers from using forklift drivers without any training. In fact, it's illegal to willingly hire a lift operator who doesn't have the proper training. With ForkliftCertification.com, you can get your employees OSHA compliant for less money and time than you'd expect.
Employees. If you need to update your safety knowledge or brush up on forklift operating skills, our training courses are the perfect way to go. With complete training material for all skill levels, we have a forklift certification package that'll fit your own budget. Plus, with the latest OSHA compliant training, you'll have a better chance to land those well-paying forklift jobs, no matter where you happen to live!
Whatever side of the employment dynamic you're coming from, ForkliftCertification.com helps with affordable, accessible OSHA compliance. Don't take any chances with OSHA – get trained today! From the retail industry to construction and beyond, you'll enjoy more confidence on the job, not to mention a better awareness of OSHA safety rules and regulations.
Go ahead and get started today! Our forklift certification consultants are here to help you and your company become OSHA compliant. If you have any questions about training, give us a call at (888) 278-8896.