The most trusted online resource for OSHA forklift certification and training since 2002
Questions? Call us! (888) 278-8896
Turret Truck Safety, Operation & OSHA Compliance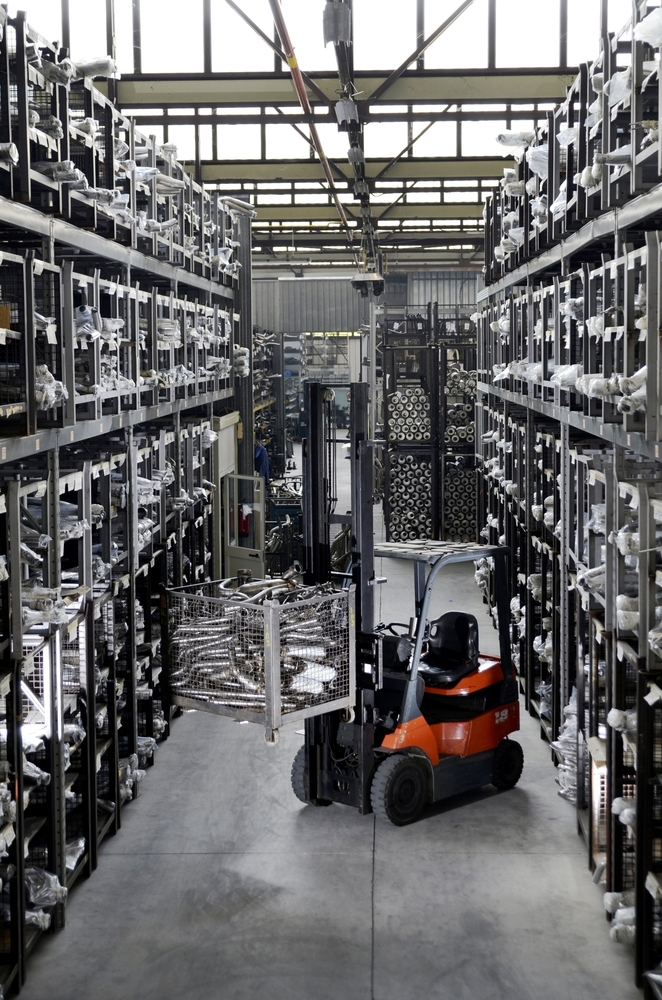 Envision a forklift in a warehouse. Now decrease the aisles so the forklift can barely move. What would work now? Turret trucks, the forklifts designed for narrow working spaces!
If your enterprise uses turret trucks, the employers are responsible for turret truck training and certification. Sounds difficult, right? Not with ForkliftCertification.com (FLC), the leader in affordable, OSHA compliant turret truck training. Sign up today to ensure the safest possible working environment – your employees deserve it!
What is a Turret Truck?
Necessity is the mother of invention. Well, consider narrow warehouse aisles as the "mother" of turret trucks. Unlike forklifts or pallet jacks, turret trucks are a bit different. They include some of the basic functions of each, with a big difference: turret trucks, also known as very narrow aisle (VNA) lifts, have a counterbalanced design with a rotating, articulating base.
Turret trucks and VNAs can fully rotate 180 degrees and maneuver within tight aisle space. A key aspect of turret trucks is they can move their forks while the rest of the lift is immobile.
According to OSHA's powered industrial truck training content, turret trucks are classified as Lift Code 4 trucks, just one of the many Class II: Electric Motor Narrow Aisle Trucks.
How to Operate a Turret Truck
Running a turret truck is similar to operating a regular warehouse forklift, but special attention should be paid to overhead hazards, since the equipment is used in extremely narrow aisles.
The main mast and front mast of a turret truck extend higher than typical forklift, but many of the steering and safety functions are the same. Plus, operators need to be aware of floor debris getting caught in the extender forks or bottom rack. This equipment requires full turret truck training and certification, which FLC can provide!
Our turret truck training & certification will help your company become OSHA compliant quickly and affordably – sign up now!
Turret Truck Training & Certification
Like other powered industrial trucks, turret trucks fall under OSHA standard 1910.178, specifically Class II: Electric Motor Narrow Aisle Trucks.
FLC knows all about this standard, and every other safety guideline for your company's turret truck training requirements.
Our turret truck training includes basic safety guidelines and instruction, specialized training, step-by-step guides, templates, training evaluation and more. Whether it's our Training Kit, Train a Trainer course or value-added Bundle Package, you'll have everything required for 100% OSHA compliance with FLC!

What Happens if You Don't Have Turret Truck Training & Certification?
There's a good reason turret truck training and certification are required – plenty of good reasons, in fact. Used improperly, they can cause serious injury or death. You might think employers are aware of this, but safety issues are more common than ever before.
Make sure your company isn't fined over $100,000 or more, as a recent study by our related training company, CertifyMe.net, published. In this research, more than 80 companies were hit with heavy fines.  
Take control of your turret truck training and certification with FLC. Our affordable, on-point certification is ideal for any company that needs to get the right turret truck training and certification without costing an arm and a leg. Thanks for considering FLC for all your turret truck certification requirements! Sign up with FLC today! what is a turret truck