How Forklift Controls Work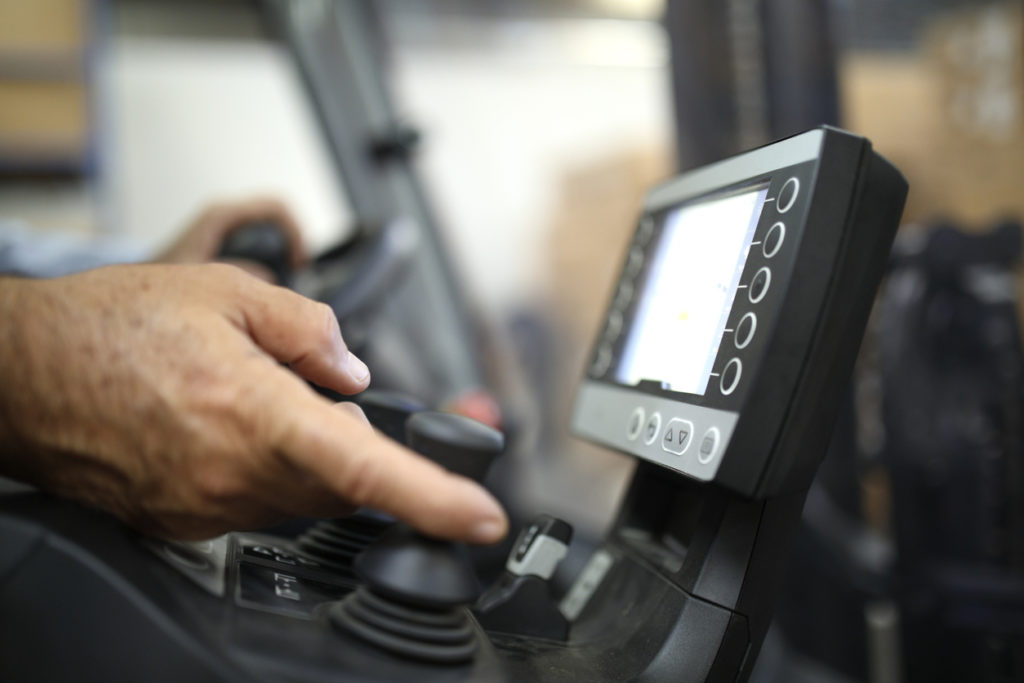 A good understanding of forklift controls is vital to the safe use of these machines. A thorough lesson on how to use them is one of the very first thing new operators learn. Fail to understand how basic forklift controls work and you'll have a hard time using them to their full capacity. While many compare the operation of forklifts to driving a car, there are a few important distinctions that can make all the difference when it comes to safe operation. 
What are Forklift Controls?
Forklift controls consist of pedals, directional controls, and lifting mechanisms. Like in a car, there are accelerator, brake, and clutch pedals. The accelerator serves as the "gas," providing power to the machine and making it move. The brake stops the lift, and the clutch allows operators to switch into higher or lower gears. Some models include inching pedals, too. These allow operators to make small, controlled movements in tight spaces.
Directional controls help operators move forward and backward in a space. Look at any forklift control diagram and you'll see options to park, reverse, and move forward. There are three positions for these controls: forward, neutral, and reverse. They're typically mounted to the steering column or operated by foot. 
Lifting mechanisms are essential to the functionality of forklifts. They consist of three knobs used to raise and lower forks to lift loads. One knob allows for up and downward motions, another tilts the blades to secure a load. The third knob moves the load from side to side. On some forklift models, a fourth knob may help to control forklift width. Forklift controls levers may take some getting used to at first, but after some practical experience, using them becomes second nature.
Going Beyond Basic Forklift Controls
As you're learning how to use a forklift for the first time, it's also important to understand the instrument panel. The various gauges and warning lights provide operators with essential information about the use and condition of their lift. Forklift controls like the low fuel indicator, battery charge indicator, and engine temperature gauge must be constantly monitored for safe usage.
The instrument panel largely functions in the same way as in road vehicles. They alert operators to important details about the functioning of the lift. Ignore warning lights and diagnostic service messages and your lift may become unsafe to use. Just like with a car, forklifts require regular servicing and maintenance. The instrument panel provides much needed insight into the overall condition of the lift. Ignore these forklift control warnings and you could find yourself out of batteries or involved in an accident. 
Why Forklift Operator Training Matters
Even if you think you have a good theoretical understanding of basic forklift controls, formal training is still necessary. The reality is that every forklift model varies slightly, and theoretical knowledge can only get you so far. By enrolling in a forklift training course, you'll learn more about the practical use of these powerful machines. You'd be surprised at how much more knowledgeable you can become after just one hour of forklift training. Of course, training doesn't end once the course does – there's just no substitute for first-hand experience. With a solid foundational understanding of how to use forklifts, you'll be ready to operate a lift and get some on the job experience.
Forklift operator training is more than just a good idea – it's required by law. The Occupational Health and Safety Administration requires employers to train and certify their lift operators before they begin working. Should OSHA stop by for an inspection and find that uncertified workers are using forklifts on the job, your organization may be fined thousands of dollars. Mastering the forklift controls diagram can save your company serious money.

Learn to Operate a Forklift Now
A good, working understanding of forklift controls is a great first step towards certification. If you're ready to take the next step and get certified, sign up for a convenient online training program from ForkliftCertification.com. Online access makes it easy to learn on the go. Since our course can typically be completed in about an hour's time, there's never been an easier or more convenient way to learn new job skills. Still have questions about training options? Reach out online or give us a call at 888-278-8896.