The most trusted online resource for OSHA forklift certification and training since 2002
Questions? Call us! (888) 278-8896
Side Loader Forklifts: Certification, Operation & More
A side loader forklift, also called a side loader lift truck, is used to transport and handle long or unorthodox sized loads in warehouses, many times with narrow aisles. Popular in furniture warehouses, they're also used to move steel beams, building materials and other awkward loads.
Does your company use narrow aisle side loader forklifts? Then you need to provide training and certification, and that's where ForkliftCertification.com (FLC) can help. Our OSHA compliant training is ideal for any size business, including yours! Sign up today and see how easy and affordable our training programs are!
What is a Side Loader Lift Truck?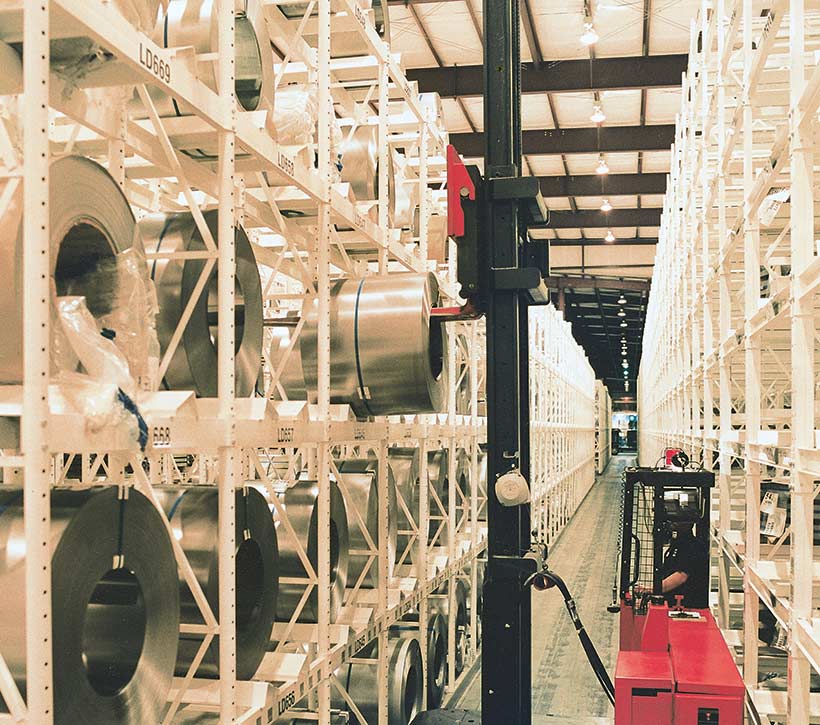 While forklifts or pallet jacks are used to handle typical-sized loads like pallets and boxes, side loader forklifts are required for any "long" load, such as extrusion, piping, furniture, carpet rolls, and more.
These narrow aisle side loader forklifts are able to move loads up to several tons, though most are for loads up to one ton. A scissor mechanism offers an extension for longer loads, and forklift truck side loaders are able to traverse very narrow aisles, as long as the load itself isn't too wide.
Available in both standing and sitting configurations, side loader forklifts are versatile enough to provide both pallet jack and forklift functionality.
Given their unique design and function, side loader forklifts fall under five different OSHA categories, a rarity for powered industrial trucks:
Class I: Electric Motor Rider Trucks
Class II & III: Electric Motor Hand Trucks or Hand/Rider Trucks
Class IV: Internal Combustion Engine Trucks (Solid/Cushion Tires)
Class V: Internal Combustion Engine Trucks (Pneumatic Tires)
How to Operate a Narrow Aisle Side Loader Forklift
Depending on the driving style (sitting or standing), side loader forklifts are operated by one of these two methods:
Sitting forklift truck side loaders: the driver's cabin is attached to the lift's body, and are driven much like regular lifts.
Standing side loader lift trucks: the driver's control cabin is adjusted with the lift's forks. This style allows regular forklift functions along with pallet jack-type operations.
Adjustable bed lengths allow for custom load management, along with extra load capacity, if required. Because of their use in tight spaces with very little extra room, training is required for all narrow aisle side loader forklifts.
Sign up now with FLC for the best training & certification for side loader forklifts and side loader lift trucks!
Side Loader Forklift Training & Certification
Classified under OSHA standard 1910.178, all side loader forklifts have unique training and safety requirements.
Complete, OSHA compliant training, instruction & certification is required to operate any side loader forklift. Our narrow aisle side loader forklift training includes step-by-step guides, templates, evaluation material, the latest safety guidelines and much more.
FLC's Training Kit, Train a Trainer and Bundle Package offer comprehensive, 100% OSHA compliant training for all of your side loader forklift certification needs!

What Happens if You're Audited by OSHA With No Side Loader Lift Truck Training?
The penalties for not having qualified training records are steep. CertifyMe.net, our sister training firm, recently concluded a research project that showed more than half of all companies had their safety platforms audited, and many were levied fines over $100,000. That's just one reason why side loader training is so critical? The main reason? Your employees' safety.
Side loader forklift certification is simply too important to pass up. But don't think it's not affordable. FLC's budget-friendly side loader lift truck training offers full, OSHA compliant certification for your entire workforce. Register your company today and enjoy all the advantages that come with a well-trained, OSHA complaint side loader forklift fleet!