The most trusted online resource for OSHA forklift certification and training since 2002
Questions? Call us! (888) 278-8896
Forklift License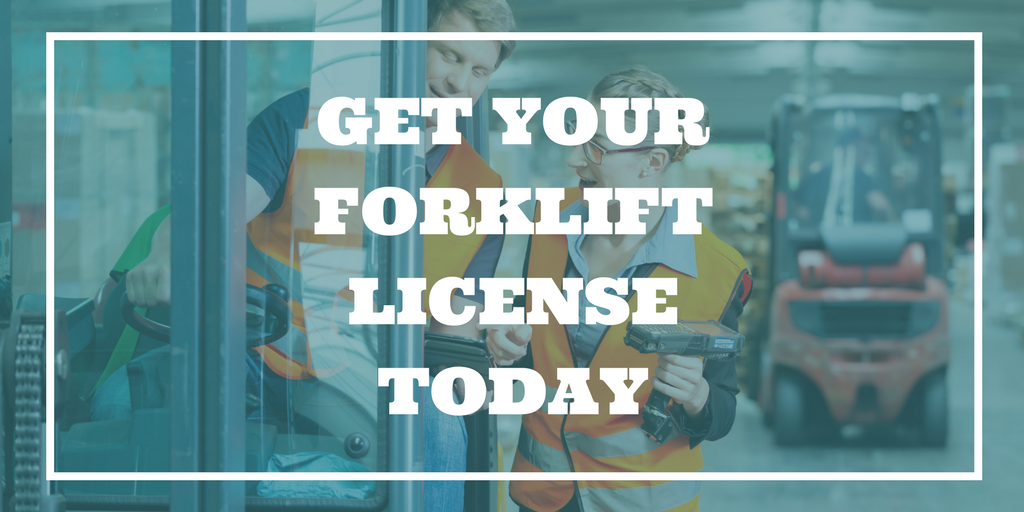 Forklifts are an essential part of every major city and small town alike. They are used for many different jobs on a wide range of worksites. But the one constant variable that's present with all forklift positions, is the forklift license. A forklift job and forklift license goes hand in hand, and below we explain why and how to get a forklift license.
The bottom line is this: if your employees don't have the proper forklift license requirements, the U.S Occupational Safety and Health Administration (OSHA) can levy severe fines, penalties and legal action. Many companies want to know how to get forklift license credentials for their workers. That's where Forklift Certification comes in – we're the #1 resource for OSHA forklift driver license training and where to get a forklift license.
FLC offers three different training packages, and each will help with your forklift operator license needs. From our Training Kit to our Train a Trainer course to the popular Bundle Package (includes the first two courses at a discounted rate), FLC can get your employees their forklift licenses today!

The Importance of Obtaining a Forklift License
Forklifts are not just like driving a regular car and are not included under a driver's license. They require their own completely separate OSHA training requirements because they come with their own unique hazards and safety protocols. Forklift overturns and collisions account for the most common causes of forklift-related accidents, according to OSHA, but the root cause of those accidents is often operator error. What that means is that operators did not follow proper procedures or practices when driving the forklift and caused an unsafe environment. Forklift license training has been proven to reduce accidents – and that's great news for your company, since there's less chance of an OSHA audit or investigation!
Obtaining forklift license can protect the life of operators on the job and prevent deadly accidents. It's for this important reason that employers do not hire job applicants without a forklift license. They simply are not willing to risk putting their other employees at risk, nor their worksite containing expensive equipment. Employers also do not want to risk getting hit with costly fines from OSHA, who slams businesses hard that have untrained employees. If you want to learn how to get a forklift license, and where to get a forklift license, keep reading!
Jobs Available If You Have a Forklift License
We've already reviewed the many benefits that employers and companies enjoy with forklift operator license from FLC. But what about individual workers? If you'd like to enhance your own career prospects, it's hard to top up-to-date OSHA forklift driver license certification from FLC. If you want to know how to get forklift license papers and what it can do for your employment outlook, you've come to the right place!
Here are just a few jobs available for anyone with an OSHA compliant forklift driver license:
• Warehouse distribution worker
• Dockyard lift operator
• Construction site employee
• Industrial clean-up crew
• Distribution center cargo specialist
• And many more
What is Included in Forklift Training?
Forklift license training covers all the important aspects of operating a forklift safely and avoiding accidents, benefiting employers with a productive, hazard-free work zone. By purchasing our forklift license trainer kit, you will get access to the following trainings: warehouse forklifts, pallet jacks and order pickers, and rough terrain forklifts.
Our forklift operator license training programs are ideal for any company that has OSHA training gaps. Remember, it's illegal to knowingly hire or appoint an employee to a forklift operator position without training.
The Steps to Obtaining Forklift License
Once you've found a comprehensive program, like the training kit from FLC, you'll need to look into one more thing: its compliancy with OSHA regulations and requirements.
A part of the steps to getting a forklift license is fulfilling the different aspects of training that OSHA requires.
These requirements are:
✓ Employers must ensure that each forklift operator is able to operate a forklift truck safely, demonstrated by the successful completion of training and evaluation.
✓ Forklift license training must consist of formal written instruction (verbal communication, videos, lectures, interactive computer learning, etc.), practical training (demonstration made by a trainer), and a skills evaluation that is done in person and reflects your ability to drive a forklift safely.
✓ Forklift training must include both truck-related topics and workplace-related topics.
Truck-related topics:
• Operating instructions, warnings, and precautions for different types of forklifts
• Differences between a forklift and automobile
• Forklift truck controls and instrumentation
• Engine or motor operation
• Steering and maneuvering
• Visibility
• Vehicle capacity and stability
• Vehicle inspections
• Refueling or charging the batteries
• Operating limitations
• Other instructions or warnings listed in the operator's manual
Workplace-related topics:
• Conditions of the operating surfaces
• Composition of loads and load stability
• Load manipulation, stacking and unstacking
• Pedestrian traffic safety
• Navigating narrow aisles
• Hazardous locations
• Driving on ramps and other sloped surfaces
• Working in closed environments
• Other unique or potentially dangerous working conditions
• Once these components of forklift training have been met, operators will be able to receive their forklift license.

Where to Get a Forklift License
If you're wondering how to get a forklift license, then you've come to the right place! ForkliftCertification.com is the number one online provider of forklift license training. We have worked hard to create the most convenient and affordable comprehensive forklift certification license program that is compliant with OSHA. In just one hour, aspiring operators can complete their training and receive their forklift certification license from any device with an internet connection. Select a forklift training option to get started today! To speak directly with our OSHA forklift operator license specialists, please call FLC at (888) 278-8896.
How to Get a Forklift License with FLC
Follow these easy and simple steps for obtaining forklift license:

1. Create an account on the FLC website under your employer's registered company
2. Log in to your operator account using your unique sign in information
3. Work through the online training modules at your own pace
4. Pass all quizzes and the final written test
5. Print your operator certification card
That's it! Once you've completed this portion of your training, you will have completed one third of the training required for how to get a forklift license. You will now be able to watch a demonstration from a Trainer for how to drive the forklift and will be able to do the evaluation.
Have any more questions for getting a forklift license? Contact us at FLC and learn all about our forklift training programs that are 100% OSHA-compliant and will ultimately get you certified. You can also call our forklift operator license training experts at (888) 278-8896. Thanks for considering FLC for your forklift license needs.