Affordable, Effective PENNSYLVANIA FORKLIFT CERTIFICATION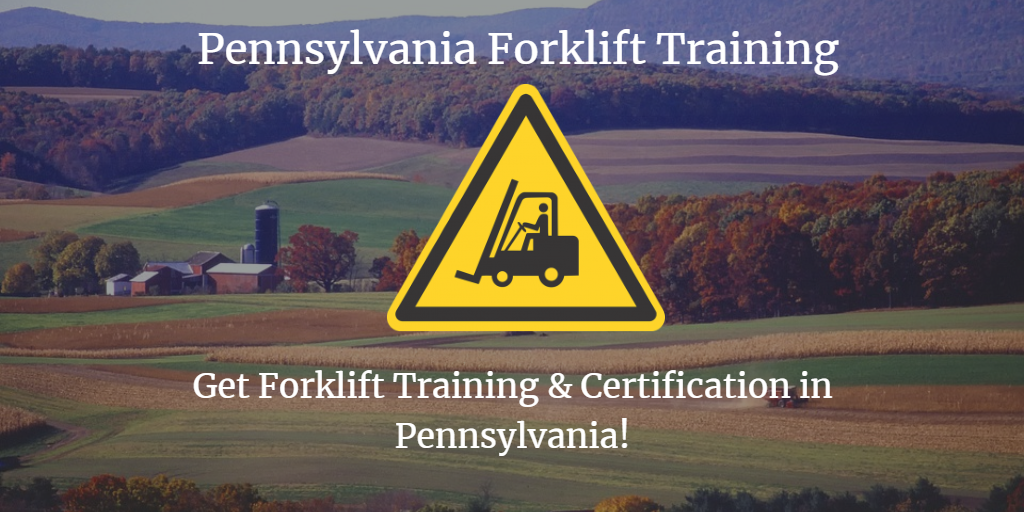 Pennsylvania boasts a broad and thriving industry and has long been considered one of the country's leaders in worker training and job advancement programs. The state's strong manufacturing and industrial heritage continues to this day, and there's more demand than ever for trained and certified forklift drivers in the Keystone State!
All our forklift certification training for Pennsylvania includes the following benefits:
100% OSHA-compliant

Train online

Complete training in as little as an hour

Self-paced training

No time limits

All coursework included

Pass rate is 100%

Download certification documents immediately following successful training

FREE recertification every three years
ForkLiftCertification.com provides the best forklift training and certification for Pennsylvania, bar none. 
Forklift Training Courses for Pennsylvania
ForkLiftCertification.com offers the most comprehensive forklift training for Pennsylvania and every state in the nation. Our team of OSHA-compliance experts has poured years of forklift operating experience into our training modules to equip your workers for success. If you have uncertified forklift operators on your payroll, avoid costly fines and workplace injuries by getting them the best forklift training and certification in Pennsylvania. Choose from three packages:
Our essential forklift training course for Pennsylvania covers all types of forklifts in a wide range of applications. All course work, student handouts, operator cards, hands-on evaluation checklists and guides are 100% OSHA-compliant and included for a one-time price of $299.
Forklift Training Kit page for Spanish speakers. Learn more!
With this class, one or more of your experienced drivers will become certified to train other operators on your team. For just $149, you'll have your own driver who can provide Pennsylvania forklift training on-staff.
Our best value combines the benefits of our Pennsylvania forklift training packages above for just $349 — a savings of $50 over purchasing the two courses separately. Get your staff fully trained while certifying an omn-staff instructor to maintain their certification and skill level. Win-win!

Forklift Training and Certification in Pennsylvania
is Essential for the Shale Oil Industry
The ever-growing shale oil industry is bringing new career opportunities to workers throughout Pennsylvania, and in some cases, premium wages are being paid to entry-level forklift operators. One of the most important factors for getting a job in the shale oil industry is learning how to operate a forklift properly and safely. The fastest, easiest and most convenient way to get fully trained on forklift operation in Pennsylvania is through ForkliftCertification.com'online programs.
Protect employees from serious or even fatal injuries at work by having them properly trained and certified to operate forklifts. As an employer, you are held responsible by OSHA for your emploee's training and safety. By providing your workforce with forklift training in Pennsylvania, you'll also protect your company from being hit with expensive OSHA fines, as well as possible costly litigation.  
OSHA Requirement for
Forklift Training in Pennsylvania
The U.S. Occupational Safety and Health Administration (OSHA) requires all employers to provide forklift training and certification for their operators. ForkliftCertification.com offers three OSHA-approved courses for Pennsylvania forklift certification training, all of which are ideal ways for individual workers and employers alike to comply with OSHA regulations. Enroll now and you or your employees can have your Pennsylvania forklift certifications later today!
5 SIMPLE STEPS TO PENNSYLVANIA FORKLIFT CERTIFICATION TRAINING
Look no further than ForkliftCertification.com for 100 % OSHA-compliant forklift operator training in Pennsylvania! It's never been faster, easier, more convenient or more affordable to get forklift operator certifications! Just follow these five easy steps:
1. Create an account and register yourself or your company on our website (this takes only a couple of minutes).
2. Register each of your operators.
3. Instruct your operators to log in to the account.t
4. Have students work through the training modules at their own pace. These can be completed in as little as an hour, but there are no time restrictions for those who might need more time.
5. After taking and passing the written exam (our pass rate is 100 %), students are evaluated by a certified trainer who observes their ability to properly operate the equipment.
Forklift training and certification in Pennsylvania is that simple!
Once your drivers pass the written exam and successfully complete the hands-on evaluation, they're ready to download and print the forklift certification cards.  Place copies in each HR file and your drivers are fully forklift trained and certified for Pennsylvania. There's no need to wait for the certifications to arrive in the mail.
Whether you're located in Lackawanna, Lancaster, Harrisburg or another city in Pennsylvania, OSHA-compliant forklift operator certification and training is just a click away! ForkliftCertification.com will provide everything needed to get forklift operator certification cards into the hands of your drivers.

Enroll Your Staff in Forklift Training for Pennsylvania Today
Keep your workforce and company safe and secure with Pennsylvania forklift training and certification today. Get in touch with one of our OSHA forklift certification specialists at (888) 278-8896 or visit our contact page for more information about our operator training programs.
Thanks for making ForkliftCertification.com your trusted source for OSHA forklift certification training in Pennsylvania! With our forklift license training, you'll be OSHA compliant in no time at all! We look forward to hearing from you soon.