The most trusted online resource for OSHA forklift certification and training since 2002
Questions? Call us! (888) 278-8896
HOW AND WHERE TO GET PENNSYLVANIA FORKLIFT CERTIFICATION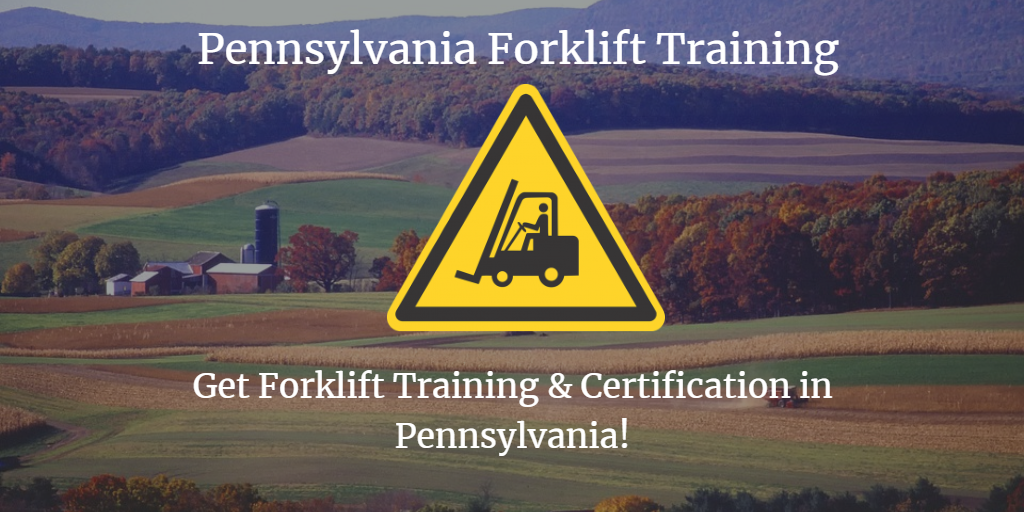 When it comes to career certification, Pennsylvania has long been considered one of the country's leaders in worker training and job advancement programs. The state's strong manufacturing and industrial heritage continues to this day, and there's more demand than ever for forklift drivers in the Keystone State!
The ever-growing shale oil industry is bringing new career opportunities to workers throughout Pennsylvania, and in some cases, premium wages are being paid to entry-level forklift operators. One of the most important factors for getting a job in the shale oil industry is learning how to operate a forklift properly and safely. The fastest, easiest and most convenient way to accomplish that is through ForkliftCertification.com's training online programs.
The U.S. Occupational Safety and Health Administration (OSHA) requires all employers to provide forklift training and certification for their operators. ForkliftCertification.com offers three OSHA-approved courses for Pennsylvania forklift certification training, all of which are ideal ways for individual workers and employers alike to comply with OSHA regulations. Enroll now and you or your employees can have your Pennsylvania forklift certifications later today!

QUALIFYing FOR great FORKLIFT operator JOBS IN the Pennsylvania SHALE oil INDUSTRY
Employers in Pennsylvania always need qualified forklift drivers to meet the state's diverse industrial needs. These types of Pennsylvania forklift operator jobs mean that new trainers, forklift operators and equipment maintenance workers who have the initiative and enthusiasm to change careers by learning a new skill are always in demand by employers throughout the state. ForkliftCertification.com offers proven, OSHA-approved online training programs for training and certifying new workers in how to properly and safely operate a forklift. We also offer classes that certify experienced forklift operators to train other employees and newly hired workers in-house to prepare them for performing their forklift duties.
OSHA requires all businesses that employ forklift and aerial lift workers to provide them with operator training and certification.  If you're an employer who needs to have your employees certified to comply with OSHA's regulations, FLC offers online training that's fast, easy, convenient and amazingly affordable, which also comes with ongoing lifetime support. We're here to help you just as we've helped thousands of drivers and businesses all across the country become OSHA compliant for the past two decades, so sign up for training today!
Protect employees from serious or even fatal injuries at work by having them properly trained and certified to operate forklifts. As an employer, you'll also protect your company from being hit with expensive OSHA fines, as well as possible costly litigation. From registration to certification, FLC's forklift operator training and certification programs be completed in as little as just one hour. What's more, there's no need to travel to and from an expensive remote training facility to become certified. Using a digital device, the classes can be taken during a lunch break, while at home or at a coffee shop – any time and any place that's convenient that has an internet connection. Although our online training can be completed in about an hour, there are no time restrictions, so it's self-paced for those who might need more time These are just some of the many reasons FLC is the best choice to qualify yourself or your workers for forklift jobs in Pennsylvania.
FORKLIFT TRAINING for WORKing in QUARRies
Working in a quarry can be a great way to start an exciting and rewarding lifelong career as a forklift operator, but the work can also be dangerous. From tip-overs to being caught under a forklift or being crushed by falling quarry stone, forklift accidents occur at quarries across the country throughout the year. The majority of these accidents are a result of operator error, which is why most employers won't hire untrained workers and automatically eliminate them from qualifying for the best forklift operator jobs. That's another reason it's important for quarry forklift operators in Pennsylvania and across the country to have the education and training needed to protect themselves and their coworkers from being injured on the job.

how TO GET Pennsylvania FORKLIFT CERTIFICATION training
Look no further than ForkliftCertification.com for 100 % OSHA-compliant forklift operator training! It's never been faster, easier, more convenient or more affordable to get forklift operator certifications – just follow these five easy steps:
1. Create an account and register yourself or your company on our website (this takes only a couple of minutes).
2. Register each of your operators.
3. Instruct your operators to log in to the account.t
4. Have students work through the training modules at their own pace. These can be completed in as little as an hour, but there are no time restrictions for those who might need more time.
5. After taking and passing the written exam (our pass rate is 100 %), students are evaluated by a certified trainer who observes their ability to properly operate the equipment.
Once they've passed the written exam and hands-on evaluation, all that's left to do is download and print the forklift certification cards, place copies in each HR file and the drivers can legally operate the equipment. There's no need to wait for the certifications to arrive in the mail.
Whether you're located in Lackawanna, Lancaster, Harrisburg or anywhere else in Pennsylvania and need OSHA-compliant forklift operator certification and training, look no further than FLC! ForkliftCertification.com will provide everything needed to get forklift operator certification cards.
Get in touch with one of our OSHA forklift certification card specialists at (888) 278-8896 or visit the FLC contact page for more information about our operator training programs.
Thanks for making ForkliftCertification.com your trusted source for OSHA forklift certification cards! With our forklift license training, you'll be OSHA compliant in no time at all! We look forward to hearing from you soon.